It was impossible not to know who Rudolf Nureyev was. From the moment the dancer defected to the west, turning his back on his home and the Kirov company that trained him, he blazed across the front pages. It was June 1961 and relations between the west and the Soviet Union had thawed enough to allow the Kirov to perform in Paris. Nureyev's "leap for freedom" – a phrase he always despised – was a great propaganda coup for the west, one that helped to refreeze the cold war.
But it wasn't just his defection at Le Bourget airport that made Nureyev the name on everyone's lips. It was how he danced. He was so exciting, so charismatic, so powerfully dramatic that he made ballet – an old and refined art – seem utterly alive and relevant. In the days when the only way most people could see him was in tiny excerpts on TV or on film, he was like a lodestar, drawing all towards him with his unique combination of grace, athleticism and masculinity. He was and remains the only ballet dancer with the allure of a film star or a pop idol. In his heyday, he was as famous as the Beatles.
Entire generations were inspired by Nureyev. As a child growing up in Manchester, I filled scrapbooks with cuttings about his life and his art. I stood in an exhibition for hours watching a tiny excerpt of him on film in Marguerite and Armand, a ballet created for him and Margot Fonteyn. When I finally saw him on stage – an insouciant, charming presence, laughing and leaping his way through Jerome Robbins' Dances at a Gathering – he made me cry.
Russell Maliphant, the choreographer, saw him dance on TV in the party-piece pas de deux from Le Corsaire, in which his ability to seemingly suspend himself in mid-air left you breathless. "His jumps were fantastic, so athletic. He was flying," says Maliphant. "And he had a kind of playfulness that was magical, and a passion within that playfulness. He made me want to be a dancer, made me aspire. To be that high in the air!"
The playwright David Hare, then a student, met him at a dinner party in the late 60s. "He was so glamorous, so dominant," he says. "Nobody in a room looked at anybody but him. If he was down, everybody was down. If he was cheerful, everybody was cheerful. You couldn't take your eyes off him."
Maliphant has choreographed the dance sections of Nureyev, a new documentary by Jacqui and David Morris that attempts to understand exactly how he cast this kind of spell. It is being released ahead of another film about Nureyev, The White Crow, a fictionalised account of the events surrounding his defection. Written by Hare and directed by Ralph Fiennes, it will be released next year. Taken together, the two films refocus attention on a man who, before his death from Aids in 1993, had a galvanising impact on the world of dance.
For the Morrises, siblings whose previous documentary subjects have included the photographer Don McCullin and the newspaperman Harold Evans, the appeal of the story is Nureyev's journey from abject poverty to international stardom, powered by sheer talent and determination. "It was an extraordinary rags to riches life," says Jacqui. "I liked the fact he came from the wrong side of the tracks. Today, it always seems to be about who you know. So, yes, the stars were in line for him, but he also worked fucking hard – and he knew how to make the most of his life."
The hardship of Nureyev's peasant background is hard to overstate. In his childhood in Ufa, the capital of Bashkortostan, hunger was never far away. He was dressed in his sisters' clothes and was called "beggar" at school, because he was so dirty and poor. His military father forbade him to dance, yet he pursued his dream, making his way to the celebrated Vaganova Academy in St Petersburg, and forcing himself into the class of Alexander Pushkin, whom he recognised as the best teacher. Knowing he had started late, he worked unceasingly to catch up.
This is what attracted Hare and Fiennes to his story. "What we are trying to show is this phenomenal level of dedication," says Hare. "Everything was about dance to him. The thing about great artists is they make it look easy, but behind that is work, work and work." The toughness of his upbringing also played its part in the way he could compel people to watch him. "It is to do with his focus and intensity," says Hare. "He can access the sensitivity of everything he has been through. There is a line in our film where he says, 'I am not a prince, I am a peasant pretending to be a prince.' This act of pretence is so powerful to him."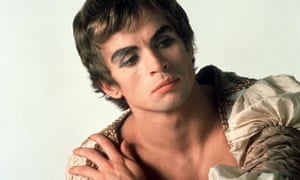 In The White Crow, Nureyev is played by another dancer, Oleg Ivenko. However, what makes the documentary so enjoyable is the footage of the man himself, talking and dancing. His appeal flickers across the screen, bright and enticing as ever; his lopsided smile on chat shows seems to court adulation and yet place him high above it. Many of the extracts – which cover his entire life from his early days at the Kirov, to his final incarnation as director of the Paris Opera Ballet and an international superstar – have rarely been seen. They are the result of Jacqui's painstaking trawl through the archives of the Nureyev Foundation, held in the New York Public Library.
We see Nureyev looking impossibly young in his Kirov days, as well as fragments of his later adventures, dancing with such American greats as Martha Graham and Paul Taylor – the first ballet dancer to extend his range in this way. That hunger, the autodidact's insatiable curiosity to learn and explore, was one of Nureyev's most endearing qualities.
Sylvie Guillem, who was discovered and promoted by Nureyev when he ran the Paris Opera Ballet, once talked to me about "the intelligence in his eyes" – and you can see that in every frame of film. It was combined with an instinct to flout the rules, especially measures designed to promote conformity. Throughout his career, he dared to say no. He refused the teacher he was originally assigned, and he refused to go back to the provinces when he was told to dance there because he knew he would never be a great dancer if he did. As Hare points out, dancers are generally obedient. Nureyev wasn't.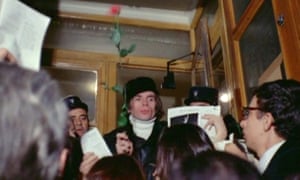 It was his constant rule-breaking in Paris that ultimately led to his defection. His KGB minders had decided to send him home, an act that precipitated his request to stay. The dancer's disdain for rules was born of two factors: he wanted to experience every ounce of life, and he placed his individual needs above those of the group. "He is a disobedient ballet dancer so that is always going to create problems because he really wants to push himself," says Hare. "But the reason he wanted to push himself is primarily because he always feels behind, and because he wants to be modern. That eventually is going to mean escaping the Soviet repertoire. He knows there is a world beyond."
Neither Hare nor the Morrises believe he had planned to defect. Faced with the prospect of being sent home while the rest of the company travelled to London, he was terrified. "He knew he really was in trouble," says Jacqui. "He knew he was never going to be allowed to dance again outside the provinces and that his family would be in trouble. I think it was the lesser of two evils. If he stayed, he knew he might never see his mother again. But if he went back, he might not see her – and he wouldn't be able to dance."
He made his choice, at a haunting cost. As the documentary points out, his defection had political consequences. By being the first artistic defector, he became a symbol of a struggle that was much greater than his own. The Berlin Wall went up months later. It was only when it came down 28 years later in 1989 that Nureyev was reunited with his family in Russia.
The documentary paints a rounded portrait. "You have to see the big picture," says Jacqui. "Some of the TV documentaries focus on him being a complete bastard. Which he was. He was horrible and he made people cry. But the people who worked with him also said how much they learned from him."
The documentary emphasises Nureyev's loyalty. He paid Fonteyn's hospital bills to the end of her life, and when she died he was distraught. It is full of people who talk of him with profound affection. "The people who were close to him really loved him," says David. "If he trusted you, he would do anything for you."
Hare recalls what a western friend of Nureyev's said after watching The White Crow. "He said, 'Oh, you've caught him absolutely – except that he was a far bigger shit.' That may be true in his later years, but our film is about Nureyev before he became the creature he became. In any case, there's no point complaining that Nureyev is selfish. Of course he is. He is only interested in himself and his dance."
His selfishness and determination changed everything. Ballet before Nureyev was lovely but boring. He gave it a shot in the arm. The glory of his talent and the power of his personality made people dream. "Dance is ephemeral. It evaporates," says David Morris. "I don't think you will ever again have a figure like him. I hope our film helps people to understand what a force of nature he was."
• Nureyev is released on 25 September, The White Crow next year. David Hare's new play I'm Not Running opens at the National, London, on 2 October.