'I am a Windrush baby," says Winsome Pinnock, "the child of people from the Windrush generation, and this country owes that generation so much." Pinnock's 1986 play Leave Taking – the first by a black woman to be staged at the National Theatre – is being revived at the Bush theatre in London. It's a timely decision for a work that charts a clash of generations between Enid, who has moved from Jamaica to make a life in England and give her children the opportunities she never had, and her teenage daughters – born in the UK – who know nothing of the West Indies and see England as home.
There is a line about an immigrant who is told his papers are not in order and who faces deportation. "That was written 30 years ago," says Pinnock, wryly. Her frustration with the slow pace of change in general, and theatre in particular, is quietly but potently expressed.
"We need to honour these journeys that are so old. Hundreds of years old. We must honour the sacrifices made by my parents, but also by our great, great, great, great grandparents. There is a link with this country that goes back generations," she says, referring to slavery. "We deserve opportunities and access because our history and sense of being is part of this country's history. It's important not to forget that, because our history is one of being overlooked and silenced. It's a continuing cycle and unless it's broken there can be no progress. You can't get away from the fact that we have been oppressed."
This production will mark the first time Leave Taking has been staged in London since 1997, and Pinnock's only regret is that her mother is no longer around to see it. She died three years ago, and her last words to the daughter who had asked her mum endless questions about life in Jamaica when creating the play was to urge her to keep writing. "She had Alzheimer's, but her saying I must keep going, keep writing, made me realise how important it was to her."
It's important to Pinnock, too. She may once have been described by this paper as "the godmother of black British playwrights", but despite accolades – including the George Devine award, and numerous well-received plays including Talking in Tongues and Mules at the Royal Court in the mid-1990s – she has been sorely neglected. In recent years, she has written shorts for the Bush and the Tricycle and had several radio plays broadcast, but her last major play in the theatre was One Under, more than a decade ago. "I felt forgotten. It's painful. Writers are so powerless. We have a directors' theatre, and if you are going to get plays seen, you have to have people in buildings championing you – and I didn't have that."
Now she does, in Madani Younis, who is directing Leave Taking and has commissioned her to write a new play. She has also just finished a draft of Rockets in Blue Light, which she describes as "a conversation between the past and the present" set in contemporary London and the 19th-century capital just after the abolition of slavery.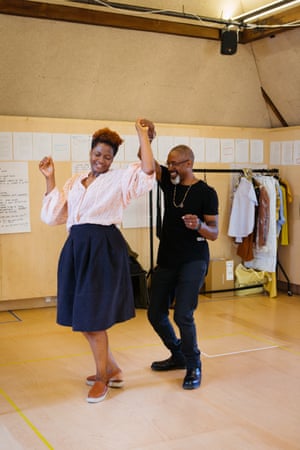 She remains fascinated by the craft of writing, which has led to a fruitful life in academia teaching playwrighting ("I learn as much as I teach,"), but while she knows she has achieved a great deal and that every hard-won gain should be celebrated, she is also acutely aware of how far there is to go for writers of colour.
"I never imagined I'd ever have a play on. I grew up in Islington, in the poor bit, in a single-parent household and I was educated in the inner city. When I was told I was the first black woman to have a play on at the National Theatre, I thought, 'That's great, that's progress.' But then I thought, 'Why did it take so long?'"
We meet in the week in which Natasha Gordon's debut play, Nine Night, opened at the National to rave reviews, but Gordon is still one of only a handful of black female writers, including debbie tucker green and Michaela Coel, who have had their work staged at the National. It's hard for any young playwright to progress, but without a strong champion for writers of colour – Pinnock's early work was supported by Jules Wright and the Women's Playhouse Trust – the invisible barriers further lessen the opportunities.
"You are always finding yourself cast as a beginner, always a young writer, even though I no longer was," she says. "There was a sense for me and my peers, other black women writers, of feeling we weren't allowed to grow up and progress – the feeling that I constantly had to prove myself over and over, and never getting to the point when people said, 'You can do this.'"
Pinnock argues it is not just the individual who suffers, but the entire culture, leaving each new generation of black female writers to feel that nothing came before them. "Always feeling that you are the first is a lonely place to be," she says.
"If writers like me are denied a full career and the opportunity to reach our mature voice and fulfil our creative potential or tell our stories, it's not just a censoring of that individual but the censoring of an entire community. I feel this far more passionately than I ever did. You leave a trace of yourself as an unresolved history. It's not enough that you now have black actors playing parts not necessarily written for them. There is a culture and history that should be told and seen on stage. I used to think we needed change to progress. Now I think we need a revolution. I was a shy kid, full of self-doubt when I wrote Leave Taking. I'm no longer that shy kid. I've got stuff to say. Let me say it."
She smiles. "What can be so dangerous about that?"
• Leave Taking is at the Bush theatre, London, from 24 May. Box office: 020-8743 5050.