David Livingston/Getty Images
Will Smith and Jada Pinkett Smith's house is currently about eight miles away from the wildfires that are raging through Southern California.
The Hitch star took to his Instagram Story on Friday to share with his followers how close the couple's home is to the fires, stating that they haven't been told to evacuate just yet. "So I'm going up to a higher place to take a look out at the fire," Will told his followers. "We're about eight miles from it, we haven't been told to evacuate just yet."
Will then said that his daughter, Willow Smith, is "nervous" so she "made me go outside and look and make a daddy assessment." The video then panned to family's house as Will showed where their residence is compared to the fire.
"That is very scary," he said. "We are prepared to evacuate as soon as we get the word. If you are in the evacuation zone, go now!"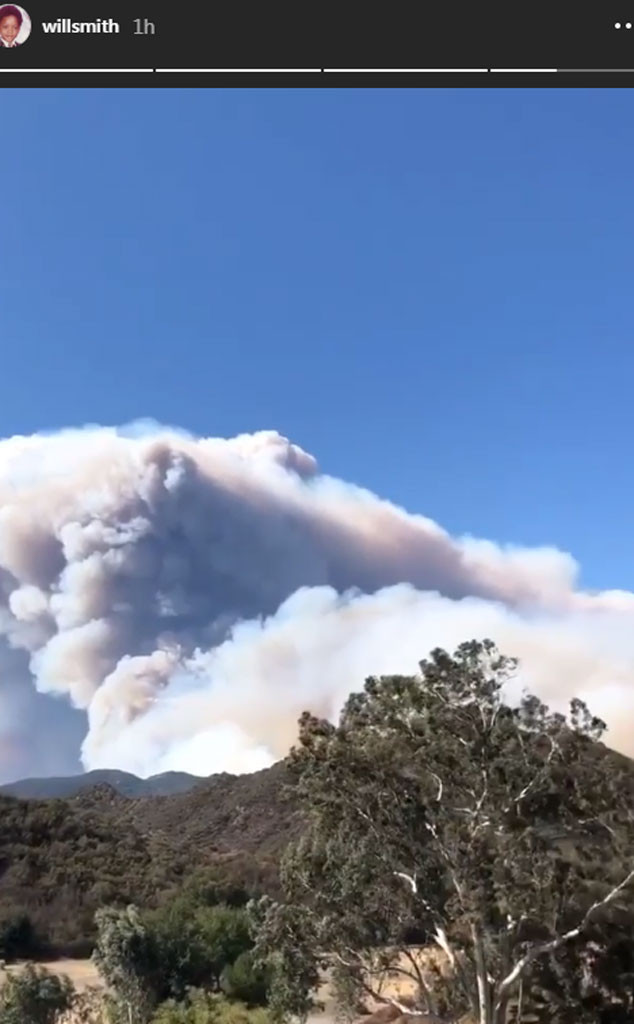 Instagram/Will Smith
Alyssa Milano, Rainn Wilson, as well as the Kardashians are among the celebs who live in those evacuation zones.
"I just had to evacuate my home from the fires. I took my kids, dogs, computer and my Doc Marten boots," Milano tweeted Thursday night, adding that her husband is in New York and her horses are being evacuated by her trainer.
"My House has been evacuated due to nearby fires in Thousand Oaks. (The pigs & dogs are fine, thank you)," Wilson wrote to his followers Thursday. "Please send your prayers to the people of Thousand Oaks and the victims of the shooting that are now having to evacuate their homes and neighborhoods. Then send them some cash."
Kim Kardashian was also forced to evacuate her home on Thursday. The Keeping Up With the Kardashians star was just landing back in Los Angeles from a trip out of town when she took video of the fires from her plane window.
"Pray for Calabasas," she wrote on Instagram. "Just landed back home and had 1 hour to pack up & evacuate our home. I pray everyone is safe."
Kourtney Kardashian also shared footage of her packed car on social media, while Khloe Kardashian tweeted that she was with True Thompson, Rob Kardashian and Dream Kardashian "keeping watch" on the fires.
Our thoughts are with everyone being impacted by the wildfires.