Did Sebastian Stan just capture the greatest photo from the 2018 Golden Globes? 
Some might consider Tonya Harding and Tommy Wiseau the unsung heroes of the evening, their surprise appearances not only shocking nominee Timothée Chalamet but Tonya and Tommy themselves, who could have probably never guessed their stories would end up the talk of the 2018 award season. 
Stan, who plays Harding's ex-husband Jeff Gillooly in I, Tonya, shared the snapshot to his Instagram Stories, adding the seemingly sarcastic caption, "Happy 2018!" 
Margot Robbie portrays the disgraced figure skater in the critically-acclaimed film, while James Franco takes on the eccentric filmmaker and his real-life mission to become a star in The Disaster Artist.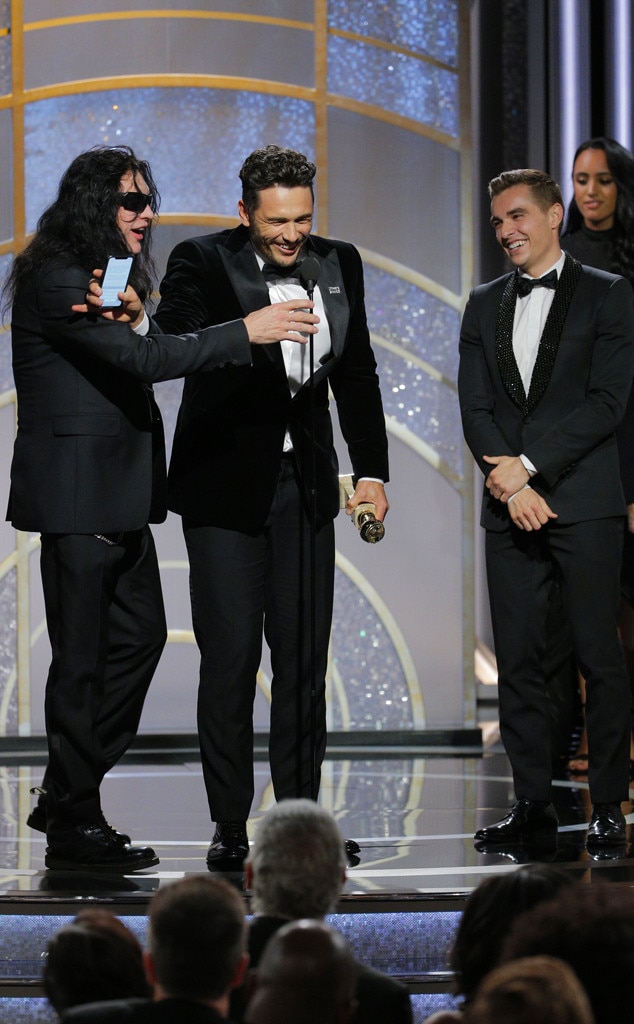 Paul Drinkwater/NBCUniversal via Getty Images
Wiseau accompanied Franco onstage when he was named Best Actor in a Motion Picture Musical or Comedy, but was stopped short by the actor when he made a grab for the mic. (Let's just say this moment will live in Golden Globes GIF infamy…) 
Instead Franco offered the same zany impression of Wiseau that landed him the coveted honor, ultimately adding, "This was billed as a movie about making the best worst movie ever made but, in fact it's a story of friendship. This year I learned from friends and collaborators."
As for Tonya and Margot, the award for Best Actress in a Motion Picture Musical or Comedy went to Lady Bird's Saoirse Ronan, but that doesn't mean we won't see plenty more of the former ice queen at future ceremonies. I, Tonya star and Golden Globe winner Allison Janney, who played Harding's abusive mother, touched on getting to know the polarizing public figure and her experience at tonight's unforgettable event.
"I felt so much compassion for [Tonya]," Janney told E!'s Jason Kennedy. 
"She's just like a little kid in the candy store sitting there at the Globes, looking at all these famous people. Just being starry eyed and star struck by all the celebrities," she added in part. "I've not gotten to spend a lot of quality time with her, but what I learned about her during this movie is that her story isn't as simple as what we first thought it was… I think she was up against a lot. I think she did accomplish an incredible feat as an athlete; I think she had some questionable people in her life. I don't think we exonerate her exactly but you just have compassion for her."
Watch E!'s "Live From the Red Carpet at the Golden Globes," tonight at 8 p.m. in the UK