There are few bigger theatrical wallops than a large story in a small space. Laurence Boswell's production of The Whale is exactly that. The tiny and brilliantly adventurous Ustinov, where Boswell is artistic director, has put on a stream of bright new work – including The Father and Intimate Apparel. Samuel D Hunter's play, first seen off-Broadway in 2012, is the most capacious drama I have seen for ages. It is dominated by the idea of Moby-Dick; it contains Mormons, furious children abandoned by parents, a man who leaves his wife for a gay lover, notes on how to write a literary essay. Oh, and the central figure is morbidly obese.
Shuler Hensley, who starred in the original production, is superb as the man whose disappointment can be measured in layers of fat. Round as a top, he is beached in his room: Tim Shortall's design perches a scuzzy bed in front of videos of waves. He is mourning the death of his lover, racked at the damage he has caused the family he deserted, and teaching English literature online: "Do your students know what you look like?" barks his alarming daughter, who turns up to goad him. Every movement involves a wheeze and the risk of a fall; every memory brings regrets; his face looks as if it is about to melt. Yet he is vivid with two qualities often considered incompatible: a sweet nature and a questing intelligence. Although there is no maudlin happy ending, there is constant energy: from Hunter's writing and from Boswell's production, which features sceptical bursts of brass between scenes.
In an exceptionally strong cast, Rosie Sheehy is a knockout as the clever teenager fuelled by fury. Unstintingly snarling, she has a hate blog on which she disses her family and her contemporaries (she has no friends); her favourite word is "retard". There is no hint of sentimentality in her performance: a rat-a-tat-delivery, a sullen stare, her whole body shaped like an insult, and just once a glimmer of grief beneath it all. Sheehy is one of the finds of the year.
Put a small play on a large stage and you end up with a whimper. On the beautiful wide space of the Bridge – increasingly alluring in the summer as the theatre opens out to the riverside – Barney Norris's new play promises big things. A study of unhappiness and entrapment in a fading rural landscape, Nightfall is part of the theatre's increasing fascination with the countryside – as seen in Jerusalem and more recently Albion. Rae Smith's design and Chris Davey's lighting – both outstanding – create a place that is both familiar and apocalyptic. A massive rusting oil pipe, big enough to contain a whole cast of characters, slices across the back of a quiet smallholding: it might have been wrenched from a Tate Modern installation. As the play opens, two lads are tapping into it: sparks fly, like reflections of the stars above. They are the fizziest things in a desultory evening.
Norris is still in his early 30s and will write stronger plays than this. A busy backstory – a family felled by bereavement, a terrible crime and a cover-up, a manipulative mother and inexplicably passive grownup children – does not translate into urgency of action or feeling in Laurie Sansom's sauntering production. This is also the first time I can remember in a professional theatre that I've been unable to hear what was being uttered. These are four good actors – Ophelia Lovibond, Ukweli Roach, Claire Skinner and Sion Daniel Young – but they are performing with more delicacy than power.
There is greater gusto in the latest play in Classic Spring's Oscar Wilde season. Apart from anything else, here is Frances Barber, so scarlet as a vamping villainess that she might have jumped off a playing card, and Edward Fox as an aristo dad, his every crease stiff with entitlement.
An Ideal Husband, first staged in 1895 when Wilde was struggling financially, contains one of his best and most provoking lines: ''Morality is simply the attitude we adopt towards people we personally dislike." It also contains a key to Wilde's plays: "As a rule everyone turns out to be someone else." The disguise here is an ingenious misleading of the audience: a question of which character will actually behave most decently. The upright husband of the title, a politician, turns out to have founded his fortune on treachery: years ago he sold a cabinet secret; now he risks exposure. It is the most preening and flippant of characters who behaves with probity and generosity.
Jonathan Church's clear, stately production neatly brings out the paradoxes. In one respect it excels. Freddie Fox (left), playing the son of his real-life father, is exquisite as a creamily contemptuous dandy who seems likely to prove a loving spouse. It is a performance full of inventive grace notes – buffing his nails, aiming a kick at his father's back – but also strong and direct. Wilde claimed that there was no one like the author in An Ideal Husband. Fox made me feel sure he was fibbing about that.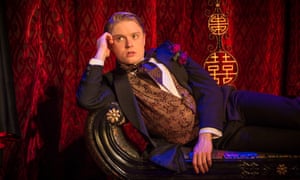 Star ratings (out of 5)
The Whale ★★★★★
Nightfall ★★
An Ideal Husband ★★★
The Whale is at the Ustinov Studio, Theatre Royal Bath, until 2 June
Nightfall is at the Bridge, London, until 26 May
An Ideal Husband is at the Vaudeville, London, until 14 July