Before this RSC Macbeth has begun, you see three little girls in red onesies, each nursing a bleeding doll. They sit around a double bed in which lies a bearded old man, Duncan, who looks as though the very thought of the Scottish play has deprived him of the will to get up. And no wonder – because this Macbeth, directed by Polly Findlay (whose Beginning for the National Theatre has been a hit), fizzes with ideas but is a huge challenge. It is a combination of black-and-white horror film (it also nods at Stanley Kubrick's The Shining), utilitarian tragedy and child's play. Child witches ought to make sense in a drama involving murdered innocence, only that when the children chant "fair is foul and foul is fair" in a singsong tone, it sounds as though they have no idea what the words mean and are just up beyond their bedtime.
Christopher Eccleston, making his RSC debut, is a down-to-earth, northern Macbeth. At one point he comments that it has been "a rough night" and gets a laugh. But having a Macbeth, dressed in camouflage, who sounds as though he would like to be one of the lads does not altogether come off – he is too busy killing other lads to be anything other than isolated as time runs out on him (designer Fly Davis has a digital clock on stage, ticking backwards from Duncan's death to Macbeth's). Eccleston is at his best in the instant remorse and weird anticlimax following Duncan's death, but too often this plain-speaking Macbeth murders the flow of the speeches.
What Findlay's production powerfully reminds us of is how much time the Macbeths spend talking to someone who is not there – an audience with absence. And it is blessed with a sensational Niamh Cusack as Lady Macbeth. When she says "look like the innocent flower but be the serpent under it", she could be describing herself in her stem-green dress. Her violent thoughts are offered with exultant softness. She would get blood out of air to achieve what she wants.
There is good support from a well-spoken Banquo (Raphael Sowole), an eloquent Malcolm (Luke Newberry) and an unusual Macduff (Edward Bennett) who looks more cosy environmentalist than soldier but breaks one's heart in the scene where he learns of his family 's death. The drunk porter (Michael Hodgson) is oddly ubiquitous, becoming a traffic warden for murderers who have no sense of direction. This thoughtful, multitasking production has a fatal tendency to undermine tragedy with jokes.
The Great Wave is not about a Hokusai painting; it's about a Japanese girl, Hanako, who walked down to the sea one day and disappeared in a storm. She had been abducted by North Korea (as were other Japanese people in the late 70s) and held captive – her job to educate North Korean spies about Japan. Francis Turnly, a Japanese-Northern Irish playwright, has written a thriller that holds us captive too. His writing has a linear grace to which designer Tom Piper has responded with elegant screens upon which video artist Luke Halls projects roaring water – curvaceous black-and-white waves.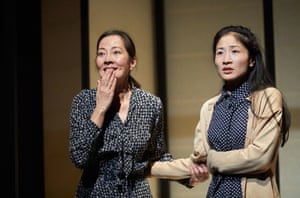 It is a pleasure – and still a rarity – to see a predominantly Asian cast at the National, and this is a first-rate ensemble, directed by Indhu Rubasingham, artistic director of the Tricycle theatre. With help from a revolving and sometimes split stage, her careful production shifts between punitive North Korea and defensive Japan. Hanako (dignified Kirsty Rider) is in a North Korean prison cell, watched over by a portrait of Kim Il-sung and by a soldier (Kwong Loke) and an aspiring spy (Tuyen Do). Hanako's anguished sister, Reiko (Kae Alexander), remains in Japan with the girls' neat, distressed mother (Rosalind Chao) and with Tetsuo, the boy next door – played by Leo Wan with cartoon expressiveness, as though escaped from a manga comic. Twenty-five years pass – a concise epic – and some answers emerge. But the show's parting image is enigmatic: an orange lantern taking off into the Dorfman's upper darkness. No Japanese artist could have ended this fresh, moving, out-of-the-ordinary drama with more perfect punctuation.
Seán O'Casey's The Plough and the Stars (1926), about the Easter Rising in 1916, when Irish republicans attempted to end British rule, caused a sensation a century later in Sean Holmes's rumbustiously updated 2016 production at the Abbey theatre, Dublin. This welcome revival is a persistently interrupted cabaret, a bold, discomfiting Irish babel. The set is a metal scaffold/Dublin tenement block (designer: Jon Bauser). Shortly before his death, according to a programme note, O'Casey was still advising young playwrights not to be afraid of "life's full-throated shouting". Silence would, one suspects, be death to O'Casey's characters.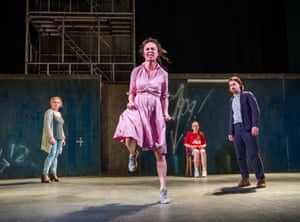 The cast is phenomenal, with an especially impressive Kate Stanley Brennan as Nora Clitheroe, determined to stop her husband, Jack (outstanding Ian Lloyd Anderson), from fighting in the Irish Citizen Army and herself ending as an Irish Ophelia. Hilda Fay is affecting as unionist Bessie Burgess. Ciaran O'Brien is vivid as diminutive, fidgety zealot "the Young Covey". Janet Moran is gorgeously brazen as Mrs Gogan, whooping with indiscretions. Peter Flynn (Niall Buggy) is a pitch-perfect comic turn. Phelim Drew convinces as Fluther Good. And Julie Maguire shocks as consumptive Mollser, who starts the evening singing the Irish national anthem before choking on her own blood – a warning made flesh.
I can't resist the temptation to say that Agnes Colander is full of holes – because that is the truth. This is a draft of an early and never-performed Harley Granville Barker play, which he wrote in 1900, aged 22, tactfully resuscitated by playwright Richard Nelson. The dialogue is patchily eloquent and often creaky, crying out for the dramatic equivalent of WD-40. And yet it's a worthwhile curiosity because of the surprising (for the time) questions it raises about how to be a woman and an artist.
Trevor Nunn, deft pro that he is, proceeds with flair, and the Ustinov Studio proves an ideal space in which to situate an artist's studio: Farrow & Ball colours, a paisley spread over a chair, an easel standing like an interlocutor (designer Rob Jones).
Naomi Frederick's Agnes is arrestingly self-involved, with bursts of febrile animation. There are moments when her thoughts anticipate DH Lawrence. The play is startling in its discussion of sex – a strange mix, to a modern ear, of frankness and evasion.
Matthew Flynn works wonders as Otho, rambling he-man, lover and artist, fetching up with Agnes in Normandy (beautifully evoked in the second half). Freddy Carter, as a gentleman admirer, is comic in his gauche ardour. But will the joke last? Gauche young men do not stay gauche forever. In the same way, there is no telling what this play might have become had Granville Barker elected, as a grownup, to revise it.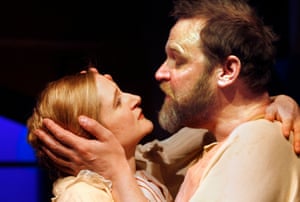 Star ratings (out of 5)
Macbeth ★★
The Big Wave ★★★★
The Plough and the Stars ★★★★
Agnes Colander ★★★
• Macbeth is at the Royal Shakespeare theatre, Stratford-upon-Avon, until 18 Sept; and the Barbican theatre, London, 15 Oct-18 Jan 2019
• The Great Wave is at the Dorfman, National Theatre, London SE1, until 14 April
• The Plough and the Stars is at the Lyric Hammersmith, London, until 7 April
• Agnes Colander is at Theatre Royal, Bath, until 14 April