Hadestown begins promisingly as André De Shields's Hermes saunters on to the stage with the look of a man who knows he can hold the floor and, with a slow flourish, unbuttons his jacket, as though the story itself might be hiding beneath it. Uncovering a flashy silver waistcoat, he launches into stylishly delivered song (he does not put a foot wrong all evening).
Anaïs Mitchell's musical (she wrote the music, lyrics and book) started life as a community theatre piece in New York and is stopping off in London before returning to the US and Broadway. The buzz around the musical has been contagious, its subject inviting. Greek myth tends to be hospitable to reinterpretation and, at first, it seems that the story of Orpheus and Eurydice, told in contemporary American style, will share the strolling cool of its players, make itself at home in the ad hoc atmosphere created by the talented, racially diverse cast and by Rachel Chavkin's energetic direction. But high hopes soon dwindle.
The challenge for anyone taking on the Orpheus myth is that his songs must seem to have unearthly power (to charm wild beasts and persuade rocks to move). But in Mitchell's pleasantly folksy, jazzy, poppy hybrid, Orpheus has been given a high-pitched "la-la-la" as his breakthrough notes. An ordinary phrase, which keeps recurring, it is expected to support the story, which it cannot do. No wonder Reeve Carney as fresh-faced Orpheus, even with a nice singing voice and warm smile, struggles to be affecting as he runs to and fro with his guitar. Eurydice has the look of a modest student with her white shirt half hanging out, her small rucksack and torn jeans. Eva Noblezada's fantastic voice is a contrast to her character's diminutive, withdrawn presence, but she has not been given lines with which fully to engage the audience in her story.
Rachel Hauck's nondescript set is a New Orleans jazz club with wrought-iron balcony and revolving stage – handy for suggesting circles of hell. Patrick Page's commanding Hades, in silver and black pinstripes, has a growling bass as if his voice itself had come from down below (he sounds satisfactorily like Leonard Cohen on a dark day). Amber Gray's Persephone is a vivacious vamp who mysteriously introduces herself in a song at the beginning of the second half – "My name is Persephone" – even though we have already met her in the first.
The structure is muddled with too many characters relating the narrative rather than participating in it. When Persephone begs Hades to free Orpheus (in How Long), it is powerful because it is one of the rare songs with dramatic purpose and edge. On stage there is too much going on without pause (more solos would have been welcome). Having said that, the ensemble work is good, the breakdancing ditto, and there is a dynamic (if overextended) hard-labour routine for hell's miners (choreographer David Neumann).
Stopping off at Hadestown, though enjoyable, is a light entertainment that could have gone deeper even though it nods at topical subjects in Why We Build the Wall and to the #Me too campaign (Eurydice reluctantly disappears behind closed doors with Hades). But when Orpheus looks back at Eurydice and she descends once again into the underworld, one looks on as indifferently as if she were taking the lift down in a department store.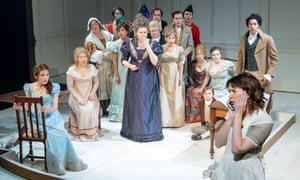 Jane Austen gave up on her novel The Watsons mid-career, for reasons unknown. And now Laura Wade, author of the hit Posh and Home, I'm Darling, has set herself the task of picking up Austen's dropped stitches. But this is no slavish costume drama; it is an unpredictable treat, a brilliant, entertaining de-construction that reminds us of the inevitability – in life and art – of losing the plot.
The first half is Austen-lite. We are in an elegant white bedroom (suggestive of an unfinished page) designed by Ben Stones. Grace Molony is perfection as Austen's unmarried heroine, Emma Watson, a sylph in a sky-blue dress, starting deliciously demure but turning mutinous (Wade knows how to reproduce Austen's exquisite waspishness). Right from the start, we are encouraged not to depend on anyone's authenticity – this story is unsteady on its legs. Take Lord Osborne (irresistibly unreliable Joe Bannister) – his stuttering small talk seems threatened with extinction.
Wade takes the bold step of writing herself into the play as "Laura" – the harassed, interventionist maid serving the story (an animatedly floundering Louise Ford). But by the interval, Wade has waded in so far, it's anyone's guess how, or whether, she is going to get out.
Emma's realisation that she is a character, not a person, is pitiful – an endless life sentence – and her prospects become ever more imperilled. When she runs away, she fetches up in a blank (because unwritten) space at the end of country lane. Wade somehow succeeds (occasionally only narrowly) in writing about writing without self-indulgence. There is a frantic moment when "Laura" is on her mobile, admitting to an unseen interlocutor that her play nods at Pirandello (although her characters are trying to lose their author).
Samuel West directs superbly and proves himself a master of visual punchlines. At one point, Austen's characters, who have been hiding under a bed, stream out in convoy – uncontrollable as imagination itself. And presently, this gorgeous, teasing, neurotic caper turns philosophical.
Whatever we decide about the afterlife of Austen's novel, this play makes one reflect that, in life, it is best not to know who holds the reins or to have any idea where one is going.
Star ratings (out of 5)
Hadestown ★★★
The Watsons ★★★★★
• Hadestown is at the National Theatre, London, until 26 January
• The Watsons is at the Mincerva, Chichester, until 1 December