Jerwood Theatre Downstairs, Royal Court; Donmar Warehouse, London
Alone on stage for an hour and a half, Carey Mulligan is extraordinary in Dennis Kelly's gripping new play. Plus, a dream double act at the Donmar
"Remember that this did not happen to you, and that it is not happening now. All right?" Like all the best theatre, Dennis Kelly's new play, sharply directed by Lyndsey Turner, makes this command impossible to follow. As the sole speaker in Girls & Boys, Carey Mulligan takes you inescapably into the heart of what has happened to her character. She makes sure you feel, squirmingly and ashenly, that it is occurring as you watch. And no, it is not at all right.
The twist and terror that darken the final scenes must be kept secret. But not what leads up to them. Mulligan comes on with scraped-back hair, tailored maroon trousers, an estuary accent and a big attitude. She begins like a standup, telling chirpy anecdotes in front of a pale backdrop. There is the one about how she first met her husband in an easyJet queue and discovered – via an intervention from some cocky models whom she takes off with aplomb – that this "creepy little slack-jawed simpleton" is no chump. There is the one about her swearing her way past the ponied classes into a job in documentary film. There is the sly destructiveness with which she gets rid of one of her husband's friendships. Mulligan delivers the hour-and-a-half-long history with spikiness, dimples and apparent composure – but nearly all the time her hands are whirling, as if they are trying to escape.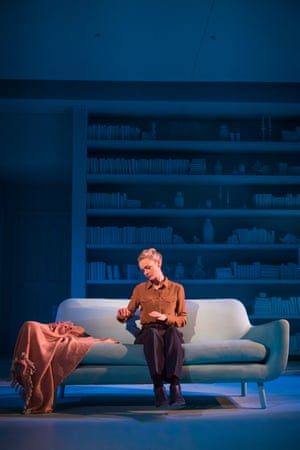 In intervening scenes, designed by Es Devlin to look both chic and ethereal, Mulligan plays with her children: a girl who makes pottery dinosaurs that look like chickens and a boy who smashes them. So she says. She points out that since this is a one-person show, we are getting only one point of view. Her living room is all-over aquamarine, like glass polished by water. Those children can be seen only by her.
Girls & Boys grips with its gradual accumulation of uncertainty and disquiet. As a picture of a corroding love, it touches finely on jealousy between people who care about each other. Yet perhaps Kelly's most impressive achievement is to move from anecdote to speculation, broadening his play from a singular painful study to real questions about the balance of power between women and men. "We didn't create society for men," Mulligan claims. "We created it to stop men." Some will find that tendentious – but, again, this is a one-person show. And what a person. Mulligan is tremendous. Taut and poised, never using the softness that makes her so instantly appealing. I see she is being heralded as a "film star" putting in an appearance at the theatre. No doubt after her triumph in BBC2's Collateral, she will soon be spoken of as a television actress. But she has been magnetic on stage since she was a teenager.
Six years ago, Peter Gill directed a trilogy by Robert Holman called Making Noise Quietly. The title aptly describes his own life's work in the theatre, as writer and director. Gill speaks softly, but the undercurrents are powerful. They make waves. Not least in The York Realist, his 2001 drama about the love affair between an agricultural labourer and a metropolitan theatre director. Set in the countryside outside York, where a cycle of the Mystery plays is being staged ("God had a good voice," comments one spectator), it captures attitudes and accoutrements of the early 1960s, and a vanishing rural life. Chapel-going, a tin of Carnation milk, stiff jeans with turn-ups. Peter McKintosh's design perches a giant black kettle, like a fossilised cockerel, on the old range that the housewife despises and the townie treasures.
Various situations suggest themselves but the complications never come where you expect them. There is no angry confrontation between the male lovers and the Bible-readers who surround them. Nor is there a betrayal of one man by another. Rather they face the eternal dilemma of any lovers whose emotion endures but whose way of living is at odds.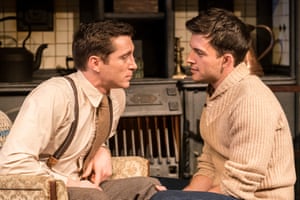 Robert Hastie's production beautifully emphasises the silences and euphemisms, the fine ambiguities in Gill's play: the moments when evasion cannot be distinguished from the silence of complicity. It is also shot through with lyricism. The first act ends with the two men about to make love for the first time: the stage is in darkness, with a light only on the stairs to the bedroom.
As the two lovers, Ben Batt and Jonathan Bailey are individually powerful. Batt's character – assured in his personal life, adrift when away from rural living – is steadfast, gruff, distinguished. Bailey's is confident in his metropolitan world of Japanese paper lampshades and ballet, but anxious with his lover, nervous about what falling for men will mean for his life. Together they are extraordinary. I have never seen falling in love so palpably expressed as when the two of them, having met hours before, come in from walking the farm, completely lit up, as if their skin had a different texture.
There is also a striking debut from Brian Fletcher as a gawky youth: mouth slightly open, features sunk in doleful adolescence, neck at an awkward angle, "dunno" his default response. He makes himself look like a line-drawing from a 60s comic.
Star ratings (out of five):
Girls & Boys ★★★★★
The York Realist ★★★★
• Girls & Boys is at the Jerwood Theatre Downstairs, Royal Court, London, until 17 March
• The York Realist is at the Donmar Warehouse, London, until 24 March