Russell Howard Hour Series 2
The Russell Howard Hour's second series will be shown by Sky One in 2018
Series 1 has been Sky's biggest factual-entertainment show since 2012, with over 60 million viral views
John Oliver will make his first British TV appearance in over a decade in the final episode of this series
The Russell Howard Hour is to return to Sky One as planned in 2018 for a second series, it has been confirmed.
Currently broadcasting on Thursday nights, the fourteen-part Series 1 has been regularly attracting over a million viewers an episode (with on-demand viewing figures included). This makes it Sky's biggest factual-entertainment show since 2012.
Notably, the show is also an international hit. With full episodes made available outside the UK via YouTube, and clips regularly going viral on YouTube and Facebook in the UK, millions have now seen clips from the comedy. Producers have calculated, over the last two months, the show has amassed over 60 million views in 186 different countries.
Russell Howard's passionate backing of the British police has been viewed over 8 million times so far; his housing crisis discussion is soon expected to pass 7 million views; and his video about the impact of social media on teenage girls has been seen over 5 million times.
Announcing their line-up of guests for the final month of Series 1 episodes, producers Avalon confirmed the intended Series 2 will be broadcast next year, although the timing of the series is yet to be revealed.
Guests booked for the last Series 1 episodes include Jamie Oliver, Sarah Millican and Roisin Conaty.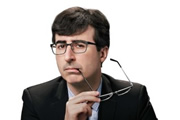 Notably, John Oliver will appear in the final episode, on 21st December. It will be the British comedian's first major appearance on British TV in over a decade. He was last seen as a panellist on BBC Two's Mock The Week in 2006. Soon after he broke into American TV as a writer and star correspondent on The Daily Show. Then, in 2014, he launched HBO series Last Week Tonight With John Oliver, which has now run for over 100 episodes and won the comedian more than 15 awards.
---
For updates, click the button below.
Share this page