Is it always necessary to update Restoration comedy? Two months ago a revival at Southwark Playhouse set William Wycherley's famously filthy play in the 1920s. Although Jonathan Munby's Chichester production is far better staged and acted, it chooses to put this 1675 comedy in the present day with decidedly mixed results. The assumption is that London life hasn't much changed in nearly three and a half centuries but I wonder how true that is.
The plot hinges on a cynical decision by Horner, in order to gain access to the ladies of the town, to feign impotence: a somewhat extreme way of going about things for any modern rake. But Wycherley's comic device is a way of satirising contemporary marriage. One husband, Pinchwife, keeps his rustic young bride, Margery, in a state of virtual imprisonment. Another husband, Sir Jasper Fidget, is so negligent he actively encourages his wife to consort with Horner. Yet another plot strand shows a foolish fop, Sparkish, casually mistreating his fiancee whom he is only marrying for her money.
Jealousy, gullibility and rapacity are obviously still with us. You could also argue that Wycherley's play gains topical currency from its portrait of male chauvinism: even the play's supposed man of sense, Harcourt, argues that mistresses are like books which, if pored over too much, "make you unfit for company". But Wycherley's comedy also offers a sharp study of female hypocrisy: far and away the funniest scene shows the fashionable Lady Fidget, after being closeted with Horner, exhaustedly claiming: "I've been toiling and moiling for the prettiest piece of china."
In the end, the play is anchored in the manners and morals of its time and in a London where people don both literal and metaphorical masks to disguise their ravenous sexual appetites.
Munby's production relocates the play to a more explicit modern world of frenzied disco dancing, Soho peepshows and Ann Summers shopping bags. But, although this sits oddly with references to orange-wenches and promiscuous playhouses, the cast is good to watch. Margery Pinchwife is the plum role and Susannah Fielding perfectly catches her mix of wide-eyed rural naivety and wonderment at the pleasures London affords: in a nice touch, Fielding even finds herself excluded from the concluding revels, exactly as she was when she played a lonesome Portia in an RSC Merchant of Venice.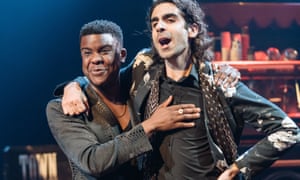 John Hodgkinson, without downplaying her husband's brutality, also conveys the pathetic indignity of a life based on perpetual suspicion. Horner himself, as a critic once said, "has no consistent characterisation". He is simply Wycherley's means of exposing society's follies, but Lex Shrapnel hints nicely at the sad solitude of the dedicated debauchee. There is also vigorous support from Ashley Zhangazha as the relatively honest Harcourt, from Scott Karim as the boisterously frivolous Sparkish and from Jo Herbert, sporting a spectacularly streaked Cruella de Vil wig, as the fiancee he foolishly rejects.
A play that Lord Macaulay condemned as "one of the most profligate and heartless of human compositions" emerges in Munby's productions as a merry romp. I wish, however, more directors would follow the example of James Macdonald in his recent revival of The Way of the World and realise that the joy of Restoration comedy is that it holds a mirror up to its particular historical moment.
• At Minerva, Chichester, until 7 July. Box office: 01243 781312.