Podcasts
Haunted
Presented by broadcaster and journalist Danny Robins, this podcast explores the presence of ghosts and ghouls, sensitively investigating real people's experiences of the afterlife. In one episode, Robins visits a house haunted by a racist ex-tenant.
Listen at Megaphone
Table Manners
As well as knocking out the perfect dinner-party soundtracks – recent album Glasshouse was her third UK Top 10 – Jessie Ware has now created a dinner-party podcast with her mum, Lennie. So far in the series, the unabashed mother-daughter banter – recorded in Ware's north London flat – has been interspersed with chat from guests Sam Smith, Will Young and Daniel Kaluuya.
Listen at Acast
Music
Ray BLK
After becoming the first unsigned act to win the BBC's Sound of… earlier this year, Rita Ekwere, AKA Ray BLK, continues to do things her way. Rather than rush out an album, she released the knowingly titled neo-soul anthem Patience before following that up with the equally pointed Doing Me. Hopefully there is a long-player in the works, but in the meantime she starts her UK tour on 2 December at Institute2 in Birmingham.
The End of Time
Manchester Collective launch their tenure as ensemble in residence at the city's Stoller Hall on 2 December with Messiaen's disturbing Quartet for the End of Time.
Film
Stronger
Directed by David Gordon Green, whose previous successes include slacker comedy Pineapple Express and unfunny comedy Your Highness, Stronger is an Oscar-tipped biographical drama about Jeff Bauman (played by Jake Gyllenhaal), a survivor of the Boston marathon bombing in 2013. Orphan Black's Tatiana Maslany and Miranda Richardson co-star in this emotionally resonant film. Out on 8 December.
A Tim Burton Trio
Starting on Friday, HOME Manchester celebrates the gothic fables of wild-haired director Tim Burton, focusing on three of his more Christmassy creations. This Friday, it's Johnny and Winona vehicle Edward Scissorhands; next Saturday, it's animated wonder The Nightmare Before Christmas, before things close on 18 December with Batman Returns, with a barnstorming Michelle Pfeiffer as Catwoman.
Human Flow
Ai Weiwei's new film throws stark light on the current refugee crisis. Showing the scale of the problem via drone footage, and mind-numbing facts that flash on the screen, Weiwei – himself a displaced person growing up – has created a human tone poem that will sit with you for a long time afterwards. In cinemas on 8 December.
Exhibitions
Thomas Bock
Born in Sutton Coldfield in 1790, Bock learned his trade as an engraver in Birmingham before being convicted of "administering concoctions of certain herbs … with the intent to cause miscarriage" and sent to Tasmania. There he worked as an engraver and illustrator before he was pardoned in 1832 and became one of the most sought-after portrait painters. Quite the life. Plus, he was one of the first Australian artists to experiment with photography.
At the Ikon Gallery, Birmingham, from 6 December
A New Era
Ever wondered what Scottish artists' reaction was to fauvism, cubism, surrealism and abstraction? Well, wonder no more. The Scottish National Gallery of Modern Art Two hosts this major exhibition – full title: A New Era: Scottish Modern Art 1900-1950 – to 10 June. Featuring more than 100 paintings from the likes of William Gillies, JD Fergusson and Alan Davie, it's a fascinating insight into an unsung chapter of art history.
Theatre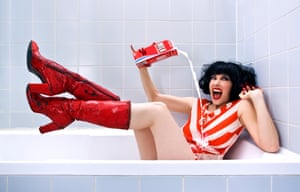 Feline Intimate
Australian cabaret queen and Olivier award winner Meow Meow – whose voice has been described as "honeyed cream studded with razor blades" – makes her long-awaited return to Manchester at HOME on 6 December Feline I. Feline Intimate is a manic and magnificent race through the canon of obsessive love songs that takes in 1930s Shanghai show tunes, 60s French pop and post-punk.