The contestants have been revealed for Series 9 of Taskmaster.
David Baddiel, Ed Gamble, Jo Brand, Katy Wix and Rose Matafeo will be the five players in the next series of the hit Dave comedy.
The challenges have already been filmed at the Taskmaster house, with studio segments due to be recorded from next week.
Series 9's line-up was revealed at the end of tonight's programme, which concluded Series 8. Involving Iain Stirling, Joe Thomas, Lou Sanders, Paul Sinha and Sian Gibson, the series was won by – spoiler alert – Sanders.
Notably, this series will be the first time there has been more female contestants than male contestants on the show together. Aside from sitcom actor Wix, all the contestants in this next series are stand-up comedians.
Taskmaster was created and is written by Alex Horne, who serves as administrative dogsbody to Greg Davies's titular 'Taskmaster' role. Originating as a live format performed at the Edinburgh Festival Fringe, the format was quickly picked up for television through production company Avalon Television.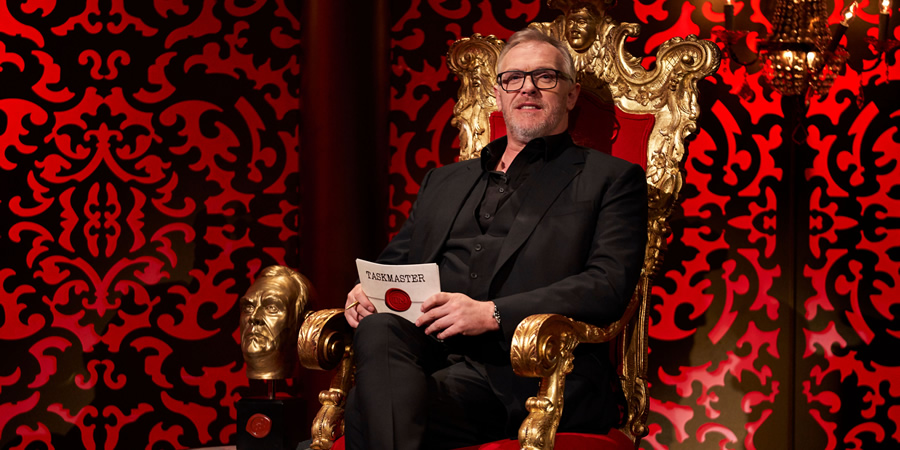 Debuting on screens in 2015, its popularity has ballooned and the show is now Dave's most successful original format, with Series 8 proving the most successful to date. Of the nine episodes for which ratings are available, it attracted an average weekly audience of 1.7 million viewers, an increased of 16% on Series 7.
The programme is also the most popular on UKTV's on demand platform, UKTV Play, with over 5.5 million views between January and May 2019 alone.
Luke Hales, Channel Director of Dave, has commented previously: "If there is one show on Dave that really sums up the heart, soul and ambition of the channel, it is Taskmaster. The show was brilliant from the off and continues to go from strength to strength – it feels as fresh, funny and distinct as it did back in 2015."
The domestic success of the series has proved an international draw, with local versions of the show airing in America, Denmark, Belgium, Spain and Sweden, and others in development. Meanwhile repeats of the UK original have been sold to more than 10 countries.
Studio recordings for Series 9 will take place at Pinewood Studios between 18th and 24th July. Tickets
Series 9 of Taskmaster will begin on Dave in September 2019. A play-along book of Taskmaster-style tasks is available to buy now, and a board game will be released later in the year.
Below is the video reveal of the contestants:
---
For updates, click the button below.
Experience the insanity of Taskmaster first-hand, with show creator Alex Horne's book based on the BAFTA-nominated international hit comedy series.
Build yourself a box and think outside of it. Your time starts now…
Taskmaster is Dave's flagship game show with a difference. As the Taskmaster, Greg Davies sets a series of ridiculous tasks to a group of comedians with Alex Horne assisting as his right-hand man, coaxing the hopeful champions to think creatively while completing various challenges – from trying to paint the best picture of a horse (while sitting on an actual horse), to destroying a cake in a beautiful way.
Taskmaster: The Book Of Champions is the first book to accompany Dave's biggest-ever original series. It's a fully-interactive guide to indulging your competitive streak and challenging your friends and family to attempt insane tasks from the comfort of your own living room. From making the most artistic tea-stain on the page to creating a self-portrait while blindfolded, this book requires you to think – and draw – outside of the box. Rivalry is encouraged, dodgy tactics rewarded and bribes accepted.
Expect cheating. Expect arguments. Expect both cheating AND arguments.
First published: Thursday 6th September 2018
Released: Thursday 5th September 2019
Publisher: BBC Books
Pages: 352
Catalogue: 9781785944680