When, in 1904, suffragettes Christabel Pankhurst and Annie Kenney gatecrashed a Liberal party meeting in Manchester to protest their right to vote, they probably didn't do it to a hip-hop beat. But the scene playing out in a south London rehearsal room shows just that. Bouncing about the stage, the women chant: "You're looking for compliance and we're giving you defiance!", while the men wag their fingers: "Enough of this horseplay, you've had your say / Your role as a woman is to serve and obey."
The heavy bassline, catchy hooks and soulful vocals might not be 100% historically accurate but choreographer/director Kate Prince hopes they'll bring alive the story of women's suffrage in her new show, Sylvia, based on the life of Sylvia Pankhurst, sister of Christabel and daughter of suffragette leader Emmeline. Working with writer Priya Parmar and composer/lyricists Josh Cohen and DJ Walde, Prince has translated historical speeches and diaries into the idiom of hip-hop, funk and soul. So Emmeline Pankhurst's statement "You have to make more noise than anybody else" becomes the hip-hop call to arms: "Make some noise!"
Why is this a good story to tell through hip-hop, I ask Prince, while she munches through a salad on her lunch break. "[Author] Alonzo Westbrook says that hip-hop is the artistic response to oppression," she says. "I think that answers your question."
Prince and her company ZooNation are known for feelgood dance theatre (Some Like it Hip-Hop, Into the Hoods) but Sylvia is their first all-out musical, featuring a star turn from Beverley Knight as Emmeline Pankhurst. If you've heard about the show already, it might be thanks to a minor Twitterstorm over the casting of Knight, a black actor playing a white character. While there has been criticism of white actors, including Scarlett Johansson and Tilda Swinton, playing non-white roles, the idea that all casting should be restricted down racial lines is missing the point, says Prince. "We can't approach the casting of black and Asian actors versus white actors as if it is an even playing field," says Prince. "We have a lot of work to do to redress this balance.
"This is not new territory for us," she continues. "Diversity has been at the heart of our work for 16 years. ZooNation creates work that is influenced by hip-hop culture and we cast the best voices, dancers and actors for the music we make and the style of dance we do."
Prince, of course, isn't the only person hip-hop-ifying history on the musical stage right now. I'm just about to ask if Sylvia is the British answer to Hamilton when she says purposefully, "The one thing I'm keen to get across is we're not on the coattails of Hamilton!" It's fair to say that Prince has been making this kind of work for a long time. She hasn't even seen the smash US show yet, as she doesn't want to be influenced – or intimidated – by it, but she does think it's an important milestone. "It's shown that a piece of hip-hop musical theatre can be commercially viable," she says. "It doesn't have to be fringe. White, middle-class audiences will buy tickets."
Prince has an agenda to make accessible theatre that especially connects with young people. She'll be happy, she says, "if I can make some young people come in and give a shit about this story". She's taken an irreverent approach, poking fun at sacred figures including Emmeline Pankhurst and Winston Churchill, Prince tells me, adding, sotto voce: "Churchill's a bit of an idiot in this show."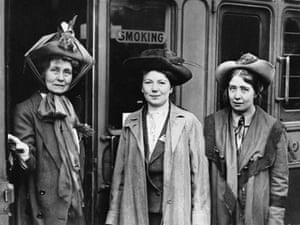 Rather than the full story of the suffragettes, the musical focuses on the middle Pankhurst sister, Sylvia, covering the period from 1895 to 1928, taking in her relationship with Keir Hardie and the founding of the Labour party, and the schism between her and her mother and sisters, who veered towards Conservatism as the years went on while she remained a staunch socialist.
"There's so much you can write about Sylvia," says Prince. "She becomes a communist for a time – she's the most quoted person by Lenin. Isn't that weird? She ends up in Ethiopia having a state funeral given to her by Haile Selassie. She's the first person to employ a black journalist [in Britain], she moves to the East End and sets up a cost-price restaurant, and turns a pub into a daycare centre for children. She does a deal with Selfridges – all teddy bears at the time were being made in Germany, and when the war started she convinced the store to stock only teddy bears from the factory she started in the East End, putting working class women into jobs."
Sylvia lived with Italian anarchist Silvio Corio and they had a child together, but when the couple refused to marry, Sylvia's mother Emmeline cut off all contact. "More than anything, this is the story of a family torn apart by their passion and their politics," says Prince, "because in the end politics comes first and family second. The relationship between Sylvia, her mother and her sister completely breaks down. They don't see each other or speak again until Christabel and Sylvia exchange letters in their 70s."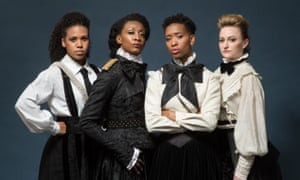 Has being immersed in Sylvia's suffragette story made Prince reflect on the battles women still have to fight? "Because of doing this show I've become very aware of how we speak about men and women," she says. "I've got a real bee in my bonnet about how everyone keeps referring to men and women as boys and girls. I had it recently, talking to someone in his office who said, 'Oh, I've got a great girl who does that for me.' In comes Sandra, older than me. She's not a great girl, she's a woman!"
You can't talk about sexism in the dance industry without noting the ongoing imbalance between male and female choreographers in the profession. "In dance, 90% of participants are female but I did some research recently on the nominations for best theatre choreographer at the Olivier awards since the 90s, and there were over 90 nominations to men and 18 to women," says Prince. "How is that possible? I refuse to believe it's because women aren't as good as men. And it can't just be because we have children." Prince has a three-year-old daughter herself, and admits it's difficult to combine parenthood and the intense creation process for a show.
Some people say female choreographers don't push themselves, I offer. "The young women I know that are choreographers, they're putting themselves out there," says Prince. "And they're not getting the same opportunities as men."
In terms of putting yourself out there, it's been pointed out that while male choreographers often name their dance companies after themselves, women are more likely to hide behind anonymous monikers. Which is partly why Prince has amended the ZooNation brand to add "The Kate Prince Company" to its title. "Look, men do it, and if women don't put their name front and centre … someone said to me, you have a responsibility if you're trying to open doors for these women to follow, to make Kate Prince and ZooNation synonymous."
This was brought home to her at an interview for a musical theatre job (Prince has a sideline working on other people's shows, including current hit Everybody's Talking About Jamie). "Someone was asking me, what kind of choreography do you do. I said, oh, mostly I've trained in hip-hop. And she said, you should really see this great company, they're called ZooNation!"
At which point, Prince realised, it was time to make some noise.