Stewart Lee Brexit TV show
Stewart Lee has written a TV script for a Brexit-themed show
The comedian describes the work-in-progress project as "a sort of Comic Strip Presents… thing"
Stewart Lee has revealed he is developing a Brexit-themed TV show.
As first spotted by Beyond The Joke, the stand-up revealed his plans in an interview with The Times.
The interview reveals that the comedian started work on a "90 page comedy script inspired by Brexit" in September. The project is being developed with Two Brothers Pictures, the production company run by writers Harry Williams and Jack Williams that has previously made shows such as Fleabag and drama The Missing.
The script is about "a country that has an immigration referendum and then tries to use reality television and social media to control public opinion".
Describing the show as "a sort of Comic Strip Presents… thing", Lee admits that his project might not be made, joking in the interview that the script is "far too full of left-wing bias".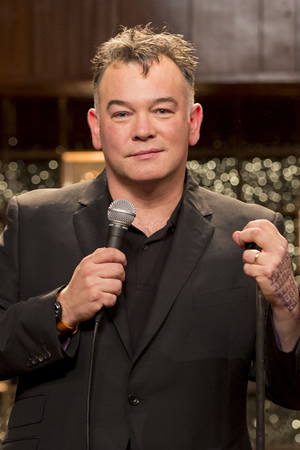 Speaking about his feelings when the EU Referendum result was announced, Lee told interviewer Dominic Maxwell: "I thought we [his family] had beaten the system because we've got a house, and the children have their own bedrooms, and then I thought that this house is in a country I don't really recognise any more."
He added: "Writing about things that matter to you politically is a by-product of doing the comedy, it's not the other way round. Which is why sometimes [the politics] is at the front and sometimes it isn't. I don't really care whether people agree with it; I can't work imaginary markets by trying to have opinions I don't have."
Lee was partly moved to write the TV script by the realisation he may not be able to continue his touring schedule in years to come and thus needs another avenue to build up a pension. Revealing he recently had "a health scare… a high blood pressure thing" and talking about his tour 'cycle', he explained: "The thing I didn't factor in was being really old and knackered and not being able to do it. So then I thought last summer I really should be able to do something else."
If the new, currently untitled programme goes ahead, it'll be his first project since Stewart Lee's Comedy Vehicle (pictured). The stand-up show, which had been running on BBC Two since 2009, was cancelled last year after four series on air.
He revealed to The Times that the last two series of his BBC show were part-funded by his promoter "otherwise they wouldn't have got made", and, had the show been given a fifth series, the plan was to move the filming to a bigger venue because it no longer made sense for his stand-up persona to moan about his "status as marginal and misunderstood" when he is performing to over one hundred thousand fans a year.
All four series of Stewart Lee's Comedy Vehicle are available on DVD. In his live show, Lee explains how he signs in to Amazon to look for cheap copies of his own DVDs to buy, as he can then build up stock to sell at his gigs cheaper than by buying copies direct from the distributor.
Lee was speaking to The Times to promote his live show Stewart Lee: Content Provider, which runs at the Leicester Square Theatre until the end of January. Tickets
Those with a Times subscription can read the full interview at TheTimes.co.uk
Share this page