There is a poem by Tom Paulin called An Ulster Unionist Walks the Streets of London, in which the narrator articulates the shock of not-belonging he feels as he wanders lost through the British capital "like a half-foreigner among the London-Irish". His British identity has been shaken to the core by the sudden realisation that, amid the multiplicity of ethnic identities that make up the city's multicultural mix, he is categorised as Irish as soon as he opens his mouth.
I was reminded of the poem as I read Cyprus Avenue, David Ireland's controversially violent play about Eric Miller, an ageing Ulster loyalist whose sectarian extremism has shaded into psychosis to the point where he thinks his infant granddaughter is Gerry Adams. In the play Miller recounts a similar, but even more confusing, crisis of identity he experienced on a business trip to London, when he wandered into an Irish bar filled with "English voices, cockney voices, calling themselves Irish". To his utter surprise, he found himself enjoying the experience and, seduced by the heady atmosphere of inclusion, ended up drinking Guinness and singing Irish rebel songs.
"You've no idea what that does to a unionist mind like mine," he tells Bridget, the young female psychiatrist who has the thankless task of probing his tortured psyche. "To be welcomed as Irish by English people calling themselves Irish. To be congratulated for being Irish, when you've spent your whole life at war with the Irish. It can be very confusing." The whole experience was so threatening to his sense of identity, he tells her, that he woke up the following day "full of shame and regret" and never drank again.
On stage, Eric's psychologically revealing monologue is delivered with that air of bewildered stoicism that the actor Stephen Rea has made his own. In the light of all that happens afterwards, it is the pivotal moment in an absurdist drama that is a provocative but illuminating exploration of Ulster loyalist identity in extremis. It turns out that the part was written specifically for Rea by Ireland, a young playwright from the east Belfast loyalist heartlands.
"I wrote it long before I knew him, with this platonic ideal of Stephen Rea in my mind," he tells me. "I felt instinctively that Stephen could inhabit this character and bring him alive in all his confusion and vulnerability. When I first saw him do it, his immersion in the character was so total as to be actually scary."
Such is the disturbing power of Rea's performance that Cyprus Avenue will undoubtedly be one of the hottest tickets in town when it returns to London's Royal Court theatre next year following a critically lauded run there back in August 2016. In the interim, it has caused quite a stir in Dublin, Belfast and, most controversially, in New York, where the brutality of Eric's language and his descent into savage violence divided audiences. There is a viscerally shocking moment early on when he calmly asks Bridget: "Why are you a nigger?" Night after night, without fail, the line drew a collective gasp of outraged disbelief from American audiences.
"People were so offended by the play in New York that they stormed out of the theatre," says Ireland. "There was vitriolic hated towards it on social media and I heard that two guys had a huge argument on the street outside on the opening night."
Over lunch in a Dublin restaurant, Stephen Rea seems blissfully unaware of these extreme reactions. He tells me that the fans who waited around to speak to him after the performances had been effusive in their praise for the play. "They loved it," he says, "and what's more they read it as a universal drama about extremism. In the Royal Court, I had the feeling that maybe some middle-class English people were leaving, saying: 'Oh, that's the Irish.' In New York, they were saying: 'It's about us.'"
He pauses for a moment, his face creased into a familiar frown of concentration. "There is no doubt that it is very much a Troubles drama," he continues, "but it's not a balaclava play. It goes to some dark places and takes the audience there, too, whether they want to go or not. It has the most immediate impact of any play I've ever been in. Or seen. It's happening on stage and it's happening to you."
Much of this is down to Rea himself. He pulls off the almost impossible task of humanising a psychopathic loyalist whose sense of Britishness is so dogmatic yet so fragile. "I do think some people thought he was sympathetic, yes," he says, "because anyone human is sympathetic and that's what I look for in a character, that trace of humanity." So where is the humanity in Eric, who, by the end of the play, despite all that he has done, remains convinced of his own moral rectitude? "Well, he's lost, absolutely lost. And he's suffering. He's in denial about whatever happened to him in the Troubles – the people close to him who have died, the cost of what he has done. But, he's mad, too – it's the psychosis of a certain strain of loyalist paramilitarism."
Vicky Featherstone, artistic director at the Royal Court, tells me: "Stephen is playing someone who is the opposite of himself, but he gets inside his skin to the point where, even as you are appalled by Eric, you can almost understand why he got to this point. Physically, psychologically, he goes so deep that you cannot but respond. It is the mark of a truly committed actor who never falters. He works so hard because he believes wholeheartedly in the power of theatre to challenge and transform."
The intensity that Rea brings to bear on the characters he plays is in stark contrast to his relaxed offstage demeanour. Now 71, he looks much younger and has an energy that is palpable when he talks about his work. His unaffected everyman air is such that the other lunchtime diners around us seem oblivious to his presence even though, earlier today, the news broke that his latest film, Black 47, a revenge thriller set during the 1840s famine, smashed all Irish box office records on its opening weekend.
"It's the kind of film we need to be making," he says, when I ask about its unexpected success. "There's never been a film about the famine before and this is a very original take. It's definitely struck a chord here. The other day, a woman came up to me in a supermarket and said [shifts into a working-class north Dublin accent]: 'I just want to tell you, I loved your movie, and my husband says it should be shown in every school.' Now, that sort of thing means a lot more to me than any highbrow reviews."
I ask him how Dublin audiences reacted to Cyprus Avenue when it played in the Abbey theatre earlier this year, the violence of the Troubles having arguably placed an even bigger psychological distance between the republic and the six counties than the creation of the border in 1921. "That's an interesting question," he says. "On one level, their reaction was the same as everywhere else – palpable horror because the audience never think he will go as far as he does. But, it was a different reaction from Belfast, where you didn't have to explain a single word and they totally got the humour to the point where they were laughing maybe a bit too much."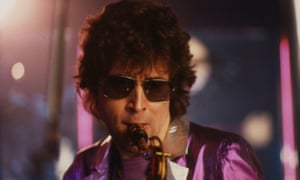 It seems a volatile subject to explore in Northern Ireland, where the post-Good Friday agreement peace has done little to dent the entrenched sectarianism that still defines its politics. "Well, is volatile a bad word? Personally I would like to have taken it into east and west Belfast, out of theatreland and into those loyalist and republican communities. In a way, that's where it belongs because that is where it came out of."
Born and raised in Belfast, Rea has made Dublin his home. Like Paulin, he is that rare thing: an Ulster Protestant with progressive socialist ideals that include a belief in a united Ireland, which the post-Brexit possibility of a hard border has only strengthened. He has just appeared in Hard Border, a short film commissioned by the Financial Times and written by Clare Dwyer Hogg, a poetic meditation on belonging and identity that is also blistering in its castigation of Tory Brexiters such as Boris Johnson and Jacob Rees-Mogg. "I'll probably get flak for this, but it seems to me that, no matter how much they enforce Brexit, the British identity is dwindling," he says. "It's really the idea of English identity that needs to be addressed now. That English colonial racism is still there. Look how Englishness presents itself at the World Cup. They are always convinced that they are going to win and immediately start singing Rule Britannia. It's crazy. The colonial racism is still there. It's embedded."
In person, Rea is engaging and easygoing company, but one can sense his deep passion for radical politics and theatre. In 2020, on the 40th anniversary of Field Day, the theatre and publishing company he established with fellow Northern Irish writers Brian Friel, Seamus Heaney, Tom Paulin and Seamus Deane, he plans to host "a different kind of literary festival" in Derry.
"It will be people from troubled areas – Palestinian activists, black American activists, Egyptian activists," he says. "We need to look at these other struggles in terms of what is happening here, where everything here seems to be going backwards. I don't think it is the time to do a dignified play like Friel's Translations. We need to hear voices speaking directly of their experience. And we will learn from that, north and south." He grows visibly emotional. "I have one girl I know who will read at the event. She's a poet and an asylum-seeker. I want to highlight the disgusting way we treat asylum-seekers here. We are locking up poets. It makes me sick. We are the land of poets, we produce posters of our writers and poets for tourists, but we're locking up poets because they are the wrong colour."
There is definitely something of the old, unreconstructed socialist about Rea. As Featherstone puts it: "Stephen is a socialist insofar as he has a truly democratic mind that questions the way we put on plays, discuss them and teach them. He has a genuine belief in working-class education and empowerment because he is a product of that himself. His generosity towards younger actors and his enthusiasm for new writing is extraordinary."
For all that, there is guardedness about Rea, and one senses at times that he is keeping his real thoughts in check. This reticence may be "the tight gag of place" that Seamus Heaney identified as a trademark of Northern Irishness, but more likely it is a form of self-protection against interviewers who broach the singular circumstance of his personal life. In 1983, Rea married Dolours Price, an IRA volunteer who had not long been released from prison having served seven years for her part in the bombing of the Old Bailey in March 1973. They were together for 20 years until their divorce in 2003. They had two sons, who are now in their early 20s, and of whom Rea is fiercely protective.
Price died in 2013, but not before she had granted an interview with political journalist Ed Moloney, with the proviso that it be broadcast after her death. A newly released documentary, I Dolours, is constructed around it. It shows how Price's fierce commitment to the republican cause, which is only occasionally tinged with regret, is given context by her family history – both her mother and grandmother were imprisoned by the British. In jail, she was force-fed daily for months while on hunger strike, before being released on humanitarian grounds when the anorexia her treatment caused was deemed to be life-threatening. By turns mesmerising and chilling, particularly when she relates her role as a driver in the "disappearances" of suspected informers, her testimony provides latter-day evidence of WB Yeats's dictum that "too long a sacrifice makes a stone of the heart".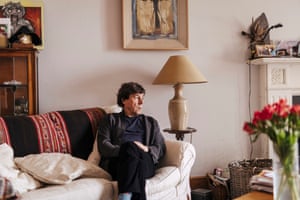 In any interview with Stephen Rea, one is warned that the subject of his ex-wife is out of bounds on account of his responsibility to his sons, so we talk around it. He says, at one point: "At a certain critical point in my career, it all got very difficult." I ask if his marriage affected his professional life in terms of the roles he was – or was not – offered. "Probably. Probably. But it was more that it produced in me a silence. Back then, I had some very aggressive interviews, mostly with English journalists but also from some Irish ones. I just decided for a time not to do any interviews." He trails off and looks pained. "I'm uncomfortable with all this. I don't like assumptions of what my politics are because they may change. Identity changes. It can change with a poem you might read or a song you might listen to. People will say, 'Oh, that's bullshit', but it really isn't."
Rea was born in Belfast in 1946 to nominally Protestant parents and grew up in a house where there was a "pretty relaxed" attitude to religion. "My father was a drinker," he says, shrugging, "and my mother was an atheist, so I'm a pagan on account of never having been baptised. The Belfast I grew up in was a pre-Troubles city, so not progressive in any meaningful way. Put simply, they would not do anything the Free State [Ireland] did. They got rid of the Irish language, they banned the Irish flag, all that stuff."
I put it to him that his journey since has, to say the least, been a singular one for someone from his background. "Well, I'm happy with that. Unionists were, and still are, cut off not just from Catholics and from Ireland, but from the world. It's pure isolation. And it is so drummed into the young that they cannot let go of these views." Has it been a hard road to travel, though, given his roots? "No, it's been a great road. A great road. I refuse to see people in a sectarian way. Always have. It would be an insult to myself to have to think that way. I just don't see people in those terms."
As a teenager in the 1960s, Rea attended Queen's University in Belfast. "I was a lousy student but I had great fun there," he says. "It was absolutely transformative for people like me, whose parents had left school at 14, to be given a grant to pursue further education." Among his contemporaries were several of the young leftwing activists of the nascent civil rights movement, including Eamonn McCann, Michael Farrell and Bernadette Devlin. "It was very exciting. You'd hear those young people speaking and you could sense how bright they were and how angry."
After a stint at the Abbey Theatre School in Dublin, he moved to London for a time, joining Freehold, an experimental theatre group. "We staged a very political version of Antigone. It was a time of squats, dole money and radical beliefs, which was great for creative freedom. I remember we all went together to the big anti-Vietnam war rally in Grosvenor Square in 1968."
On a visit home to Belfast in August 1969, he witnessed the cataclysmic outbreak of sectarian violence that marked the end of the short-lived civil rights era.
"I was fired on by loyalists on the Falls Road," he tells me. "There was a gathering and, after police had fired CS gas at the crowd, out of the fog came a bunch of loyalists on a truck firing into the area." He shakes his head. "It all went off that night. People burned out of their houses, people fleeing over the border as refugees. It was mad – let's shoot some Catholics and show them their place."
In August 1971, he was back in Belfast on another visit, staying for a few nights in the house of a friend called John McGuffin, a local anarchist of some repute. "I got up early and headed off to the Edinburgh festival and the next day the house was raided and he was lifted by the British army and interned." He falls into a reverie. "John was a one-off, God rest him," he says, smiling. "When he was in the Crum [Crumlin Road jail], he used to sing the British national anthem at the top of his voice to confuse them."
Throughout the 70s, Rea worked regularly in theatre and appeared fitfully in films and television dramas, landing a substantial role as an exiled Czech dissident in Professional Foul, a 1977 BBC play by Tom Stoppard. In 1982, the Irish director Neil Jordan cast him as the lead in Angel, a film set in Northern Ireland in which Rea played Danny, a saxophonist in an Irish showband, who witnesses the murder of his manager by a paramilitary gang. In 1992, Jordan gave him the lead in The Crying Game, a prescient film about gender, race and belonging set against the backdrop of the Troubles. "It was a huge thing for me," he says. "I had no sense of how groundbreaking it would be when we were making it, but I think Neil had. It played with identity in such a forward-thinking way as a flexible, fluid, elastic thing. And, it had an enormous effect. I was even a gay icon for about three weeks in New York."
With hindsight, what does he consider his most important roles? He gives the question considerable thought, staring off out the window. "Well on stage, I played Playboy of the Western World at the English and the Irish national theatres. That was immense. Then, there was Brian Friel's Freedom of the City at the Royal Court, which was the first time I met Friel. It was a play about Bloody Sunday in Derry just months after it happened. And Translations, of course, another Friel masterpiece. I remember getting the script and putting it down at the end of the first act, thinking 'this is a masterpiece'. It remains a magnificent play, a masterful exploration of identity, which is our concern on this island, of course, our obsession."
At the Royal Court in 1976, he worked with Samuel Beckett on Endgame, a daunting experience made all the more so by the fact that he was taking over the role of Clov after Jack MacGowran, the playwright's favourite actor, died. Did he converse with Beckett? "Well, I listened." Did they socialise? "Oh yes. He was a great man for having a drink, but I was young and nervous of him in a way, even though he was a perfect gentleman."
The experience transformed him as an actor. "Beckett gave me two groundbreaking notes. I asked him what a line meant and he said: 'Don't think about meaning, think about rhythm.' It's genius, really, because language is rhythm. There was another line in which Clov says: 'I'll leave you.' I wanted to know if he was going to the kitchen or going for good? Beckett replied: 'It is always ambiguous.' For me, that is foundational to how I have approached acting. All of this other stuff that people go on about – 'What's my intention? What's my motivation?' – well, maybe you don't know. Maybe, it's ambiguous."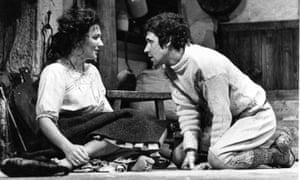 That talent for ambiguity has stood Rea in good stead, whether as Francie Brady's da in Jordan's The Butcher Boy or the mysterious Gateshead in the labyrinthine television miniseries, The Shadow Line, for which he received a Bafta for best supporting actor in 2012 or, more recently, as the scheming Prince Vassily Kuragin in the BBC's 2016 adaptation of War and Peace. Along the way, he also worked, and became friends with, another master of ambiguity, the late Sam Shepard, about whom he wrote a heartfelt appreciation for this newspaper following the latter's death last year.
"He was another Sam who was out on his own, really," he says. "Old-fashioned in a way and enigmatic. He was quintessentially American but, as a dramatist, essentially European. He loved Brecht and Beckett." Was it a shared passion for theatre that brought them together? "Maybe. Maybe. I don't really know why we became close friends, to be honest, but we did. And we stayed close even though he was very separate. He's a Scorpio. Keeps things close to his chest. Maybe a bit troubled." I am about to say, "Just like you", but hold my tongue. It's implied. It's understood. It's a quintessentially Stephen Rea moment.
Cyprus Avenue runs at the Royal Court, London SW1 from 14 Feb-16 Mar 2019. Tickets go on sale on Friday 5 October royalcourttheatre.com. Become a Friend for £35 to get advance booking and early access to all £12 Monday performances