Stephen Hawking is set to join the cast of the new series of The Hitchhiker's Guide To The Galaxy.
The world-renowned physicist, who speaks with the aid of computer software, is a big fan of the sci-fi comedy created by Douglas Adams, and will voice a new version of the book at the centre of the show.
As previously reported, the cult classic comedy series is set to return to Radio 4 this year to mark the 40th anniversary of the ground-breaking radio sitcom.
The Hexagonal Phase, which will be the sixth series of the radio format, has been adapted from Eoin Colfer's And Another Thing…, the 2009 book which was commissioned by the Douglas Adams Estate in 2009 to mark the 30th anniversary of the first novel.
David Morley, who is producing the new Hitchhiker's Guide To The Galaxy series with director Dirk Maggs, says: "When we were thinking of cameos for the new series I suddenly thought of Professor Stephen Hawking. Douglas Adams' work is admired by many of the world's top scientists because of its innovative and hilarious twisting of the real universe, so I took a punt and asked the Professor if he'd like to actually play a role in the new series.
"It turned out that he was a huge fan of Hitchhiker's and was keen to see the script. He very quickly came back with a resounding 'yes', and Dirk Maggs and I were jumping up and down with joy. His part blends perfectly with the actors. The results are fantastic."
In the first episode, which is due to be broadcast this March, listeners will be able to hear Professor Hawking voicing The Hitchhikers Guide To The Galaxy Mk.II, "a hugely intelligent and powerful being who might have been known on our planet as Professor Stephen Hawking."
Dirk Maggs comments: "Not only were we thrilled that Professor Hawking joined our wonderful cast, his appearance in Episode 1 of the new series suggests that the Vogons had some expert help in creating The Hitchhikers Guide to The Galaxy Mk.II."
Douglas Adams' friend, co-author and former flatmate John Lloyd voices The Book in the series generally.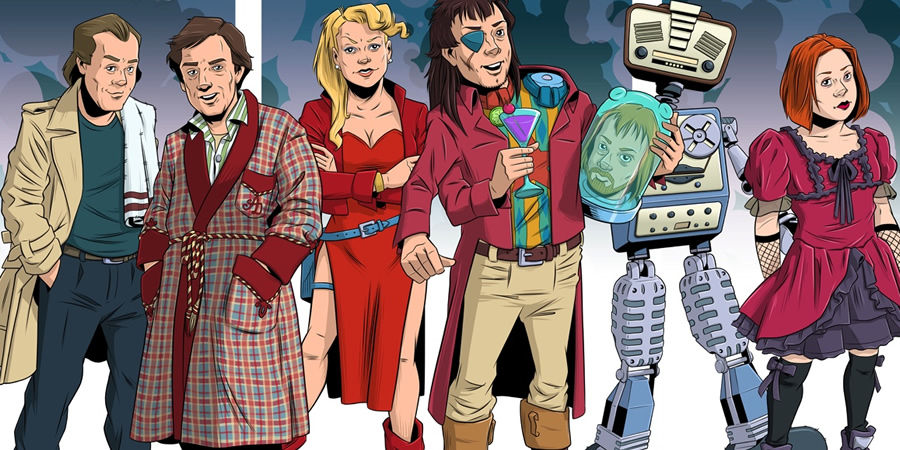 Across the six new episodes, Simon Jones will reprise his role as the main protagonist, the quintessentially English Arthur Dent, as he continues to travel through space and time following the destruction of Earth. The series also stars members of the classic radio, television and stage casts, including Geoff McGivern as Ford Prefect, Mark Wing-Davey as Zaphod Beeblebrox and Sandra Dickinson as Trillian.
Jane Horrocks will play Fenchurch, and other guest stars due to appear in the episodes include Lenny Henry and Ed Byrne.
The Hitchhiker's Guide To The Galaxy: Hexagonal Phase will start on Radio 4 on the 8th March at 6.30pm.
---
For updates, click the button below.
Share this page