David Hare and James Graham are close neighbours in London's West End. Hare's The Moderate Soprano is on at the Duke of York's theatre, St Martin's Lane, and Graham's Quiz is just a few doors along at the Noël Coward. Graham is, in his mid-30s, a theatrical dynamo, while Hare, at 70, could now qualify as a grand old man of theatre, continuing on his own extraordinary marathon. Each of them has written more about British politics – and in particular the Labour party – than any other playwright alive.
Hare's The Absence of War (1993) was about an opposition leader, based on Neil Kinnock. In the ensuing decades, he has been an interpreter of political and private lives, writing contentiously about everything from education (Skylight, 1995) and the railways (The Permanent Way, 2003) to the West Bank (Via Dolorosa, 1998) and the Iraq war (Stuff Happens, 2004). His new play, I'm Not Running, opening at the National Theatre, London, in the autumn, will return to the subject of Labour. James Graham's This House (2012), set in the whips' office, was a virtuoso piece about the hung parliament battles of the 70s. The Vote, at the Donmar, was broadcast live on television during the 2015 election, and Labour of Love (2017) at the Noël Coward, a look at the party over 25 years – for which he has just won an Olivier for "best new comedy" – sealed his reputation.
Hare is tall, dashing and potentially ready for friendly fire. To be combative comes naturally but today he is amused and receptive – though never pointlessly compliant. Graham shows up late, with the look of a bright, flustered student. He is empathetic and modest in the way people with no need to boast sometimes are. And there is no mistaking that Hare is a hero to him – the admiration unfeigned.
Our conversation kicks off with an argument about the relationship between politics and theatre. In The Absence of War, George Jones implies there is an affinity, saying to another politician: "You don't go to the theatre, you're missing out there, everyone in politics should." In Quiz, Paul, a TV producer, comments: "Some people say that politics is just performance." But Hare declares that the list of theatregoing politicians is short: "Neil Kinnock was exceptional in being a theatregoer. George Osborne, in a way that was incomprehensible to me, was a theatregoer. Tony Blair was a theatregoer." He adds: "There is a strongly philistine tradition in British politics, isn't there?"
James joins in cautiously, suggesting theatre and politics are places to "ask questions" – before getting into his stride.
James Graham: Theatre is one of the last long forms – there is something about institutions that is intrinsically theatrical. When I described politics as a performance, I was exploring the symbolic shift when the chief whips were kicked out of Downing Street and replaced by a PR machine – government becoming an exercise in public relations rather than a search for truths and solutions.
It could be argued that politics involves relentless auditioning. Which of today's politicians would you cast as actors?
David Hare: Colin Powell at the UN, in 2003 – claiming there was irrefutable proof of the existence of weapons of mass destruction in Iraq. We now know he was not altogether in good faith but he did appear sincere – it was a barnstorming performance.
JG: I'm fascinated by the idea that Margaret Thatcher was a fictional character invented by Saatchi & Saatchi – the voice, the outfit – even the philosophy. Theresa May is, we assume, acting – we are told she has to sell something she does not believe in with Brexit. What does that do to you when you have to keep compartmentalising?
DH: People tend to ask: do politicians know they're lying? Are they sincere or insincere? Politicians don't think in those terms. They think: this is the case I have to put – almost like a QC – whatever I privately feel.
I'm interested in the idea of the official script. The complaint in The Absence of War is that Labour politicians "all have to say the same thing". Is political theatre about departing from the script?
DH: Yes – I never joined a party because, as a writer, you have to be free to investigate the thing itself. When you write about the Labour party, you are neither pro nor against, you're just trying to describe the phenomenon. Your freedom is your power.
JG: I'm not a member of a party, although I've started to question whether this is right. The state of the national conversation is depressingly poor and the stakes so high. You've only to look at the burning tower at Grenfell or what happened in the European referendum. I find myself sympathising when I watch squirming politicians on Andrew Marr's Sunday show. They don't have the freedom we have to interrogate properly, be curious, listen, respond. Our talking-point culture is so vacuous. The campaign Theresa May led was a flight from conversation. "Brexit means Brexit" was saying: "We cannot talk about this." I was glad to see that kind of politicking fail. The British public rejected it.
DH: It has become difficult for politicians. I went on the Today programme recently and the interviewer was terribly nice and assumed what I was going to say was interesting. They didn't take up a hostile attitude because I'm a writer and it's assumed I'm speaking the truth. But the minute they go to a political interview, they're all over it, saying: why are you lying to me? That's the assumption the politician has to endure. So there's a conspiracy of distrust between the public and politicians – it's not all one-sided.
You each wrote five-minute films about Brexit. Is there more to be written about Brexit or are we suffering Brexit fatigue?
JG: Brexit is going to be in the DNA of everything, including writing that is not about that vote. The Moderate Soprano, for example, is a metaphor for Englishness…
You have interesting takes on Englishness – in your case, DH, a love/hate relationship. In your BBC drama Collateral, the military singing Jerusalem evokes green and unpleasant lands…
DH: The army was not desperately keen to collaborate with us on Collateral, but I discovered that, incredibly, there is not a single regiment that does not sing Jerusalem. I have found myself writing about Sussex lately, partly at [the producer] Matt Byam Shaw's insistence because, after South Downs [based on Hare's memories of the public school Lancing], he said: "You have to write about Glyndebourne." Sussex is a county I particularly disliked because I was born there and associate it with the Englishness of the 1950s – the all-white society, the repression, disapproval, misery and the suicidal, closeted unhappiness in which I grew up. I loathed that definition of Englishness. But Englishness that is welcoming to foreigners, interested, curious and outward-looking – I'm in love with that side of Englishness.
JG: I think more of Britishness. The narrative of this country in the past 70-80 years seems emblematic, Shakespearean in its… I don't want to say decline. But Britain has gone from being the most powerful empire to what we are today. I don't pretend to have an insight into it, but I keep going back to the recent past to try and find a moment within the narrative to make sense of the whole. If Britain were a character, it would be someone strong and confident who had lost a sense of themselves – there is a pathos in this that you can generate in a play.
And isn't satire also essential to a dramatist's armoury?
DH: You have to have a joke. Jokes are clarifying. A good joke is what makes you realise what you think and feel. Yet I cannot explain why certain subjects attract me. It's like understanding what is photogenic. The "dramagenic" is mysterious.
What seems less mysterious is your preference for subjects about which people do not already know…
DH: That's why the current laundry list is of no interest to me. Everyone says: "Will you write about Trump? Will you write about Brexit?" And you just go: "Why would I?" Why would I be behind the dustcart instead of in front of it?
You, DH, have been writing about Labour for more than 30 years. What has changed in Labour and what will your new play I'm Not Running reveal?
DH: Like James's Labour of Love, I'm Not Running is about a relationship between a man and a woman that has lasted 20 years, but, unlike James's play, one of them is in the Labour party and the other isn't and is trying to do good through a single issue. We're licensed in society to admire people who fight on single issues, identity politics, people who stand for their own group, be they women, black, Jewish, Arab. If you stand for your group, you are an unalloyed hero. In joined-up party politics, it is harder to be a hero. I wanted to write about why positive feelings about politics are now principally focused on single issues. This seems to me the most interesting phenomenon of our time. And if any movement has had vitality in my lifetime, it has been feminism. In the western world, feminism has been the most transformative political movement.
Let me ask a straight question: can Labour win the next election?
JG: Oh God – I don't see why statistically they couldn't. I grew up in north Nottinghamshire, near Mansfield. It's a strange identity – it feels quite Yorkshire but is technically Nottinghamshire. Historically, there was a split during the miners' strike when south Nottinghamshire went back to work and north Nottinghamshire, generally speaking, didn't. There was violent, physical debate between the left and right of the Labour movement. So can Labour win? Labour used not to be able to win without those seats. In the last election, those seats went to the Conservatives. My view has always been that you couldn't get into power unless you could appeal to that base. Yet it now seems statistically possible that, with the university towns and the cities, Labour might get in without having to appeal to a working-class base. How do you marry working-class heartlands with university towns? In theory, if you could marry those different constituent parts, you should be able to create an unstoppable alliance, but there is, I feel, a lack of desire to do that in some parts of the Labour party.
DH: Are you talking about the leadership, James? [laughs]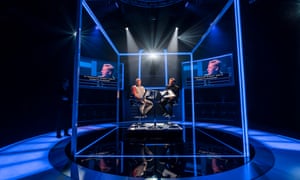 Rereading The Absence of War, I thought the description of George Jones could be applied to Jeremy Corbyn: "the man who made victory possible. But unless we do something quickly, he's the only thing standing in victory's way."
DH: They're very different characters. Neil Kinnock, to make Labour electable, had to jettison a great deal of what he believed. Jeremy Corbyn's views have not significantly changed about anything in the last 50 years and are not changing now under pressure. Trident is the exception – for party political, working-class vote reasons. Union reasons.
Is tenacity a good quality in a leader?
JG: It depends on motivation. If you are not going to bend for cynical political reasons, then that's admirable. But inflexibility, fundamentalism and dogma aren't.
DH: [Nods agreement.]
JG: There's an obsession with U-turns being bad. I think U-turns are brilliant. If you get faced with a new argument and say – "That's fascinating, I'm going to change my mind" – that should be a wonderful quality in a politician.
In This House, politics itself, not policy, becomes the subject – something separate from what anyone believes…
DH: This House is one of the best definitions of the process of politics I have ever seen.
JG: It was surprising to realise what has to go on behind the scenes for the business of government to take place. What is the tone when what is openly unsaid is: "You are going to try and pass that law and I am going to try and stop you."
What makes you both angriest about the state of the nation?
DH: The detention system. I was, in Collateral, trying to throw light on this unbelievable thing whereby, when you're waiting for an appeal, you are held in a place of detention. The 300-400 women who are at Yarl's Wood immigration removal centre say: "We're here and we don't know when we're going to get out." At least in prison you know when you are going to get out. What also really gets me is camp – when people like Boris Johnson or Amber Rudd pretend not to understand what the problem is; Rudd knew perfectly well there is no legal justification for these people to be held behind bars. And yet it is somehow meant to be the game that you camp it up. I remember Willie Whitelaw walking through Brixton after the riots, saying: "The police have done marvellously." Right? And it was a catastrophic failure of police-community relations. There is this camping your way through everything. If you are totally incompetent, like Boris Johnson, or immoral like Amber Rudd… I am not amused by that joking in English behaviour – it makes me angry.
JG: I'm not angry, I'm worried. I've mentioned the quality of national discourse and that extends to the way we speak to each other on social media, share ideas or don't. I'm worried about the way we block each other. I wonder how solutions are going to materialise if the tribalism that seems to exist isn't bridged. We're all responsible.
What role does social media play in political theatre?
JG: Tech and technology are changing us emotionally and politically. We're in a wild west period. We forget that the internet is really young, it is the equivalent of no lanes on roads, no seatbelts. We don't know how to use it well enough. I'm sure our grandchildren will look back shocked and baffled that we didn't wear the equivalent of seatbelts. I try not to get distracted by social media but it's hard – because you want to be tuned in.
DH: Do you?
JG: I want to be tuned in to the current anxieties and obsessions.
DH: But do you think you can read them on the internet?
JG: No.
DH: Do you feel social media presents an accurate reflection of the current state of things – I mean, the people you are talking about in Mansfield are not tweeting are they?
JG: And they're not on Instagram – that's a good point. Yet Twitter must reveal something – especially given it now guides all political conversation in all media.
What can political theatre do that political journalism can't?
JG: Journalism's responsibility is to respond – quickly and urgently. The joy of writing a play is that you can take a bit longer, you can take a step back and ask a bigger question about what this means and why it matters and what it says about us that this is happening?
DH: For people of my age, the plays Athol Fugard did with John Kani and Winston Ntshona were the best political theatre we ever saw. It was the sense that they had lived through what they were describing, so you felt, however erroneously, that you had some feeling of what it would have been like to be black and live under apartheid. I have never read a book or an article that has got anywhere near what those actors brought to their work. You were left shattered.
Have either of you ever had your minds changed by a play?
DH: I saw a David Mamet play that made me realise I'd been swindled in the street. I went: "Oh I see, it wasn't out of the generosity of my heart that I gave that person $10, they swindled it out of me" – and now I understand the trick. This is what theatre does. It makes you open up and say: "I see because the model of what was happening has now been explained."
JG: Every play accesses a world of thought or opinion I wouldn't have otherwise had access to, and I'm sure that changes me on a microscopic level…
How much do you set out to change the way people think?
JG: I'm not trying to bring people round to my way of thinking because I often won't know what I think myself. With Quiz [a play that explores our nation's obsession with gameshows] I don't necessarily want anyone to leave the theatre thinking something different. It is an exercise, an explanation about who we are on a multi-tiered level.
DH: My agent or ex-agent – he is 90 – Tom Erhardt always told me that when he was growing up, in the American midwest, he thought that, as a gay boy, he was mad until he saw a play of Tennessee Williams's and then he went: "OK, I am not mad, there are people in the world who have the same feelings I do." That is what theatre does – it moves people in that they go: "I thought I was alone in thinking that, then suddenly I see it represented on stage."
What have audiences taught you over the years?
JG: You sit there as a writer and I think you can feel the moment when you just slightly lose an audience. The collective experience is hard to understand or define and hard to control. But you become very aware – as if the temperature had changed in the room and you just know… you might not know what the problem is, or how to fix it, but you know when it is there.
Do you agree with that?
DH: Yes, I'm hysterically aware and, in theory, committed to believing in the wisdom of the audience. It's like democracy – they must make the right decisions. Yet sometimes you see some great masterpiece and the audience is bored stiff. And so audiences – whether they are wise or not – confuse me.
Would either of you describe yourself as cynical or is it essential, as writers, to keep an open mind?
JG: What I worry about for myself is that I can already feel myself being exhausted by the world.
DH: The difference between what you're describing and what I feel (I read your article about courtesy and the public discourse ) is that I was brought up to be adversarial. If you were brought up in the 60s, then you thought that the charade of British life was so ridiculous and you were against the Vietnam war, and it was such an outrage that you had to be adversarial in your thinking. When my generation of playwrights first went into the theatre, the critics tried to destroy us. They hated us. I had Bernard Levin on my case for 20 years. He ended one review saying: "I just wish David Hare would go away." There was this feeling of these horrible young men are coming to take the theatre over and destroy it, whereas now when a young person writes a play, they're welcomed – there is a feeling of: "It may not be very good, but I'll give it three stars." The new play culture is broadly approving.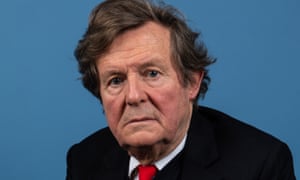 You have grumbled about "quietism" in our society now. What should replace it?
DH: Things have changed a great deal. I share James's fear of a predictable culture war in which everyone takes up adversarial positions that are crass. That I tend to attribute to social media I am afraid.
JG: I absolutely agree. I perhaps overemphasise the desire to return to politeness and courtesy, but what I really feel is the fear of a retreat into simplicity and fake fundamentalism in political debate.
Have you found politicians are willing to talk to you?
DH: People will happily talk to playwrights because they know their views will not be attributed and so they can be honest and not just politicians – I am talking about people in all walks of life.
Do politicians ever respond badly to your plays?
DH: Oh yes.
JG: All the time. Not about stuff that would excite me. People have complained about ties, shoes and wigs – I don't think Michael Heseltine liked his wig in This House. But they've never come to me to say that I misrepresented their worldview.
Have you had that?
DH: Oh yes. I don't think Jack Straw was a natural fan of Stuff Happens. In fact, there were a lot of politicians who were not fans of Stuff Happens.
What is coming next, James?
DH: Yes – what are the next three plays, James?!
JG: The truth is, I actually don't know – for the first time – and it is glorious. I'm going to try and do more TV and film because I find the process interesting, although nothing can compete with the collective joy of making a play.
James Graham's Quiz is at the Noël Coward theatre, London WC2, until 16 June; David Hare's The Moderate Soprano is at the Duke of York's theatre, London WC2, until 30 June