Stephen Lovekin/Getty Images
Star Jones is clarifying a piece of information she allegedly told Ramin Setoodeh, the author of a new book called Ladies Who Punch: The Explosive Inside Story of "The View."
Setoodeh claimed during Wednesday night's episode of Watch What Happens Live With Andy Cohen that Jones, who he interviewed for the tell-all, accused her co-stars on The View of playing a role in the tabloid exposure of her 2003 gastric bypass surgery.
The TV personality's rapid weight loss became a major topic of discussion during her 9-year tenure on the talk show, during which she attributed the transformation to traditional diet and exercise. In 2007, Jones came forward with the truth, revealing that she had in fact undergone gastric bypass surgery and lost 160-lbs. 
"My time at The View was one of the great opportunities of my lifetime," Jones told E! News in a statement via her rep. "Of course there were conflicts over the years, however I will forever consider Barbara Walters (along with my dear friend, the late Johnny Cochran) to be one of my two most influential mentors. The opportunity to sit beside her for so many years was a 'master class' in many aspects of my personal and professional life that I relish and am eternally grateful for."
According to Setoodeh, Jones revealed to him that prior to her controversial dismissal from The View in 2006, "Both Barbara Walters and Joy Behar were leaking stories of her gastric bypass to The New York Post to ruin her reputation."
Additionally, Setoodeh claimed Jones hired Judy Smith, the crisis management expert who inspired Kerry Washington's character on Scandal, to help orchestrate her exit. 
As the story's been told over the years, Walters and ABC agreed Jones would announce her departure from The View on June 29, 2006. But unbeknownst to her View co-stars and production team, Jones took it upon herself to share the news on live television two days earlier. In the aftermath, Walters described feeling "betrayed" by Jones' actions and dismissed the assertion that her panel-mate was leaving on her own terms. 
HuffPost's Yashar Ali previously reported on several excerpts from the book, calling it a depiction of a "breathtaking level of workplace misconduct, unethical behavior and dysfunction…"
Read more about The View's many alleged debacles in the gallery below: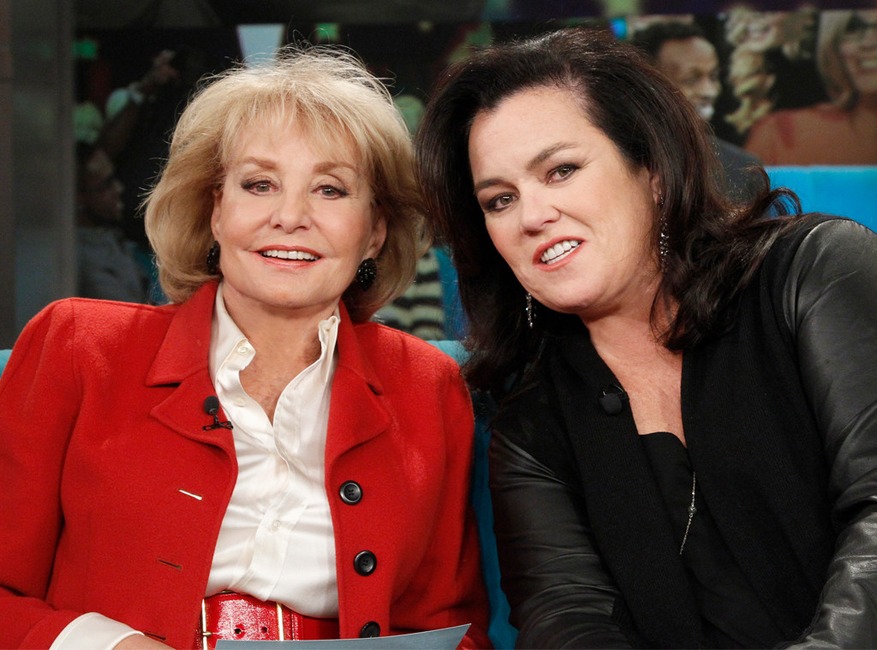 Lou Rocco/ABC via Getty Images
Barbara Walters & Rosie O'Donnell

The news icon allegedly did not like the negative attention O'Donnell drew to the show, so she threatened to leave to get the comedian off, so claims Ladies Who Punch. 
"If you re-sign Rosie to this show, Bill and I are going to quit," Walters told ABC Daytime President Brian Frons in 2007 over dinner, according to the book (via People). While Walters remained on the show until 2014, O'Donnell did not return after the 10th season until season 18, her second and final on the show—and the first without Walters. 
By that point, O'Donnell had published her memoir, Celebrity Detox: The Fame Game. According to Setoodeh's book (via The Huffington Post), she had sent a copy to Walters, who was angered by what O'Donnell wrote about her. So, she allegedly gave the book to ABC News and the network allegedly leaked it to the New York Post, reportedly in exchange for framing O'Donnell negatively with psychologists analyzing her mental health. ABC had no comment on the claims. 
Ladies Who Punch: The Explosive Inside Story of "The View" is expected to be released April 2. 
(E! and Bravo are both part of the NBCUniversal family.)
Stay pop cultured with E! News weekdays at 12PM, 7PM & 11PM