Scarlett Johansson didn't just smile through the pain.
She traveled, entertained, worked, promoted, bantered and marched through it. All of which probably helped ease the pain in the meantime, but…we digress.
The news broke seemingly out of nowhere yesterday that Johansson and her husband of two years, Romain Dauriac, had separated. And though we know by now that there's no such thing as "out of nowhere" when it comes to a celebrity's marriage, the Lost in Translation star really kept a lid on this development, aided in part by the fact that she and Dauriac have largely split their time between France and New York since tying the knot.
Not quite as much hanging around the courthouse over there as there is in sunny Los Angeles.
But that is exactly what we could have expected from Johansson, who operates in more of an old-Hollywood style than some of her contemporaries as far as her personal life goes, not being one to share much when it doesn't have anything to do with her work.
Such is a lifestyle choice that is much harder to pull off than it might sound—especially for someone whose stature in the Marvel Universe has made her one of the top-earning actresses in show business. 
Johansson has always pulled her promotional weight when it comes to talk shows, press junkets, Comic-Con and everything else that goes into playing Black Widow and the various other memorable characters she's tackled in recent years, nor is she a spotlight-eschewing hermit. She just refuses to test the potential perils of too much public engagement.
For instance, the 32-year-old actress has over the years been a face of Mango, Louis Vuitton, Dolce & Gabbana, Calvin Klein fragrance and L'Oreal. But she's not on social media. Not Twitter, not Instagram, not Snapchat—not even Facebook, the home of other tweet-shy stars like Jennifer Lawrence.
Her lack of social media footprint calls to mind another fiercely private actress, one who also up until recently was based in France—Natalie Portman, Johansson's co-star in The Other Boleyn Girl.
Portman actually recently credited Johansson with helping her to overcome her fear of being labeled "difficult" at work, telling Yahoo! Movies last year that Scarlett saw her shivering on set one day and asked why she hadn't said anything.
"I was like, 'I don't know, I didn't want to be a problem,'" Portman recalled, "and she was like, 'Say you're cold!' And it was good to have someone point it out to me that I even had a hard time making a very reasonable complaint about my own discomfort."
Though surely at least some is attributable to the poise package that comes with being a veteran Hollywood actress, one who can pull off casual millennial or 1940s-era glam like a second skin, Johansson is known for never looking anything less than entirely self-possessed.
While her reluctance to go on social media could be ascribed to not wanting to deal with the haters she knows she would come across in that arena, it also indicates that she confidently feels no need to share.
Moreover, while some celebs actually open up a bit more when they become parents, using Instagram and the like to share photos of their kids on their own terms to cut down on paparazzi intrusion, Johansson has only doubled down on her convictions. We know she and Dauriac have a child, their now 2 1/2-year-old daughter Rose, but…that's about it.
And we have that signature ScarJo self-awareness to thank.
"I'm such a newbie at this," she told Australia's Daily Telegraph in April 2015. "I always really hate it when actors or people in the spotlight make giant grandiose statements about parenthood because it's so, so personal. And I don't profess to know anything more about parenting than anybody else."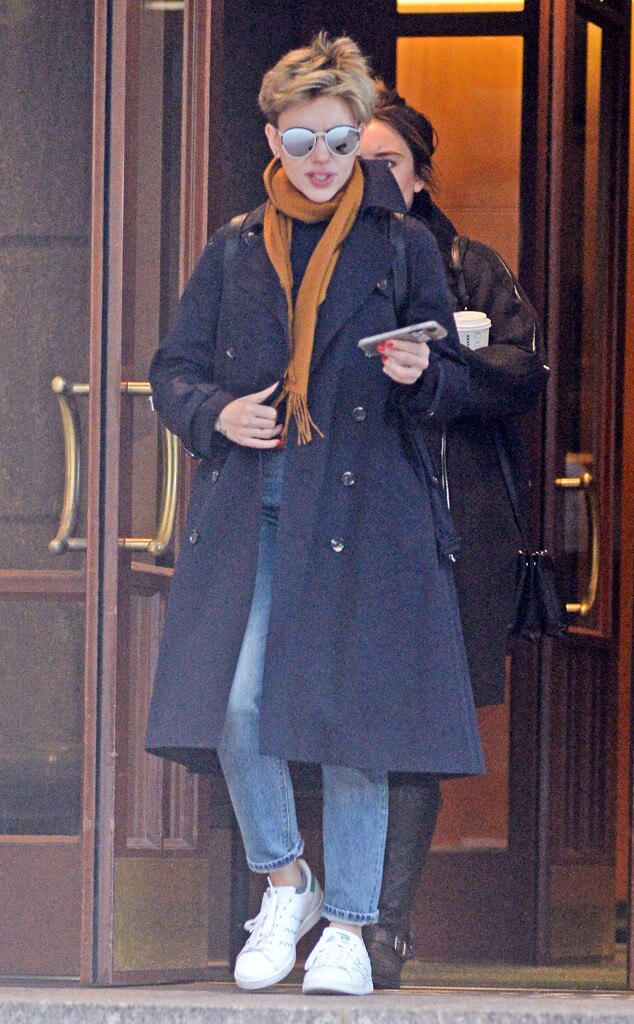 ELDER ORDONEZ/INSTARimages.com
"It's hard," Johansson also told Parade in April 2015 about the tricky balance between creating a normal life for her child and maintaining her privacy. "On the one hand, you don't want to isolate your kids, but you don't want to make your kids feel like freaks: There's this fascination with famous kids, like they're celebrity spawn.
"But there's always going to be an adjustment," the Avengers star continued. "At some point, you have to take your life back and say, 'You know what? If I feel like picking up my dry cleaning and if someone's going to photograph me doing it, so what?' Part of being with your kids is making them feel as safe and normal as you can."
Johansson also stressed the benefits of being married to someone—in Dauriac's case, a journalist turned art curator—who wasn't in the same field. It took a few years, but she eventually floated the idea that being at different places in their careers helped spoil her less-than-three-year marriage to Ryan Reynolds.
But while Johansson knew more about herself and what she wanted in a relationship by the time she met Dauriac, she didn't change her M.O. as far as keeping every milestone in their relationship as private as possible.
SC/KO/JP/FlynetOnline.com
She quietly got engaged to Reynolds at some point in 2008, and then it took several weeks to catch onto the fact that they'd married on Sept. 27, 2008, at the Clayoquot Wilderness Resort on Vancouver Island with fewer than 40 guests in attendance.
They never posed on a red carpet together, leaving only a handful of paparazzi sightings in their wake. About six months after Reynolds applauded Johansson's 2010 Tony win from the audience (so there was a fancy photo opportunity), they announced they had separated. And that was that.
Making those sorts of headlines understandably would have taken the wind out of anyone's public-romance sails, let alone someone who was so private in the first place, so when Dauriac entered the picture, Johansson was just as crafty—perhaps even more so.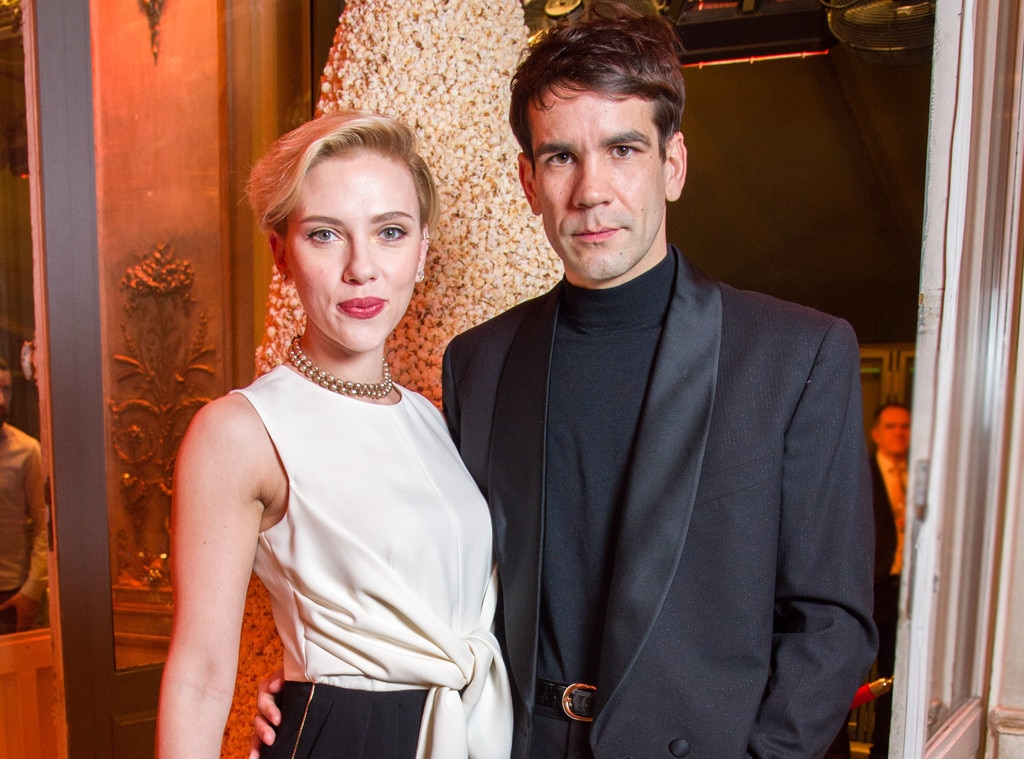 Pascal Le Segretain/Getty Images
It was two months before everyone outside the inner circle found out that Johansson and Dauriac had tied the knot on Oct. 1, 2014, barely a month after Rose was born.
The clandestine operation took place at The Ranch at Rock Creek in Phllipsburg, Mt., and only a select group received invitations.
And though they were more "out there" than Johansson and her first husband ever were, they still enjoyed only a few black-tie date nights together, most memorably at the 2015 Oscars. (Not to imply that they never wore fancy dress at home. Anything's possible.)
Being partly based in Paris helped keep the couple off the regular sightings/"wait, where are they?!" radar for the most part—enough so that no one questioned where her husband was when Johansson was jaunting all over the globe in the second half of 2016.
She was at the Toronto International Film Festival in September; went on a USO Holiday Tour to Afghanistan in December with, among others, frequent co-star Chris Evans; and spoke at the Women's March in Washington, D.C., this past weekend.
In hindsight you could have suspected something was off personally because she didn't go on any of the late-night talk shows to promote her latest movie, the animated musical Sing; but she was at the premiere and did some press so there was no reason to ask where she'd run off to and why.
But thanks to the buffer that Johansson has carefully built between herself and the media—traditional and social—over the years anyway, she was able to go about her business and not hide away, all the while not having to deal with any journalistic fishing expeditions because no one was the wiser.
And since it's hard to imagine that she wasn't prepared to have her breakup news break when it did, we're guessing it was carefully timed to coincide with a gap in her schedule.   
Sure enough, her next major movie, the sci-fi action film Ghost in the Shell, doesn't come out until March 31—so she's got some time to figure out what she's going to say and who she's going to say it to. If she chooses to say anything at all.