This Royal Ballet triple bill, which had its first night on Monday, saw two new works introduced to the repertoire. Both are well made and danced, but raise serious questions about the company and the vision of its directors.
The opening piece is Twyla Tharp's The Illustrated "Farewell". Set to Haydn's Symphony No 45 (known as the "Farewell"), it's an expansion of Tharp's abstract work As Time Goes By, choreographed in 1973 to part of the same symphony. Most of the new material is danced by Steven McRae and Sarah Lamb, and they hit every beat, delivering Tharp's jazzy shoulder rolls, foxy footwork and rubato phrasing as if to the manner born. The ensemble, led by Mayara Magri and Joseph Sissens, are fluency itself.
If the piece is formally rigorous, it's also dated, over-elaborate and a bit camp. Even as I admired the dancing, I didn't believe a bar of it, and Chester Weinberg's costumes don't help. Men in micro-shorts with twee little belts, darting yearning glances at women in mid-calf chiffons. Why, in 2017, is neo-classical dance still so fixated on such a coy, infantilising paradigm?
There is an increasingly acute issue surrounding women's roles in ballet. In the last few seasons the Royal Ballet stage has seen record numbers of female characters brutalised and killed. Emily, Mary Jane, and Little Dot eviscerated in Sweet Violets, Justine hanged and Elizabeth murdered in Frankenstein, Stephanie raped and Mary shot in Mayerling, the girl raped in The Invitation, the youngest sister hanged in Las Hermanas, and the woman raped and murdered in The Judas Tree. Consider this body-count alongside the number of recent abstract works in which women are split, splayed and otherwise manhandled, and certain embedded attitudes reveal themselves.
None of these works, in which female characters are defined by their passivity and victimhood, was created by a woman. Elsewhere in the British arts establishment, the question of female agency in performance is a live topic. At Covent Garden, it's not even a conversation. Which is why, presumably, the Royal commissioned Arthur Pita's The Wind, a ballet whose pivotal event is another violent rape.
Pita is a terrific choreographer, and in many respects this is a terrific ballet. Based on Dorothy Scarborough's 1925 novel of the same name, The Wind tells the story of Letty Mason (Natalia Osipova), who arrives at a remote pioneer settlement in Texas. Appalled by the desolation of the place, she is driven to distraction by the unceasing wind. To survive, she marries a cowboy (Thiago Soares), and in his absence is preyed upon by a brutal cattle buyer (Thomas Whitehead), whom she shoots dead.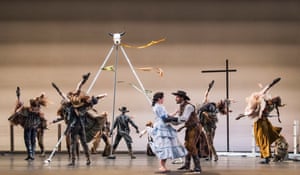 Frank Moon's score is atmospheric, and Jeremy Herbert's set, which incorporates wind machines resembling antiquated farm machinery, is suitably bleak. Yann Seabra's costumes, meanwhile (gunbelts and duster coats for the men, big hats and weather-bleached ruffles for the women) are splendidly evocative. Pita deploys a low-slung choreographic style whose narrow range echoes the grim constraints of the location, and our first sight of the full cast, silhouetted against a parchment sky, is a real coup de théâtre. Soares's taciturn cowboy is subtly drawn, Whitehead is terrifying, and Osipova is mesmerising as Letty, stamping out neurotic little bourrées on pointe as her hold on reality unravels.
Despite these performances, the ballet feels rushed and foreshortened, as if there's a central chapter missing. Then there's the rape, which in a kind of ghastly continuity follows hard on the heels of the rape in The Judas Tree, which closed just five days earlier. Not that this is Pita's fault. No subject should be off-limits to an artist, rape included, and Pita tells his story as he sees it. It's the Royal's commissioning process that needs examining. If the company is sincere in its desire to attract new audiences, it needs to better understand the times in which it lives. Perhaps this isn't the moment in history to present yet another ballet in which a woman is the object of sexual violence simply because she is a woman.