Stand-up comedian Rhys James has announced Snitch, his first nationwide tour.
The Mock The Week regular will tour the show from October 2019 to March 2020, following a run at August's Edinburgh Fringe.
Talking about the premise, his promoters explain: "In early 2019, Rhys was asked to go back to his school and inspire the Year 11s. Given that Year 11s are a nightmare and there was no fee, he ghosted the teacher who had emailed, but when you think back to yourself at that age it's impossible not to wonder: was the past even good? Then again, is the present?
"While so many people are concerned about 'cancel culture' and rallying against political correctness, Rhys thinks we aren't cancelling enough. Specifically, the hundreds of murder podcasts that pretty much explain how to get away with killing someone. In lieu of them being banned, it's time to figure out why we're so fascinated by murder, and why so many more women listen to the true crime genre than men."
Snitch will be the fifth solo show from Rhys James. His previous show, 2016's Forgives, appeared in British Comedy Guide's list of Best Reviewed Shows of the Fringe.
Alongside the tour, this Autumn James will following up his BBC Radio 4 series Rhys James Is… with a new series, Polars.
A full list of tour dates for Snitch are below. Tickets via rhysjames.co.uk
Tour Dates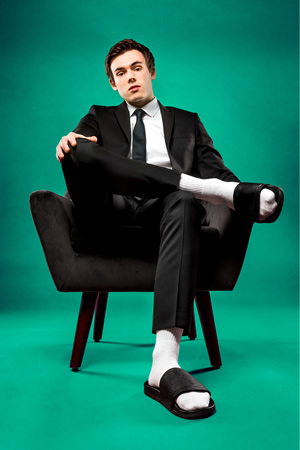 Edinburgh Festival Fringe: 31st July – 25th August 2019
London (Soho Theatre): 1st October 2019 – 5th October 2019
Birmingham (Glee Club): 18th October 2019
Cambridge (Junction): 19th October 2019
Leeds (The Wardrobe): 23rd October 2019
Leamington (Royal Spa Centre): 26th October 2019
Newcastle (The Stand): 2nd November 2019
Cardiff (Exit 7): 14th November 2019
York (Basement): 16th November 2019
Salford (The Lowry): 17th November 2019
Brighton (The Old Market): 21st November 2019
Kendal (Brewery Arts): 8th February 2020
Reading (South Street): 15th February 2020
Canterbury (The Marlowe): 20th February 2020
Bristol (The Wardrobe Theatre): 21st – 22nd February 2020
Exeter (Phoenix): 23rd February 2020
Colchester (Arts Centre): 28th February 2020
Leicester (Firebug): 6th March 2020
Southend (Dixon Studio): 7th March 2020
Maidenhead (Norden Farm Arts Centre): 12th March 2020
---
For updates, click the button below.