Rachel Parris wins Bath award
Rachel Parris has become the fourth recipient of the annual Bath Plug Award
The award is presented at the Bath Comedy Festival for significant achievement or contribution to comedy
Rachel Parris has become the fourth recipient of the annual Bath Plug Award, presented by Bath Comedy Festival each year for significant achievement or contribution to British and World comedy.
The Festival explains: "The medal-like award, a specially engraved golden bath plug (really!) on a purple ribbon, places Rachel in great company – previous winners have been Terry Jones, Peter Richardson and Barry Cryer."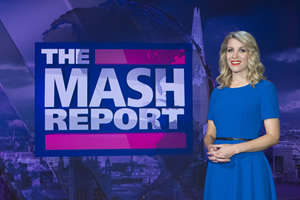 The presentation took place at the Widcombe Social Club following a sold out extra performance of Parris' show Keynote, which was added to the festival's programme due to an "incredible" demand for tickets. The musical comedian and actress has rose to fame in the last year after her appearances on BBC satire show The Mash Report (pictured) have gone on to become online videos which have picked up millions of views around the world.
Co-organiser of the Bath Plug Award; author, historian and self-confessed 'comedy geek' Jem Roberts described Parris as a unique voice in British comedy, with "her brand of smiling satire having gone viral around the world."
Festival Director Nick Steel said he was honoured to make her the 4th recipient of the festival's "prestigious piece of bathroom ephemera" and thanked Rachel for a fantastic contribution to this year's Festival.
The Bath Comedy Festival runs until the 15th April. The organisers say: "2018 marks the tenth year of Bath Comedy Festival, which is continuing to expand and fast becoming a national destination event and major entry in Bath's cultural calendar, with the help of principal sponsor Lovehoney – this year sees more performances and more venues than ever before with a host of famous faces as well as up-and-coming and new acts."
For the first time the presentation was streamed live on Twitter. The video can be replayed below:
Tonight we are delighted to present the #BathComFest Bath Plug Award to @rachelparris. https://t.co/xFfv2RhmRF— Bath Comedy Festival (@BathComedyFest) April 6, 2018
---
For updates, click the button below.
Share this page