Stage shows salute theatre genius of king of comic capers 10 years on from his death
"Irrepressible" was the word often used to describe the Essex-born performer and writer Ken Campbell. And, even in death, this "one-man dynamo of British theatre" will not keep quiet.
The award-winning playwright Terry Johnson has moved an acclaimed new show about Campbell to south London this month. Meanwhile, Daisy Campbell, Ken's daughter, is finishing her own theatrical tribute to her eccentric father, 10 years after he died suddenly at the age of 66. "It is a chance for me to see what he has been up to since," said Daisy, whose monologue about him, Pigspurt's Child, will open in Brighton in May. "Turns out he has been very busy."
Campbell is seen as the originator of the British comic improvisation scene and yet he also addressed the big issues of life. An "unclassifiable" maverick, according to his biographer Michael Coveney, he was as well known for his practical jokes, or "capers", as he was for his groundbreaking stage shows. These included the nine-hour Illuminatus! in 1976, starring Bill Nighy and Jim Broadbent, and the 24-hour marathon Time Warp, first staged at the Institute of Contemporary Arts in 1979.
"I was incredibly lucky to stumble on him," said Johnson, whose show Ken opened on 24 January at the Bunker in Southwark, south London. "It is a tale about knowing Ken. I wanted to write something personal."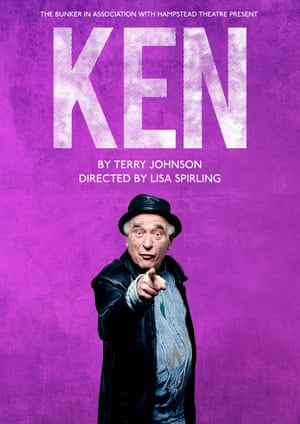 A winner of many theatrical awards for directing and writing, Johnson met Campbell in the 1970s.
"He was directing me when he was around 30. He was terrifying. He didn't really respect me, as I was very suburban then. But his voice is in my head and when I need some help directing, out he comes."
Johnson, who found fame with the 1985 hit film of his drama Insignificance and with his play Dead Funny, appears as himself on stage in his first acting role for 35 years, opposite Jeremy Stockwell as Campbell. "When I met Jeremy I realised he was absolutely the man to do it," he said.
Campbell's daughter also finds Stockwell's rendition uncanny: "Jeremy is just channelling Dad. It is an invocation – a really exhilarating performance."
As a child, she watched many of her father's odd one-man plays, and her own new work takes its name from his most autobiographical show, Pigspurt.
Campbell's daughter recalled: "My mother, the actress Prunella Gee, and my father split when I was five, but I spent half my time with each. Dad would take me fishing in the rivers and canals of north London, dragging up supermarket trolleys in front of all the 'gongoozlers' – which I thought was his made-up word, but actually does mean people who idly watch canals. When Dad is in your head, he doesn't go away. He turned everything into play."
• Ken is at the Bunker, 53a Southwark Street, London SE1, until 24 February