In just a few weeks, the world's most famous bridesmaid will become a bride.
Pippa Middleton, Kate Middleton's little sister, got engaged to James Matthews, a hedge fund millionaire and former racing driver, last summer. He proposed with a 3.5-carat Asscher-cut diamond engagement ring from London jeweler Robinson Pelham after dating Pippa for nearly a year. The two have known each other for more than a decade.
Pippa became an international star when she stepped out wearing a figure-hugging ivory Alexander McQueen dress at Kate and Prince William's royal wedding in 2011.
Wedding Date and Venue: Pippa, 33, and James, 41, are set to exchange vows on Saturday, May 20 at St. Mark's Church in Englefield, Berkshire, E! News has learned. Pippa and her siblings attended services there as children and grew up in neighboring Bucklebury. The two will be wed on the church's altar in front of a beautiful stained glass window.
Due to the increased guest count, TV screens have been installed in the church so that everyone can see the nuptials and have a good view.
Wedding Prep: For three months, the bride-to-be has been undergoing bridal body boot camp at the Grace Belgravia health club in London. On the day of the wedding, Pippa is reportedly getting ready at the Englefield House. Her glam squad is set to arrive at 5 a.m.
Wedding Transportation: A source tells E! News that church guests will join the rest of the guests at the Middleton house in the afternoon and will be driven directly from the Englefield Estate in minibuses provided by a company called Windsorian (who also provided transportation from the Goring Hotel during Prince William and Kate Middleton's wedding).
After the Ceremony: Guests will go on two-minute walk for a champagne reception at Englefield House.
Wedding Reception: The reception will take place at the 18-acre Georgian Grade II-listed manor home of Pippa and Kate's parents, Carole Middleton and Michael Middleton, according to The Telegraph and HELLO! magazine. According to our sources, the reception will happen in a "glass palace" on the Middleton's lawn that will house the 300 wedding guests. Two tents have also been erected, one for the catering and one that houses the luxurious portable bathrooms. 
Wedding Flowers: Lavender Green has been brought on for the floral decorations. The company will arrive on Friday to decorate inside of the glass palace with spring blooms. Flowers are expected to be hanging from the ceiling with a strong "spring" theme.
"It's going to be magical," the local tells E! News. "There will be floral arrangements from top to bottom, it's going to be magnificent."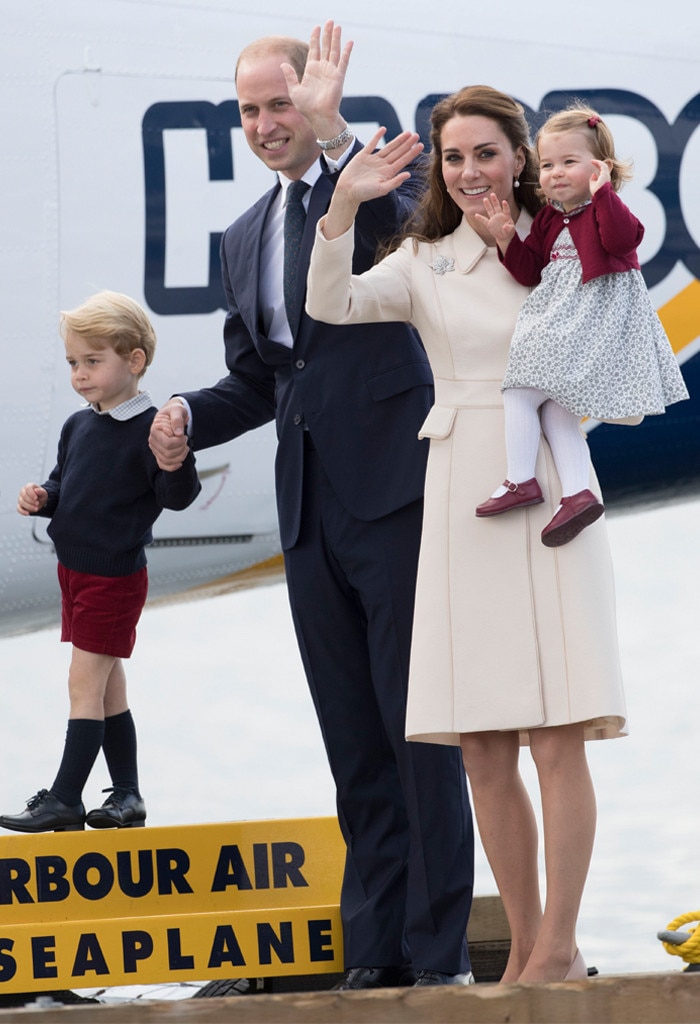 Stephen Lock – Pool/Getty Images
Wedding Cake: A source has confirmed to E! News that the couple has ordered a wedding cake from London-based bakery Domino Purchas Contemporary Cakes. The luxe cake will be feeding over 300 wedding guests and is believed to come with a price tag of roughly $3,000. 
Wedding Party and Guest List: Kate, 35, will attend the wedding with her family, a source told E! News. It isn't clear if she'll be in the wedding party, with some speculating she won't want to steal Pippa's thunder. Their 27-year-old brother James Middleton and Pippa's fiancé's three siblings, including his 27-year-old brother Spencer Matthews, a reality TV star in their native Britain, may also be part of the wedding party.
Kate and William's children, Prince George, 3, and Princess Charlotte, 1, are expected to be the flower girl and page boy or ring bearer.
Wedding Guest List: There are going to be over 300 guests, but nothing official has been announced. However, it has been confirmed that Prince Harry's girlfriend Meghan Markle scored an invitation despite an alleged "no ring no bring" policy.
Pippa and Kate's controversial uncle Gary Goldsmith will be attending the wedding ceremony, reception and party, sources confirm.
Wedding Dress Designer: Giles Deacon appears to be the favorite. He was previously spotted visiting Pippa with a garment bag and a source close to the designer's team told E! News  the design is "very simple, elegant and it's all handmade."
"I can never really comment on rumors," he told HELLO! in February. "Until things are confirmed it's just rumors."
Bachelorette Party: It happened in March; Pippa went skiing with Kate and friends at the French resort Meribel. A source told E! News the sisters enjoyed drinking and partying together, on the same weekend of William's infamous boys' ski trip.
No word on whether William plans to showcase his notorious "dad dancing" moves at Pippa and James' wedding.
"The Escape:" Once the vows have been exchanged and cake has been cut, the newlyweds will forgo a typical tropical honeymoon for a getaway to the French Alps. According to a source, the couple has booked a chalet where they have stayed before and are skipping live-in staff for true privacy. During "The Escape," as they have coined it, Mr. and Mrs. Matthews will enjoy the great outdoors with hiking and biking.
"They're both so active," the source said. "Expect her to be packing more North Face than bikinis."
According to the insider, the couple may eventually go on a beach vacation as well later on. "Both of them are so stressed right now, they just want to go away and feel like the only two people in the world." 
—Reporting by Alli Rosenbloom and Sara Kitnick
(Originally published April 5, 2017 at 8:16 a.m. PST)