Paul O'Grady: 'I was in awe of him'
If Doddy was doing a show in Liverpool, it was always packed out. He had a fabulous imagination that gripped children and adults. As a kid I got the Diddymen annual and would see him at the theatre and just be completely entranced. At Christmas we'd watch him on TV at my auntie's. She'd scream with laughter. My auntie and my mum used to go and stand outside the courts to show support during the trial over his taxes. When he came out, they'd shout: "We're behind you, Ken! Good luck, lad!" He was very much loved in Liverpool.
I was in awe of him whenever I met him. The last time was in his dressing room at the Blackpool Grand. He was very serious off stage – especially about comedy. He told me he had studied it way back to the ancient Greeks. He knew all about new comics, too. I asked him if certain types of comedy only appealed to a working-class or middle-class audience and he said it should appeal to everybody regardless.
In Blackpool, he went on at half-seven and was still there at midnight. It became a running gag. The theatre manager would come on and throw over the keys and say, "Lock up when you leave".
There was nobody else quite like him. I mean: a tickling stick? Where did that come from? It was a bizarre act but a wonderful one. Doddy used to do a ventriloquist routine with a Diddyman puppet. It was really charming, spellbinding even as an adult. And so well engineered after years and years of polishing it.
When he did his act he had someone backstage timing the laughs. Any gag that didn't get a suitable amount of laughter would be taken out or improved. He was never complacent but always working to improve the act. It was a science to him. I don't believe anything was ever ad-libbed: it was all stored in that brain of his. There was a joke for every occasion.
I remember in Blackpool I said to him: "Would you consider retiring?" And he gave me the dirtiest look.
Alan Davies: 'He was a machine of comedy'
I met Ken Dodd just the once, back in 1999 when I was making a documentary about comedians for the BBC. I went up to Liverpool's Adelphi hotel. Ken arrived a little late, very jovial, in a suit and tie and then disappeared again for 40 minutes to get changed, only to reappear in an almost identical beige suit. He proceeded to talk almost non-stop for two hours. It was fantastic – like having my own private audience. He made me laugh non-stop, too. I barely needed to ask any questions.
Ken had this kind of life force. He set out every day to make people laugh for as long as he could. Comedians who do long sets will have lots of waffle in there – my last live tour was a bit too long at over two hours. But Ken would be on stage for four or five hours of non-stop jokes. How did he remember them? He was a machine of comedy. If you look at footage of audiences at his shows there's a quality to the laughter that's really joyful.

He went about life with such good humour and positive energy, and always appreciated the fact that his audience had chosen to come see him and he was grateful and always enjoyed being on stage. He simply was a very, very funny gagster.
Frank Cottrell Boyce: 'Doddy wanted us to feel happy'
Ken Dodd was a campaigning Tory adored in a city where even considering voting Tory is social death. A vocal supporter of Margaret Thatcher held in the deepest affection in a city where supporters of Thatcher are viewed with the deepest opprobrium. He was cavalier about paying his taxes but we were pleased when he was acquitted. Even when he presented Maggie with a tickling stick we forgave him after a while.
There's a Maya Angelou quote that you see a lot on staffroom walls: "People won't remember what you say, or what you do, but they will remember what you made them feel." Doddy wanted us to feel happy. It's an extraordinarily difficult thing to make people laugh without asking them to laugh at somebody else. But once he learned how to do it, Doddy wouldn't stop.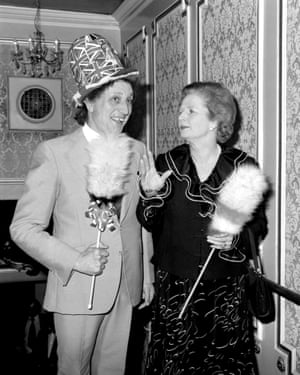 Through a series of misunderstandings, I ended up having dinner with him once. Because I asked him lots of questions he somehow got it into his head that I was updating his obituary for the Liverpool Echo. It came out that we had seven children. He turned to my wife and said, "Seven kids! Stand up and take a bow. No, don't. Sit down and take a rest."
During that dinner we talked about silent movies. He could see that Chaplin was a genius but preferred Stan and Ollie. Bullies and authority were the butt of Chaplin's comedy – and that was important and beautiful. But Stan and Olly were the butt of Stan and Ollie's comedy and "innocent laughter," he said, is "the sound the angels make".
People will compare him to the great Shakespearean fools like Kempe and Tarleton. But when he was invited to perform in Twelfth Night at the Liverpool Playhouse, he took the part of Malvolio not Feste – the twit and not the twitted. Of course, he was a terrific wordsmith. There's a wild poetry to his best gags and he had a poet's eye for the evocative detail – he said of his first trip to the variety theatre: "it smelled of orange peel and cigar smoke".
It's not the wit of the jokes that makes you laugh. It's the daftness. No one will ever be able to explain why words like knickerbocker, sausage-knotter or jam butty make us laugh. There would come a point in his shows when – partly from sheer exhaustion – you were laughing without knowing why. You weren't even listening any more. You were carried beyond yourself. You became part of the happiness – one huge heaving hive-laugh that had stopped caring that the last train had long departed. Afterwards you felt that you'd been part of some kind of experiment to identify and stimulate an actual chuckle muscle.
Last year my friend Roy Boulter tried to persuade him to be in a short film I was making with Carl Hunter. He turned us down because it was "a bit downbeat. I'm only interested in happiness." I don't want to sentimentalise him. He went on to explain that the other reason he didn't want to do it was that it was part of a Beatles celebration and "surely they'd made enough money already". He went on to ask about the fee. But then made it clear that if he did say yes the fee would go to Alder Hey children's hospital.
I think he probably meant that literally about angels. He always asked "the big man upstairs" for help before going on stage. I think he believed that the part of us that could laugh innocently – the chuckle muscle – was transcendent and eternal. Satire is important of course and the darker forms of comedy can help us face our fears. But during a time of division and hatred, to sit in a room full of hundreds of people laughing together and not at anyone else, was to feel your common humanity rocking your body. That was special. And important. For the good, as Yeats said, are always merry.