It's hardly a coincidence that some of Alan Ayckbourn's most enduring plays have been set at Christmas. Absurd Person Singular, Joking Apart and Season's Greetings all suggested that the pressure on the average family to show goodwill towards one another for a couple of days each year is a couple of days longer than most average families can withstand. More recently, Life and Beth was a Christmas ghost story about a widow's attempt to celebrate the festive season without her husband coming back to haunt her.
Ayckbourn has acknowledged that the trick behind his festive scenarios is quite simple: "Give them a land mine, but make sure you wrap it up in a bit of tinsel." Here he delivers a pair of gift-wrapped explosives in the form of two short, symmetrical one-act pieces entitled Knowing Her and Knowing Him. Both halves commence with a gathering in honour of Arthur and Elspeth, who are celebrating 40 years of marriage. They then wind back in time to a previous Christmas, blighted by bombshells pertaining to their secret lives.
It's clear that since their children left home, Arthur and Elspeth have been largely ignoring each other. He spends hours surfing the internet in his shed, while she seems eager to leave the house at every opportunity for drinks with her friend Janice. Tongues have begun wagging in the neighbourhood that these two 60-year-old married women have been spotted canoodling at the bus stop. It gradually becomes apparent that, since taking possession of his son's old laptop, Arthur has inherited his online dating profile as well.
The two parts feel structurally a little stiff, reminiscent of the venerable format of the Mr and Mrs game show, in which each partner is sent off while the other is grilled about how much they really know. But it enables Ayckbourn to explore his key concept of marriage as a flawed arrangement in which people attempt to get to know the strangers they have pledged to spend their lives with. Unable to comprehend that his wife could be curious about a same-sex relationship, Arthur protests that she has always been an open book to him. "But maybe you haven't actually picked her up and read her in a while," his son responds.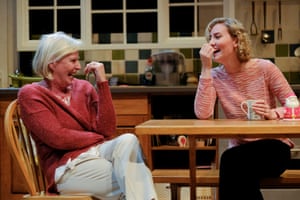 Russell Dixon and Jacqueline King turn in stoic performances as a couple whose relationship has fallen into a deadly slough of silent meals and tactful evasion. As their grownup children, Bill Champion and Laura Matthews make an effective pair of marriage-guidance counsellors while dropping hints that their own relationships are far from untroubled. But, unusually for Ayckbourn, it ends on a note of reconciliation and cautious optimism. These twin playlets are mere stocking-fillers compared with Ayckbourn's more substantial Christmas fare, but quite a surprise in their relative absence of humbug nonetheless.