Up Pompeii! audio show
An Up Pompeii! stage play is to be adapted for a new audio recording
A star cast will take on the roles made famous in the 1970s sitcom, which starred Frankie Howerd
The new recording will be released on CD and download formats in November
Renowned actor and impressionist David Benson is to star in a new audio version of Up Pompeii!.
Originally a hit BBC television sitcom for Frankie Howerd, he commissioned a stage play from writer Miles Tredinnick, but was never able to perform it before his death in 1992.
Now, the producers of audio revivals I'm Sorry, I'll Read That Again… Again and the hotly anticipated new Goodies adventure The Goodies – Live In Your Ear, have announced a new audio adaptation of the play.
It will be released on CD and as an audio download in late November.
The original comedy saw Howerd star as a British slave, Lurcio, living and working for a senator of the Roman Empire in Pompeii, shortly before the eruption of Mount Vesuvius that saw the settlement destroyed.
Producers of the new programme explain: "Up Pompeii! was a huge TV hit for Frankie, with a loyal following of 12 million viewers. As Lurcio, he constantly broke the fourth wall, taking the audience into his confidence with a non-stop barrage of double entendres and risqué gags, all of which go unheard by the other characters."
Written initially by Talbot Rothwell and later in conjunction with Sid Colin, Up Pompeii! debuted as a pilot on Wednesday 17th September 1969. Proving highly popular, it quickly returned and ran for two series the following year, before being revived for one-off specials in both 1975 and 1991, the latter of which saw the format move to ITV.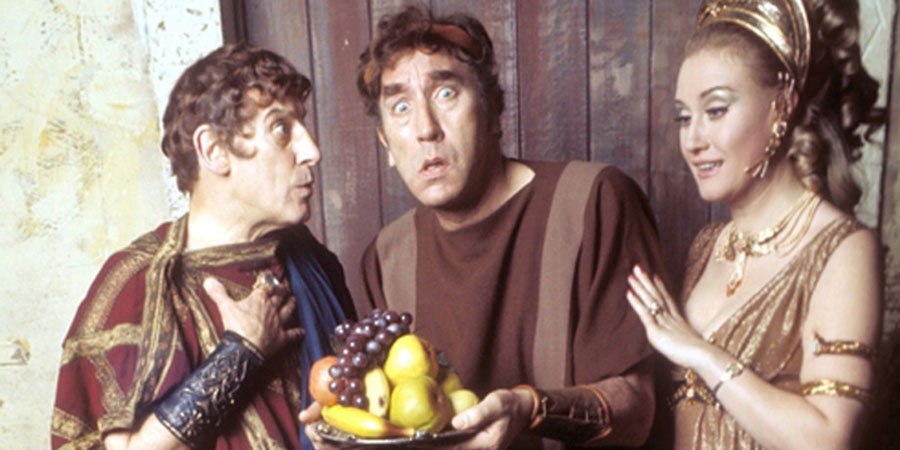 The programme was devised after BBC executives saw Howerd appearing as a similar character in the West End production of Roman-set comedy A Funny Thing Happened On The Way To The Forum. The popularity of the resulting TV show saw its format later reborn as Whoops Baghdad, pilot A Touch Of The Casanovas, and Then Churchill Said To Me.
No fewer than three hugely successful feature films were also produced: Up Pompeii, Up The Chastity Belt and Up The Front.
Frankie Howerd commissioned Tredinnick's stage play based on the original characters in the late 1980s, but before it could be staged he was invited to return to the West End and reprise his acclaimed A Funny Thing Happened On The Way To The Forum role. This left the script unperformed until the 2000s, long after the comic's 1992 death.
The new audio version has been adapted from Tredinnick's script by producer and actor Barnaby Eaton-Jones, with Daniel McGachy and Iain McLaughlin.
Benson will star as Lurcio, with Frazer Hines as senator Ludicrus Sextus and Madeline Smith playing his wife, Ammonia.
Jack Lane and Rosa Coduri will appear as their son and daughter, Nausius and Erotica; with Cleo Rocos as Suspenda; Tim Brooke-Taylor as Captain Treacherus; and Camille Coduri as Voluptua.
The cast will be completed by Jilly Breeze as Senna the Soothsayer, plus Ben Perkins as Corneous and Eaton-Jones himself appearing in the role of Kretinus.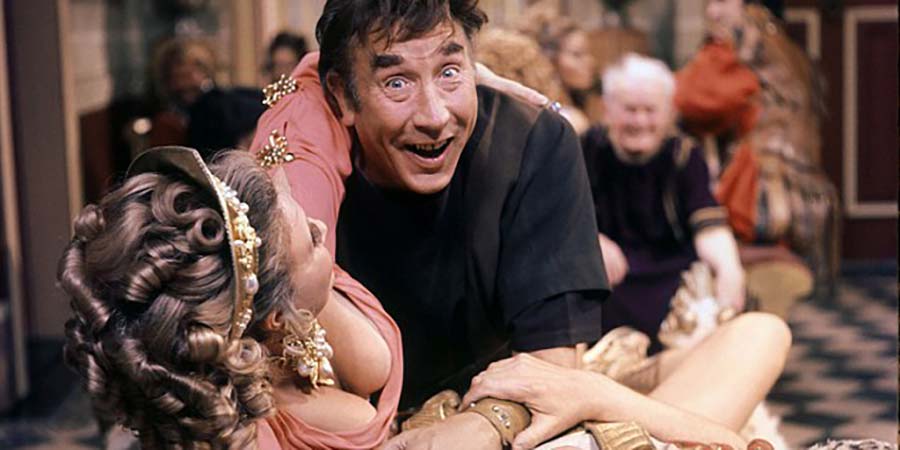 Producers Spiteful Puppet tease: "Welcome to ancient Rome, where the steps of the Forum are peopled by nubile slave girls and a range of outrageous characters including Lurcio's owner, Ludicrus Sextus the Senator, his wife Ammonia, his son Nausius and his daughter, Erotica.
"Lurcio attempts to deliver his prologue and begin proceedings before he's quickly caught up in the myriad of sexual liaisons in all quarters of his master's house. Why does Ludicrus not leave for the Senate meeting in Rome? Why does his wife return so quickly from the country? Who will take care of the escaped slave girl, Voluptua, and will Nausius's love poetry improve? Whilst growing chaos ensues, an increasing rumbling is heard in the distance – what could that possibly be?"
The feature-length comedy will be recorded at the Shaw Theatre on London's Euston Road, on Saturday 12th October. Performances will take place at both 2:30 and 5:30pm, and can be booked online.
---
For updates, click the button below.