'Exploring who we are and who we want to be. That's what the National Theatre of Scotland is there to do," says Jackie Wylie, its new chief executive and artistic director, as she announces her first season. "We have a responsibility to represent Scotland and Scottish cultural identity in a way that others don't. That has to be reflected in the way we take theatre across the country, make it with communities and export work beyond Scotland."
Wylie and I meet at Rockvilla, the Glasgow offices that NTS moved into earlier this year. Rockvilla includes rehearsal rooms, a workshop and a costume department – but no public performance space as it remains a theatre "without walls". On a shelf, a box labelled "Vests: Black Watch" is a reminder of one of its greatest hits; another of them, Let the Right One In, has just opened in Dublin. Wylie's first season will include one more past success: The Strange Undoing of Prudencia Hart, David Greig's wildly entertaining show inspired by border ballads.
But Wylie is well aware that her theatre can't live on past glories. When she took up the post in March, NTS had been without an artistic director for a year since the dramatic departure of Laurie Sansom, who had succeeded Vicky Featherstone in the job. Best known for The James Plays, Sansom never came close to emulating his predecessor's wide-ranging success in staging so many different kinds of theatre in so many locations.
The first born-and-bred Scot to take the helm at NTS, Wylie is well known and well liked in the Scottish theatre world for her support of Glasgow's artistic community and her internationalism while running the much-missed Arches venue, which went into administration in 2015. "When I took over at the Arches, I was 28 and felt that as a young woman I had to work harder to claim the territory, stake out what is valuable and valued, and have the authority in a way perhaps that a man wouldn't have had to do. I think I felt a pressure to be a more masculine version of myself to conform to the structures in place and to notions about what leadership means."
No longer. She has both the experience and the confidence to redefine what an artistic director does and how a national theatre might work for Scotland. Her aim is to make it more transparent, flexible and porous. "It already is," says Wylie, "perhaps more so than it appears to people from the outside, because any institution with national in the title is going to be perceived in a monolithic and intimidating way." She admits to being guilty of that kind of thinking herself before she got the job. But that's not to say she doesn't think that there is room for improvement in diversity – only three out of 50 staff members are from BAME backgrounds – or the way NTS can share its resources to help the wider theatre community.
That's crucial because Creative Scotland has just announced that long-awaited decisions on future core funding of Scottish companies and artists will now be delayed until the end of January. "We're a production organisation, not a funding body, but we do operate from a place of privilege," says Wylie, "so we have to take care that we share and open up both the building and the opportunities to others, so we are not dominating but enabling and not taking resource from anyone else."
That includes independent Scottish theatre-makers of all kinds in what is a small but highly networked community. But Wylie is also determined to deepen the relationship with audiences.
A steering group of 16 to 24-year-olds will be recruited from across Scotland and embedded in different departments within NTS and have real input into policy. "I want to demystify the artistic process and take theatre off its pedestal, so people realise that anyone can do it."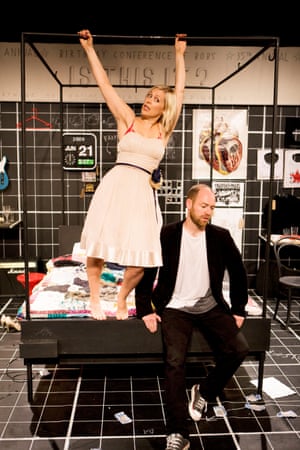 Wylie is a creative producer rather than a director and acknowledges the challenge that brings when you're heading up a company. "If you are a director, you bring your artistic vision to the organisation you lead, but you also do it in the rehearsal room with the work you make and plays you direct. But my expertise is as a curator, so one of the big things I have to negotiate is how do I open up how artistic decisions are made, and bring in new people who have a different way of seeing and doing things."
When Wylie thought about applying for the job, it was in the wake of the EU referendum in which Scotland's predominant vote to remain lost out to the English majority vote to leave. Looking at her young daughter, Wylie found herself thinking not whether to apply, but how she could afford not to if she wanted her own child, Scottish theatre and Scotland itself to have a stake in the future.
The kind of future Wylie envisages is reflected in a programme that includes flagship productions and new writing, including a new play by Frances Poet (who wrote Adam, seen in Edinburgh last summer and which will be revived next year); a major revival of David Greig and Gordon McIntyre's delicious romantic comedy with songs, Midsummer, staged as part of the Edinburgh international festival; and a new version of Edwin Morgan's adaptation of Cyrano de Bergerac (a co-production with the Citizens and the Lyceum). But the mainstay is significant amounts of international collaboration and work with children and young people.
Along with Robert Softley Gale's new comedy musical based on the movie My Left Foot, NTS's Edinburgh fringe presence next year will include Nous/Us, a bilingual collaboration between artists from Scotland and Quebec exploring different kinds of sovereignty. ("It gets to the heart of how we define ourselves and how we look beyond our own borders.")
There is also Futureproof, a year-long project with young people in locations all across Scotland looking at what the young will inherit from us. It includes groundbreaking international companies such as Campo, Rimini Protokoll and Mammalian Diving Reflex working with Scottish artists and young people from Paisley to Shetland.
"Because we are a theatre without walls, we have to collaborate, but there is always room to think about who we collaborate with and where," says Wylie. "I'm still working out what my value is to NTS and part of that process is asking: what is NTS's value to the rest of the theatre community and all the people of Scotland?"