For 20 years people had been telling PJ Hogan that Muriel's Wedding could work as a musical.
His 1994 debut feature told the story of dumpy, dreamy twenty-something Muriel Heslop, who retreated from her disappointing life and verbally abusive family by blasting ABBA songs and fantasising about fame. The film, a gloriously sly satire of small-town Australia, transcended its idiosyncratic setting and sense of humour to become a surprise international hit, scoring then-unknown Toni Collette a Golden Globe nomination, and kickstarting Hollywood careers for both her and Hogan.
And on Saturday night, Muriel's Wedding: The Musical opens at the Roslyn Packer Theatre in Sydney, directed by Simon Phillips – a man with a track record for adapting Australian stories for the stage, including Priscilla, Queen of the Desert and Ladies in Black. With a book adapted by Hogan from his original script, it follows the original story but plants it in the present day, recreating the plastic-frangipani sheen of Porpoise Spit and a darkly glittering Sydney with an extraordinary 3D puzzle of a set, designed by Gabriela Tylesova.
According to Hogan, adapting the story for the modern day was surprisingly easy. Muriel's third-act notoriety is recontextualised with Instagram and Twitter followers, and the spittle flecked rants of her father Bill Heslop, played by Gary Sweet, have been updated with some unlikely inspiration: former ALP leader-cum-provocateur Mark Latham.
"Not verbatim," Hogan clarifies – Latham has a litigious bent, after all. "But he's certainly led me quite easily to my inner Bill."
Phillips had been "nagging" Hogan about the show for almost a decade; the pair would toss around ideas, dropping in existing pop songs as placeholders, and eventually began the long process of finding the right composer. Importantly, this is not an ABBA jukebox musical (and not just because there's one of those already). While the Swedish superstars and their hits feature heavily, the show boasts over 20 original songs, written by Australian pop artist Kate Miller-Heidke and her partner in music and life Keir Nuttall.
After all, a jukebox musical could never work for a story this emotionally complex. "What would be the ABBA tune when Muriel bares her soul in the bridal shop?" Hogan says. "ABBA didn't write a song like that."
Miller-Heidke's acrobatic voice and classical training give her songs a cheeky, theatrical bent, and with Nuttall the pair's ear for a neat rhyme and wordy, shockingly funny lyrical twists make the songs crackle with energy.
Several are simply excellent pop songs in their own right, such as Amazing: a tumble of honest affection and gorgeous harmony where Rhonda and Muriel cement their new friendship under the stars. It's impossible to hear it and not picture a pair of teenage BFFs trying to talk their music teacher into letting them perform it at school, despite the gleeful F-bomb in the chorus.
"I just got the great advantage [in Miller-Heidke and Nuttall] of people for whom theatre might not have been their natural idiom, but their instincts for how the theatre works are incredibly impressive," says Phillips. "[The songs] serve all the purposes that theatre songs need to serve while making you think, 'Oh, god. I don't think I've ever heard a song like that before'."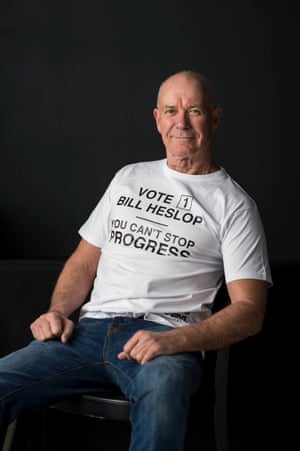 Despite that originality, Nuttall says, "We were very protective of the source material … I think people who loved the movie will not feel like it's being violated. PJ was always going to make sure of that, but certainly it was an important film for me and Kate."
There are plenty of lines from the film audiences will be looking out for, and they won't be disappointed – unless they were hoping to head home with a catchy reprise of You're Terrible, Muriel stuck in their heads. Nuttall and Miller-Heidke mostly avoided writing songs around the most iconic quotes.
"I would've liked to have really written a song called What A Coincidence, a duet between Bill and Deirdre [Chambers, his tacky mistress]," admits Nuttall. "'What a co-in-ci-dence…' It even sings so well, you know."
But, as Miller-Heidke points out, "There's a lot of story to get through … We don't have time for [Muriel's sister] Joanie to do a soliloquy."
Those iconic supporting characters are tough to recreate. As with any adaptation, a balance must be struck between honouring the original performances and allowing the new cast members to make the roles their own.
Maddi Jones' Rhonda, for instance, is a pink-haired spitfire in black mesh layers, her energy less brittle than Rachel Griffiths'; Gary Sweet as Bill dials down Bill Hunter's gruff, sweaty sheen (though none of the insistent casual racism) for a more photogenic local pollie; and as mean girl Hall of Famer Tania Degano, Christie Whelan-Brown brings a self-obsessed mania over from her character in The Wrong Girl, to create a 2017 Tania you'd absolutely hate-follow on Instagram (while secretly coveting her hair extensions).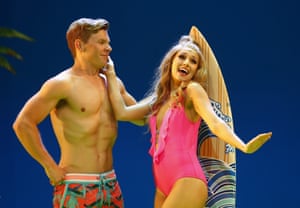 The most crucial bit of casting, of course, is Muriel herself. Not only is she in every scene, but she's in the shadow of Collette's star-making, devastating original performance. The team had the initial audition group narrowed down to a handful of promising young actors last year, but felt there was still someone out there who ticked every box.
Then they received an audition video from LA: then 20-year-old Maggie McKenna, thick hair tied loosely to one side in a ribbon, putting an astonishing amount of feeling into every note of Dancing Queen and radiating hope and yearning.
While she's young – younger, in fact, than the original film itself – and has never tackled a role of this size before, McKenna glows onstage. Imagining her glamorous future life, she beams not just with her whole face but with her whole body, infusing her Muriel with a goofy, guileless, endearingly broad bogan charm. At other times, her flashes of obliviousness and petulance call to mind another iconic Australian character: Kim from Kath & Kim, immortalised by McKenna's mother Gina Riley.
"When I watched the character of Muriel as a child, I don't think I fully understood the complexity of her," McKenna told Guardian Australia in an email this week. "Yes, she's larger than life and a goofball, but she is also incredibly self conscious, unhappy and lonely."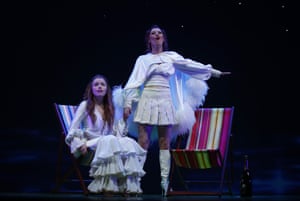 As Hogan says, "It wouldn't be Muriel's Wedding if it didn't have a dark side – and if it didn't have heart." He admits he always associated musicals with what he diplomatically calls "lighter fare", until a recent trip to New York where he discovered the complex emotional core of the stories that also happen to be modern Broadway's biggest hits.
"[There were] a lot of interesting shows on that I went to see like Fun Home, Book of Mormon and Once. And I thought, you know, the musical [as a genre] has changed. They're not the musicals that I grew up with. Audiences not only accept something that is a little deeper and cuts closer to the bone, they almost demand it now."
The show is personal for Hogan, but not only because it was his first feature, his first real success, and arguably his defining work, but because it came directly from his own life.
"A comedy that comes from a place of anger", he calls it in the upcoming documentary, Making Muriel, directed by Nel Minchin. Muriel and Betty are based on his downtrodden sister and mother, we learn, and Bill the Battler his bullying father.
Circling back nearly 25 years after the film has underscored why good adaptations work: Muriel the musical sees even its creator affected anew by his most familiar story.
"It's still strange to watch my family singing and dancing," Hogan says. "I'll never get over that. Liberating – yet strange."
• Muriel's Wedding: The Musical runs at Sydney Theatre Company until 27 January 2018. Making Muriel, a documentary by Nel Minchin, premieres on ABC on 26 November at 7.40pm