There is something unnerving about feeling that someone else has lived through your career before you've even had the chance. I myself have not starred in a much-loved children's classic (unless you count an appearance as a TV weatherman in a Harry Potter film – you may have missed it if you coughed at the wrong moment). Nor indeed have I been in a string of war films (unless you count an appearance in the film version of Journey's End – you may have missed it if you came in two minutes late).
Nevertheless, I am repeatedly informed – not always by people seeking to make money – that there are uncanny similarities between myself and the celebrated English character actor David Tomlinson, who starred in The Wooden Horse, Bedknobs and Broomsticks and, unforgettably, Mary Poppins.
I was not aware of these similarities as a child when I first saw Mary Poppins and encountered Mr Banks, that uprightly besuited incarnation of a certain kind of English gent. He was reserved and correct, treating his children with the same formality as he might a minor employee, until his triumphant Julie Andrews-engineered conversion, when he becomes the father everyone always wanted to have. I was remarkably lucky in this regard, having the sort of father who would theoretically be only too happy to engage in a spot of kite-flying if it would get him away from his desk for a bit.
So I knew Mr Banks, and I knew more broadly the work of David Tomlinson. He was the kind of mildly aristocratic English character actor I've always admired, in the same lineage as Simon Callow or Hugh Laurie. I had no idea that I was in some way retracing his showbiz steps, or at least I wouldn't have if people didn't keep pointing it out to me.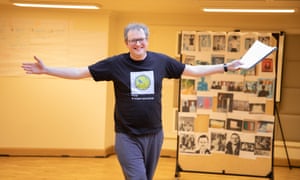 Among the people who oddly seem to believe in this Jupp-Tomlinson connection is David Tomlinson's eldest son, also called David Tomlinson and a circuit judge. (I am not entirely sure what this is and intend to continue behaving myself well enough not to find out.) He saw me in the West End in a production of Tim Firth's play Neville's Island – a comedy where I played the alternately pompous and foolish Angus. It was the conviction of Tomlinson Jr upon leaving the theatre that this was just the sort of play Tomlinson Sr would have seen in back in the day, and that mine was just the part he would have played.
Another person convinced of the links between me and the great man is my long-standing writing partner and occasional friend James Kettle, who was watching Mary Poppins a few years back and apparently sat bolt upright (quite an event given his typically poor posture) with the epiphany that me and DT were, if not a vocal and physical match, then a jolly fine fit.
He then realised two things. Firstly, that David Tomlinson – in a rather quiet, unassuming and very English way – had a fascinating life story that he'd always kept rather quiet about. A story that involved moral, if not actual bigamy (Tomlinson's own father kept twin households in London and Folkestone), moments of family tragedy involving the suicide of Tomlinson's first wife, and a great struggle to build the right life for his third son, William, one of the first children in this country to be diagnosed with autism. All this to a backdrop of mid-20th century showbusiness, from the repertory circuit of British theatre to working alongside Walt Disney in California.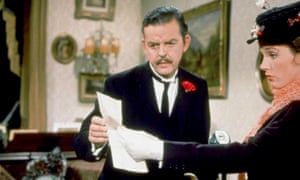 Secondly, James thought that the best way to tell this story was via a theatrical production in which I played all the parts. This produced a mixture of feelings in me, all of them negative. I knew I would miss the camaraderie of my fellow actors backstage, with their encouraging comments like "Have you had a callback for that TV job yet?" or "Everyone who works for that company is a bastard." More than that, I knew that I was the only one who was going to have to learn all the sodding lines.
Nevertheless, here we are. Under the able tutelage of directing team Selina Cadell and Didi Hopkins, I am ready to present my David Tomlinson to the world. One of his sons said to James during the writing process that they were anxious not to interfere too much, recognising it was "his story".
Of course, it's much more their story than James's – and yet it's also all of our stories, because all of us – well, most of us – well, some of us, perhaps – can remember watching Mary Poppins in our childhood and thrilling to Tomlinson's performance as blinkered, stuffy but ultimately lovable Mr Banks. I will endeavour to do all of our memories justice.