Micky Flanagan O2 Key
Micky Flanagan has been presented with a ceremonial key to The O2 arena in London
The stand-up has joined 'the 21 Club', the list of artists who have performed 21 nights at the venue
Flanagan joked that he hopes it allows him to slide down the roof of the venue now
Micky Flanagan has been presented with a key to The O2, after reaching the milestone of 21 performances at the London arena venue.
The native Londoner first performed at The O2 in 2011 during Channel 4's Comedy Gala, an event that also brought about his return to the venue in 2012. He performed a live tour at The O2 for the first time in 2013; a show so popular he ended up adding six extra dates. In 2017, the An' Another Fing… tour saw him on stage for a further 12 nights, with the final night bringing his total performances to the record-matching 21.
The music star Prince first established the record in 2007, with his legendary 21-night run. Thus, any act to reach that milestone now receives a ceremonial key to the venue in recognition. Michael McIntyre was presented with a key in 2015.
The latest key, designed and presented by The O2 team, was finished in gold and mounted on a velvet backing, mirroring Micky's classic stage design.
Housed on the walk to stage at The O2, the award will be visible to everyone who performs in future.
Upon receiving the key to The O2, Micky Flanagan commented: "Does this mean I can now fulfil my lifetime ambition of sliding down the roof of The O2 on a rainy day? Ideally naked but could put on my trusty thong (to avoid wedgie) if legally required."
Commenting on the accomplishment, Emma Bownes, Programming Director at The O2 said: "It's great to be able to induct another act into the 21 Club, particularly one who has brought so much laughter to the venue over the years. Our congratulations go to Micky and his team on this achievement."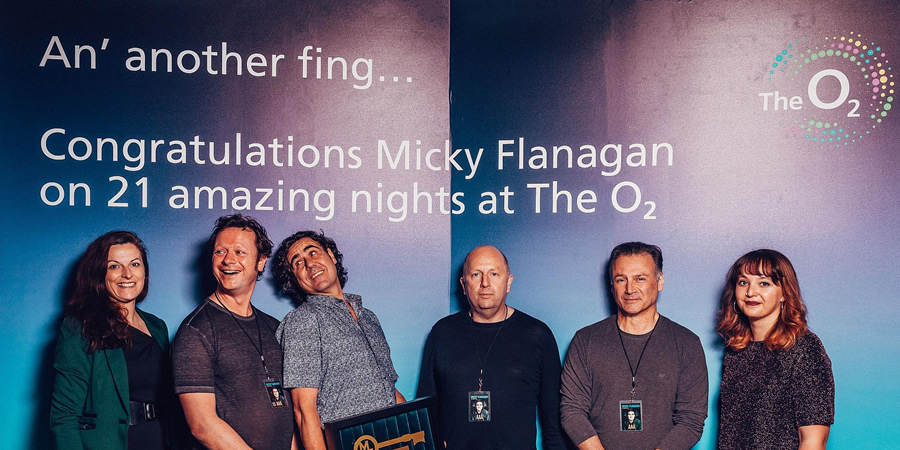 ---
For updates, click the button below.
Share this page