Michael McIntyre Rose d'Or
Michael McIntyre's Big Show and Ricky Gervais have won international awards.
The Rose d'Or Awards, celebrating their 58th year, reward and honour achievement in international entertainment programming.
Michael McIntyre picked up the Studio Entertainment award for his BBC One show, Michael McIntyre's Big Show.
The hit variety format, currently airing its fifth series on Saturday nights, is filmed with a live audience – although, ironically, in a prestigious West End theatre rather than in a studio. The present series comes from the London Palladium.
Meanwhile Ricky Gervais was presented with the 2019 Rose d'Or Performance of the Year Award acknowledging his "ground-breaking" performance as Tony in After Life, the Netflix series which he also writes and directs. His co-star Diane Morgan was in attendance to present the prestigious award to him on the night.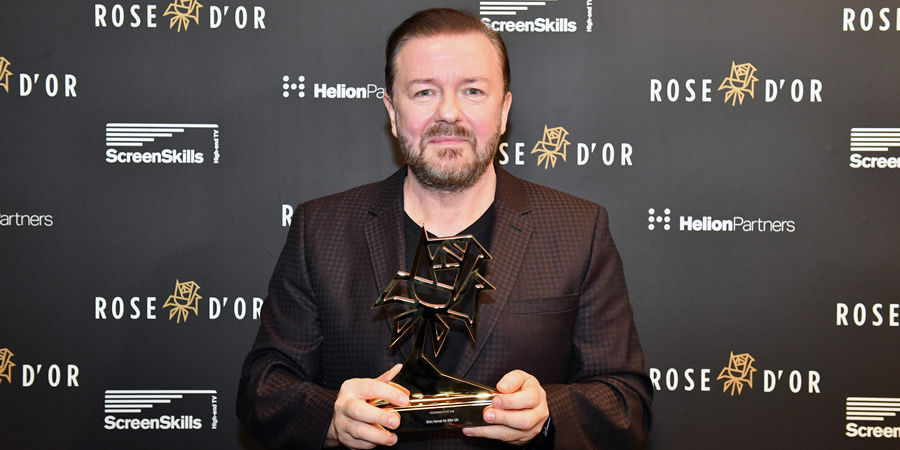 Gervais said: "I can't believe I was chosen from all the amazing performances in both drama and comedy from all over the world this year. Truly flattered. This might be my favourite honour of my career."
The other British shows nominated missed out to the fast-paced and irreverent Canadian series Baroness von Sketch Show in the Comedy category, and in the Comedy Drama and Sitcom shortlist it was Spanish series Arde Madrid that took the prize.
The awards were presented at a ceremony in London, hosted by Lenny Henry. He comments: "As a previous winner of the Golden Rose [Lenny Henry In Pieces, 2001] it's a huge privilege to be invited to host on this incredibly auspicious occasion. It's a bumper for the programmes. Huge congratulations to all the nominees!"
The winners were voted for by 60 international judges made up of media industry professionals.
Sofia Helin, Chair of the jury, said: "We're delighted to have held The Rose d'Or awards in London this year, it has been a fantastic evening celebrating the very best in international entertainment programming, with the winners rightly recognised for their outstanding contribution over the last year. Our congratulations to all of tonight's winners and nominees; the commitment and creativity that has gone into these shows is inspiring."
---
For updates, click the buttons below.