I've been adapting novels and plays for radio for well over a decade. And I've adapted wonderful work: Beloved, The Darker Face of the Earth, Small Island, The Color Purple. But adapting the work of Maya Angelou for BBC Radio 4 was the first time I dramatised a memoir. I am used to ferreting out the intentions of the writer between the lines of a play and among the events in a novel. With Maya Angelou's memoirs, she was right there in front of me, looking me in the eye. It is a bold adapter who wouldn't feel intimidated. It would also be a foolish one who didn't grab the opportunity to bring her words to the ear.
The intimacy of radio meant that having Maya's words spoken by a narrated version of herself was a given. Without the distraction of visuals, life in the deep south during Jim Crow, the characters hustling on the streets of postwar San Francisco, a teenaged Maya driving over the Mexican border having never driven before, and her life as an expat in Ghana can all be imagined and savoured. But there were decisions to be made about which moments would take to being dramatised, which ones should be reported, and which should not be included in this adaptation. I can't tell you how difficult it was to make these omissions.
Some adaptations involve giving the audience a series of glimpses of the core events in the story and tying them together as best you can. Others are like producing the best line drawing you can achieve from your observations of an oil painting. About halfway through the process of recording the episodes of Maya's first and most famous volume, I Know Why the Caged Bird Sings it occurred to me that what we were producing this time, in great and careful detail, was a quilt: a stitching together of vivid scraps of the story of her life to create a representation for the audience that we hoped was both complex and subtle.
An adaptation is not a purely academic exercise. It can also be a deeply emotional experience. There are huge recognisable commonalities between the historical black American and Caribbean experiences: the transatlantic slave trade and its aftermath, discrimination, racism, learning to exist and thrive in societies where the financial and social structures are biased against progress. These are also societies that created cultures that protected, strengthened and uplifted themselves; that created new musical and dance forms, that blended languages, that invested in passing on a body of rich folk wisdom, that transformed religious worship from obedience to resistance. I was born and raised in the Caribbean. I recognised these aspects of Maya's story.
As a black woman, she spoke directly to me about everything from body consciousness (I, too, am tall and gap-toothed) to the difficulty in negotiating relationships with black men. She pulled no punches in describing the choices she made in her life. Born Marguerite Annie Johnson, she was raised by her grandmother, raped by her mother's boyfriend, was a teenage mother, worked as a short-order cook, a waitress, a dancer, a brothel madam and a prostitute – all before she was 20. Sensational as all that sounds, there is not a word of self-pity in her memoir. Compassion for her youthful self, perhaps, but never self-pity. Instead, what shines through is her powerful intellect and incredible talent, her ability to observe the world around her and to look inside herself with the same compassionate objectivity.
There is also a grand and dangerous idea at the centre of her work. She grants herself what the world around her was unwilling to: equality. It is what Beyoncé does when she performs the Black Power salute at the Super Bowl. It is what Childish Gambino does when he creates a video in which he personifies his country in This Is America. When Stormzy calls the government to account, or David Lammy lambasts the Home Office treatment of the children of the Windrush generation. Angelou is part of the wellspring from which these public figures drank. They have assumed their equality and not waited for it to be granted to them.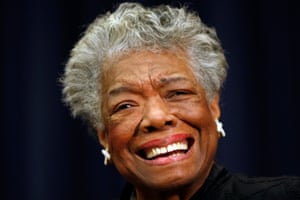 Quotes from Maya Angelou pop up on my Twitter feed at regular intervals. She is very quotable. The story of how Marguerite Annie Johnson became famous worldwide, forged careers as a memoirist and poet, singer and composer, civil rights activist, lecturer and public speaker, and downright national and international treasure, is well known and gives hope to many from all backgrounds and persuasions. She is inspirational. Her death was mourned worldwide. Her work, though absolutely rooted in place and time, is timeless in its celebration of our common humanity. My job was to find her in the pages of her books, to help put her words into the mouths of some of the UK's leading actors, and not to look away from the fierceness of her gaze. To instead bring the audience into the celebration of the human spirit in all its complexity and glory that drives and defines the words of Dr Maya Angelou.