Nadya Tolokonnikova and Maria Alyokhina were both in London last week, albeit on opposite sides of the capital. Pussy Riot's feted figureheads were in town to stage different live retellings of how their Russian performance art collective became a cause celebre in 2012, when a 35-second guerrilla punk gig in Moscow Cathedral earned Tolokonnikova, Alyokhina and fellow performer Yekaterina Samutsevich two-year prison sentences for "hooliganism motivated by religious hatred".
In Chelsea, at the Saatchi Gallery, Tolokonnikova is debuting Inside Pussy Riot, an immersive theatre experience. On Friday, at Islington Assembly Hall in north London, Alyokhina performed Riot Days, a one-night-only gig-style adaptation of her new book – an account of Pussy Riot's genesis. The two shows' merits, as entertainment and documents to protest, are as far apart as their postcodes.
Inside Pussy Riot feels ill-judged from the get-go. A prison experience – even one curated by one of modern feminism's most revered ex-cons and realised by Olivier-nominated immersive theatre specialists Les Enfants Terribles – is still essentially the kind of misery porn the UK needs less of. Even worse: Tolokonnikova, a woman hailed for challenging patriarchal institutions of power, has chosen to host her event in a space owned by a man who was photographed in 2013 assaulting his then wife, Nigella Lawson.
Either way, what is billed as an event meant to "provoke and challenge" turns out to be mild fun in mandatory balaclavas, with Tolokonnikova in tow on press night as a fellow "inmate". The set, built to recreate Pussy Riot's journey from protest to trial to incarceration, is more playhouse than death house, nestled Russian-doll-style inside Saatchi's airy whitewashed pile. The Wes Anderson-meets-Situationist aesthetic is lovingly detailed; the props, lighting, acting and soundtrack all cleverly arranged. But when your autonomy is never in doubt – we knew we could leave the installation at any point – how can theatre like this ever be more than a bougie holiday in other people's misery?
Even its most intentionally disquieting moments – the almost strip-search of an actor playing an inmate; the surveillance tactics (candids swiped from our Instagram accounts used against us during "questioning") – feel neutered. After a short stint in faux solitary confinement, the audience were led to freedom. Prosecco, posh nibbles and a DIY manifesto awaited.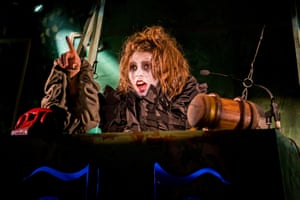 Absurdist comedy can be a powerful vehicle for protest, but here it only undermines the message. Why painstakingly reconstruct the carnival of bureaucracy, humiliation and pain that Pussy Riot endured, only to de-fang it? With its Sloane Square locale and £35 tickets, I left wondering who Inside Pussy Riot is for.
I didn't need Inside Pussy Riot to emphasise the evils of surveillance and incarceration: Facebook and Google have done the former, while cuts to UK legal aid – the same cuts that stopped Grenfell residents coming forward with safety concerns – have taken care of the latter. The show neither renewed my political beliefs, nor my sense of activist purpose.
If the Saatchi gallery immersive experience felt stage-managed and inert, Riot Days was anything but. Alyokhina's collaboration with music producer Alexander Cheparukhin and director Yury Muravitsky was full of fierce, rousing joy, free of scripted cues. The diminutive icon and her small band of live musicians delivered a poetic, razor-sharp and disarmingly witty version of her tome against a backdrop of archival footage and English subtitles that translated her spoken Russian narration. Alyokhina proved a formidable and surprisingly masculine voice against droning, electronic Euro-jazz. Riot Days was a generous document to defiance, a kinetic invitation to dissent. I left blazing with hope.
Pussy Riot were never musicians. It was their performances – clever, meticulously planned DayGlo guerrilla actions – not their punk songs that made them so effective. Post-prison, following both valorisation and backlash (from their own camp), that has changed. Despite sporadic direct action, such as the Trump Tower protest last month, Alyokhina and Tolokonnikova are more likely to fill theatre stalls than streets – and yet it's the latter that remains the most effective site for protest, as Sisters Uncut, Black Lives Matter and the far right continue to prove.
Pussy Riot have done their time: they owe the world nothing. But while they continue to invite us into the Pussy Riot fold ("Everyone can be pussy riot," they proclaim, in interviews and on merch), their choices – artistic, collaborative, and in Alyokhina's case, romantic – deserve scrutiny. Last month, it was revealed that Alyokhina is dating the controversial far-right activist Dmitry Enteo, a man who – when a member of an ultra-conservative Christian group – campaigned for Pussy Riot's incarceration.
Riot Days convinced me that gigs still have the power to move the masses. Immersive incarceration experiences in affluent Chelsea art galleries? Not so much.