The Young Vic's new artistic director, Kwame Kwei-Armah, has revealed details of his first season at the London theatre. It promises a soulful musical version of Twelfth Night, a digital project exploring Englishness and £5 tickets for the first preview performance of every show in the theatre's main house.
Twelfth Night opens the season in October and features "funky, fun and modern" music and lyrics by Shaina Taub. Kwei-Armah chose Shakespeare's comedy as his first production because he wanted "to put out joy and love and energy because when I walk into the Young Vic that's what I see and feel". He will co-direct the show with Oskar Eustis, the artistic director of New York's Public theatre, where it ran in 2016. The production will feature an ensemble of 40-50 people from the local community.
The next two productions in the main house are revivals of plays that should form part of a "new canon of classics" said Kwei-Armah. The first is The Convert, written by playwright and actor Danai Gurira, who played the warrior Okoye in the blockbuster Black Panther. The play, which explores Catholicism and colonialism in Rhodesia in the late 19th century, was staged in a different production at London's Gate theatre earlier this year. The Convert is followed by Jesus Hopped the "A" Train by Stephen Adly Guirgis which is set in the Rikers Island prison in New York and will be directed by Kate Hewitt. The play was first seen in London at the Donmar Warehouse in 2002, directed by Philip Seymour Hoffman. Kwei-Armah said it had moved him profoundly and that it asked "whether we deserve redemption as human beings". Before Twelfth Night opens in the main house, the theatre will stage Naomi Wallace's play Things of Dry Hours in its Clare studio this summer.
Kwei-Armah, who started out as an actor and has been greatly acclaimed as a playwright, took up the position at the Young Vic in February. His appointment was celebrated as a major step forward for diversity in British theatre. Having returned to the UK after running Baltimore's Centre Stage theatre since 2011, he said it felt as if the country was experiencing an "identity crisis", and that it was moving both backwards and forwards. He said he was saddened to hear conversations about "Windrush children being sent back or deported or feeling under threat, to look at immigrants in this country and to see the fear that's in their eyes that was the fear that was in my mother's and father's eyes 40 and 50 years ago".
The Young Vic's new season will include My England, a series of three-minute monologues released online, exploring what it means to be English. Writers of the monologues include Jack Thorne, Selina Thompson, Lucy J Skilbeck, Omar El-Khairy and Polly Stenham. Kwei-Armah said that the project would find a way of articulating Englishness at a time when it is being "weaponised" by the far right.
Kwei-Armah said "access for all" is in the Young Vic's DNA and that he wanted the company to be "socially relevant" and speak to "the widest possible audience". He unveiled a scheme whereby all tickets for the first night of previews for shows in the main house will be available through a lottery for £5. The Young Vic also plans to take shows into the community, to "people who do not normally think that theatre is for them", performed in "places where you don't normally find theatre". The YV Unpacked initiative will visit refugee centres, prisons, women's refuges and homeless shelters. The first production is a revival of Spring Awakening by Frank Wedekind.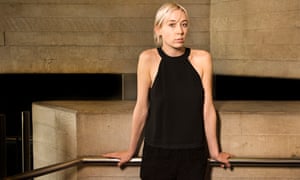 The theatre is also presenting Jordan Tannahill's Draw Me Close, a hi-tech collaboration with the National Theatre and National Film Board of Canada. It merges live performance and virtual reality to explore the relationship between a man and his terminally ill mother; Tannahill created the show after his own mother's cancer diagnosis.
Kwei-Armah made the season announcement on Tuesday at a press conference which opened with an impassioned performance by Twelfth Night's Gabrielle Brooks and ended with the charismatic artistic director taking a selfie in front of the attendees. He said he was "overjoyed and petrified" to be taking over from David Lan, who ran the theatre to great acclaim for 18 years.