Kristin Cavallarihas joined the team as a guest editor for Fashion Week at E!. Between shooting E!'s Very Cavallari, opening new stores for her accessory line, Uncommon James, launching a home goods line, promoting her cookbook and being a dedicated mom and wife, the former The Hills star still finds time to look good. Now, she's telling us how with her fall must-haves and fashion pitfalls you should try to avoid.
Keep scrolling for all of the advice you need to dress like a boss this season!
John Shearer/WireImage for MOTOROLA
My Biggest Fashion Regret

In the 2000s, I always had on a jean skirt with UGG boots and a choker and it was awful. I thought I was so cool. The look is somewhat cool again. But, I will not be caught dead in UGGs, I promise you that. Around my house, I'll wear them but I don't wear them out. 
Isaiah Trickey/FilmMagic
Her Fashion Must-Have

You need double-sided tape, depending on what you're wearing. It is always a must-have when you're being photographed. I actually had a little nip slip in Toronto. When I stepped onto the carpet, I didn't have any tape. I had a little side shot nip slip. As soon as I went into to event, I was fine. I'm a big, big believer in having some tape if you're wearing something low cut, because if you think you can't see something, the camera sure can.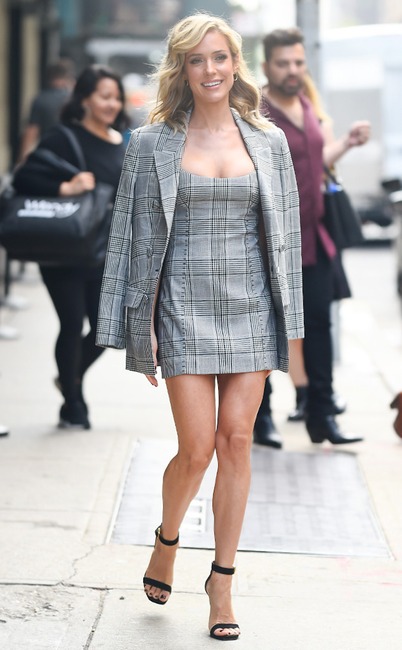 Raymond Hall/GC Images
My Favorite Trends: Plaid

I actually love plaid. There's so many ways you can incorporate it. You can trya plaid skirt and pair it with basics, like a long-sleeve bodysuit and a great pair of booties. Plaid blazers or cool plaid pants for work—there's a lot of ways to wear it without it looking over the top.
Gotham/GC Images
My Favorite Denim

I love Frame. They're my go-to. I have some from Rag & Bone, but I've leaned toward Frame more recently. I also really like L'Agence.
JB Lacroix/WireImage
My Favorite Trends: Turtlenecks

A turtleneck bodysuit is great. I love form-fitting bodysuits with high-waisted jeans, throw on a plaid blazer then you're set.
Gotham/GC Images
My Favorite Trends: Hoops

Lucite hoops and colored hoops or hoops with fabric on it—women are having a lot of fun with hoops and accessories. I believe accessories can make or break your outfit.
Watch the premiere of Very Cavallari 15th July at 8 p.m., only on E!