Aside from it generally being country's biggest night of the year anyway, last night marked the 50th Annual CMA Awards, meaning it may just have been one of country's biggest nights ever.
A veritable parade of super-stars and downright legends took the stage over the course of the three-hour ceremony, from Garth Brooks and Reba McEntire to Lily Tomlin and Dolly Parton, and the pop-crossover power was turned up to 11 with none other than Beyoncé showing up to perform "Daddy Lessons" with the Dixie Chicks.
"Texas!" indeed.
So, really, everything you saw on TV last night would've been enough to send even the most demanding fan to bed happy. But would you believe, even more good stuff was going on behind the scenes, in between the rolling cameras?
The Look of Love: Sweet moments abounded among the devoted duos at the CMAs. Faith Hillrested her head on Tim McGraw's shoulder when he returned to his seat after "Humble & Kind" writer Lori McKenna insisted he join her onstage for her Song of the Year win. 
When Eric Church won Album of the Year for Mr. Misunderstood, his wife was among the last to sit down after applauding his speech. Looks like she gets him. And Luke Bryan's wife, Caroline, was on her feet in a flash when he started singing "Move."
Also, no surprise here, there was Nicole Kidman swaying along in the audience as Keith Urban sang "Blue Ain't Your Color." He pointed to his wife of 10 years when he was done, dedicating the entire performance to her. But we're used to those two always being king and queen of the prom.
Finally, during Garth Brooks and Trisha Yearwood's hotly anticipated performance medley, at one point Garth just stood back and watched admiringly as his wife belted "Don't It Make My Brown Eyes Blue." And after Garth won Entertainer of the Year at the end of the night, he briefly handed his award to fans clustered backstage so they could take a look, but he never let go of Trisha's hand.
The Most Winning Win: Brothers Osborne were named Vocal Duo of the Year, halting Florida Georgia Line's winning streak at three. T.J. and John Osborne enveloped everyone who was sitting near them in a group hug before making their way to the stage, and after their speech, they exited with their arms around each other and John teared up as the momentousness of the win sank in.
Team B Was in Place: He was keeping a low profile but Jay Z was backstage, talking to Peyton Manning at one point and leaving a memorable impression on a starstruck Thomas Rhett—and perhaps he drove the getaway car after his wife stole yet another award show.
After her performance, Bey walked backstage all smiles, threw her arms in the air and yelled "yay!" as her team cheered. Sounds as though someone was humbly delighted that her CMAs debut went so well!
On Their Feet: Lady Antebellum were among the first to metaphorically fly when Kelsea Ballerini started singing "Peter Pan,"Charles Kelley punctuating his glee with a fist-pump when she finished. Nicole and Keith were loving Brooks and Dunn's performance, clapping and nodding their heads to the beat. Rhett and his wife Lauren Gregory let Maren Morris take them to "My Church," and the audience returned the favor, mouthing along in kind to Rhett's "Die a Happy Man" when he was onstage. Everyone sitting in the artists section rose in unison as George Strait started to play, and Chris Stapleton tipped his hat to Reba when she took on "9 to 5" during the Dolly Parton tribute.
And we all saw Matthew McConaughey Wolf-of-Wall-Streeting to Beyoncé.
Michael Loccisano/Getty Images
Fangirling, Everywhere: RaeLynn gushed backstage that she couldn't wait to see Beyoncé, the Dixie Chicks and Dolly Parton, and you can bet they were at the top of everyone's must-see list. Elle King even said that she wore her homemade fringe-trimmed pants especially for Dolly. The better to shimmy with!
Count the U.S. gymnastics' team Final Five among the starry-eyed fans in attendance: Gabby Douglas, Aly Raisman, Simone Biles, Madison Kocian and Laurie Hernandez couldn't wait to see Beyoncé and during commercial breaks they took the opportunity to take selfies with the likes of Jennifer Garner and Tim McGraw.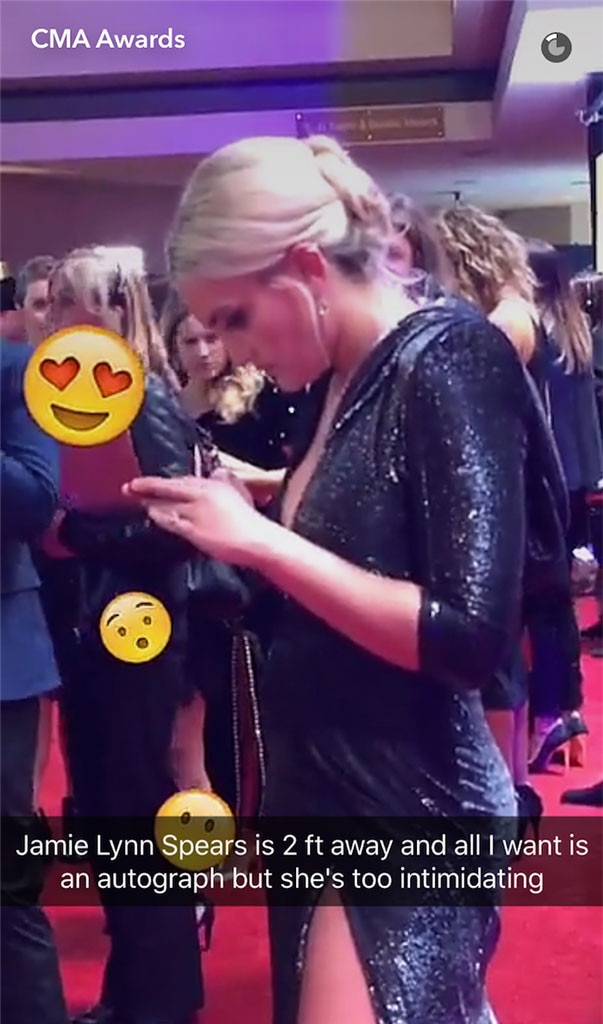 Snapchat
Intense Texting Session: Jamie Lynn Spears was heavily involved with her phone and didn't realize she was starring in this Snapchat video.
Carrie Got Caught Up in the Moment: She was already on her ninth outfit of the night, so Carrie Underwood can be forgiven for getting a little forgetful when she won for Female Vocalist of the Year—especially since she's so darn sweet, she immediately took to her Instagram story to thank her fans while the show was still going on. 
"I forgot to thank my fans, like a dummy," the hostess with the mostest (seriously, she and Brad Paisley remain a stellar team) said. "You guys are incredible, you've supported us all year long. Just God bless you guys."