Michael Rozman/Warner Bros.
At the end of every episode of her talk show The Ellen DeGeneres Show, Ellen DeGeneres makes one request to each and every viewer.
"Be kind to one another."
It's a simple request that doesn't go unnoticed by fans—and one that Ellen tries to display as cameras roll on her successful daytime show day after day.
While the Emmy winner has no trouble booking the best and biggest Hollywood stars, Ellen's best segments may not even involve A-listers. Instead, it may just be the ordinary viewers with stories of hope and survival.
As Ellen receives plenty of love on her 60th birthday today, it's hard not to recognize the giant gifts and donations she has provided countless individuals during her long-running show.
Last season on the show, Ellen partnered up with Walmart to surprise 41 graduating seniors of Summit Academy Charter School. At first, the students thought they were simply going to attend a taping of the daytime talk show. Ultimately, they each received a four-year scholarship to any state university in New York.
The grand total? $1.6 million!
"Summit Academy has forever been changed by the acts of kindness shown by Ellen DeGeneres. Words cannot express how appreciative we are for how Ellen has changed our school community," founder and executive director of Summit Academy Natasha Campbell shared with E! News. "All Summit scholars, now more than ever, believe that college is attainable. Our graduates have a sense of pride that cannot be explained. They know beyond a shadow of a doubt that in a world of chaos, there exists unconditional love. That love was shown to them by Ellen DeGeneres and her team."
Other times, Ellen chooses to spotlight ordinary Americans who get a taste of fame with their talents and viral videos.
Back in 2016, Ellen watched The Melisizwe Brothers perform "I'll Be There" by the Jackson 5 on YouTube. After letting them perform live on her stage, the talk-show host also interviewed the family. And if the chance to appear on the highly rated show wasn't enough, Ellen and Guitar Center gifted the brothers $5,000 worth of equipment.
"Ellen's gift of musical equipment was a total surprise to us and came at a great time. We had just donated all of our musical equipment to kids in Saint Vincent and the Grenadines where our parents are from," The Melisizwe Brothers explained to E! News. "Ellen's gift were a testament to her generosity. When you give, you receive much more."
When tragedy strikes the country, Ellen also uses her daytime talk show as a platform to raise awareness and funds for people in need.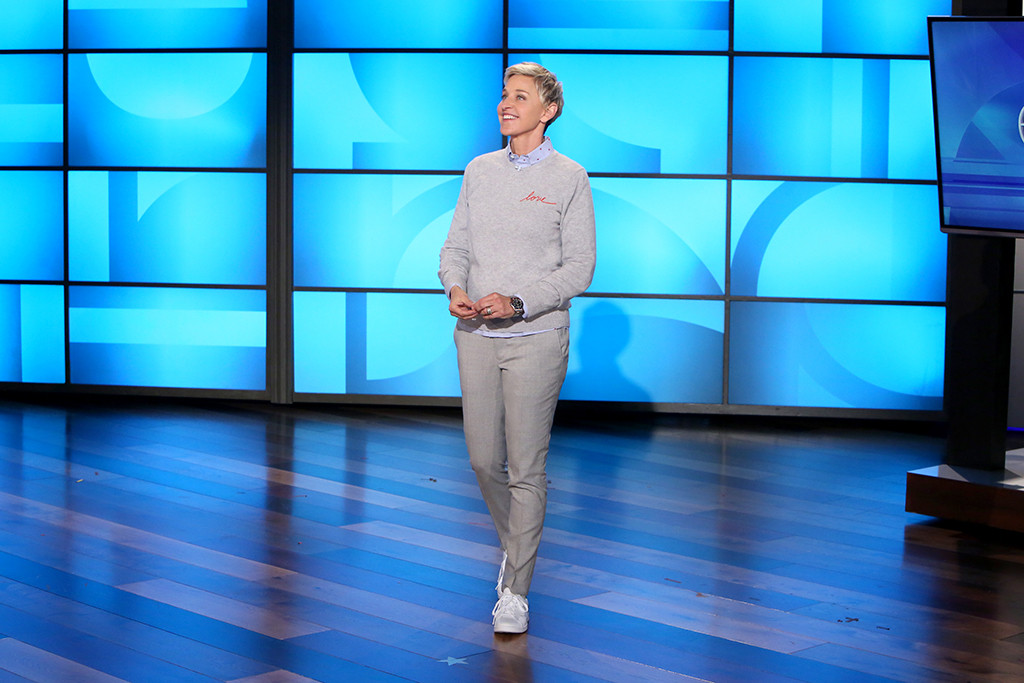 Michael Rozman / Warner Bros.
After Hurricane Harvey devastated parts of Houston, Ellen pledged to give $25,000 to the American Red Cross and another $25,000 to SPCA of Texas. The show would also add an additional $25,000 donation.
"A lot of people in Texas have lost their homes," she shared on her show. "The city of Houston has been hit the hardest. I know people want to help. I would like to help."
And most recently, Ellen invited Montecito, Calif., residents Oprah Winfrey and Rob Lowe to the show where they discussed how the mudslides affected their city. She would later launch a GoFundMe page that has raised more than $65,000 in five days.
Perhaps what viewers look forward to the most is watching deserving kids receive special surprises during their visits to the show.
Ellen discovered Cory's Cookies that was born when a young elementary school student named Cory Nieves started a business in hopes of buying his mom a car. After hearing his greatest ingredient in the tasty cookies was "love," Ellen wanted to help.
Ellen and Shutterfly donated $10,000 while Ford provided a brand-new Escape for the famous family.
"I almost passed out when she gave Cory the car," "Cookie Mom" Lisa Howard told E! News. "The cookie mobile means so much to us because it was our first and only car and it had our business name on it. That's when I knew we had something real. I'm never going to get rid of that car."
And it's impossible not to mention The Ellen DeGeneres Show without Ellen's 12 Days of Giveaways. Every year, the talk show gifts lucky audience members presents that can leave any viewer envious. And sometimes, those at home could walk away with the special gifts. 
Amy Phillips wrote into the show back in 2011 expressing the need for some Christmas help. "There have been months when we haven't had enough money for food so we can make our house and car payments. It seems like we can never get caught up," the mother of seven wrote. "Ellen, I have been so worried about our bills and Christmas that I'm getting lots of migraines trying to figure out new ways to make the money stretch."
Lo and behold, the show arrived in Idaho to gift the family all the presents from the entire 12 Days of Giveaways valued at $28,000.
"It was crazy. I just couldn't even believe it," Amy shared with E! News. "I was able to help family. We definitely paid it forward. It was really awesome and the kids just couldn't believe it. Ellen is definitely heaven's sent."  
While other talk shows focus strictly on celebrity guests or other lifestyle topics like cooking, Ellen has proven that feel-good television can be successful and genuine. And from the sounds of things, helping others could be one of her favorite parts of the job. 
"One of the reasons I do this show is because I want it to be a break from whatever bad things are happening in the world," Ellen once shared in an episode. "I want to spread light where there is darkness and I want to bring a glow when it's gloomy…My intention of my show is for people to laugh and feel good."
Mission accomplished!
The Ellen DeGeneres Show airs weekdays across the country. Check your local listings here.