Evan Agostini/Invision/AP
Blake Livelyand  Ryan Reynolds' life behind closed doors just has to be as charmed as their public personas let on, right? 
It goes without saying, there's an undeniable It factor to Blake and Ryan's starry relationship that us pop culture junkies can't seem to get enough of. Their red carpet chemistry is nearly palpable, even four years into their marriage (a lifetime by Hollywood standards) they can't seem to get enough of each other, and that adorable birthday celebration the new mom of two recently threw Reynolds for his 40th? Like her BFF Taylor Swift, we too were left "drowning in tears of joy."
We've given the 'ol "What Went Wrong?" breakdown to plenty of ill-fated celeb couples over the years, but there's something about Blake and Ryan that makes us think they're the exception to the rule. Call it a genuine bond, if you will.
A Tinseltown pairing that actually has us believing in love again? Groundbreaking, we know. 
Romanticism aside, any PR expert would agree there's always a level of calculation that goes into curating a star's brand, and the Lively-Reynolds duo has the art of public figure-dom down pat. 
We see glimpses of their life away from the spotlight, both on social media and in interviews, but it's never the full blown details so many stars exploit for a cover spot in next week's issue of Supermarket Tabloid No. 12. Ryan's become somewhat of a viral sensation on Twitter, entertaining his nearly 4 million followers with cringe-worthy anecdotes and candid commentary about his time offscreen, but again, nothing remotely personal enough to risk overexposure. 
And speaking of overexposure, Ryan and Blake's professional careers alone are big enough to catalyze self-destructive implosion. They'll finish off 2016 with some of their biggest movie star moments to date, seen in Reynolds' ascent into super hero-level notoriety with Deadpool and Lively's unforgettable week at the Cannes Film Festival promoting her Woody Allen-helmed flick, Café Society.
Does "L.A. face with an Oakland booty" ring a bell to anyone?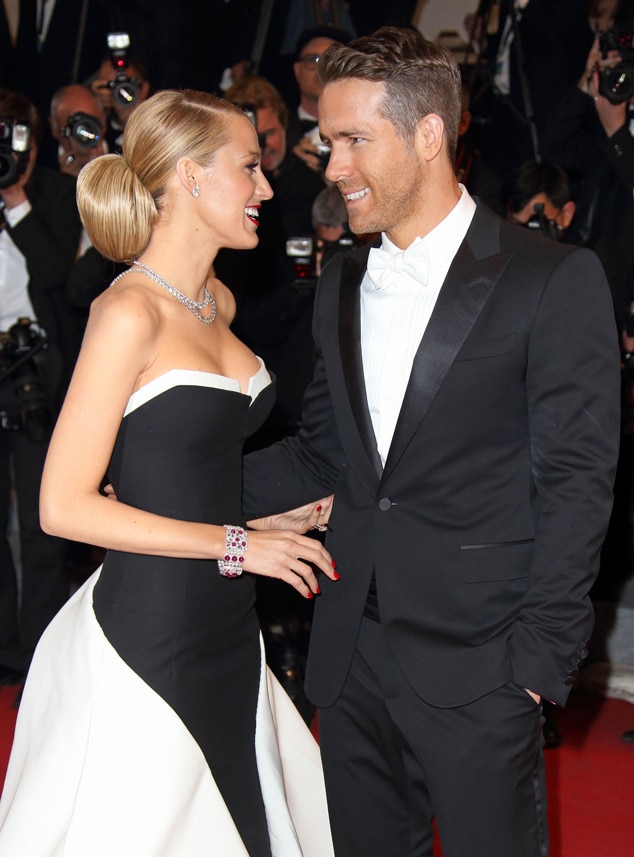 Mike Marsland/WireImage
Towing the line between connecting with fans and protecting any remaining sense of normalcy is no easy task, but their penchant for privacy is not unintentional, and it's an aspect of their lives Blake and Ryan aren't willing to relinquish.
"My family: That's the thing that I feel most protective of and the thing that I feel is the most exposed when I feel exploited," Lively said in Marie Claire's July 2016 issue. "I'd rather not have to deal with it at all, but we knew the lifestyle we were getting into, and while it's hard… it's another thing when it's our child. She didn't have the opportunity to make a decision about what she wants."
Reynolds' take doesn't stray:  "I just think that by virtue of the fact that, when you put yourself in the public eye, you have to accept certain aspects of it, and some of them are that there sometimes isn't any privacy," he told Entertainment Tonight. "And that's OK, 'cause I signed up for this, but I think to some degree if you don't court it, you don't have to deal with it so much."
Earlier this month, E! News had an exclusive inside look at their quaint life in small town Pound Ridge in Upstate New York. From noshing at local restaurants to shopping at clothing boutiques, Blake and Ryan's private time is admittedly less glamorous, but seemingly not any less authentic than the lives they portray for the public. 
And for that, they'll still remain one of our favorite Hollywood couples. Keep on being your wonderfully candid, exceptionally private selves, Blake and Ryan.