Cinderella is trying to remember where she's seen Fairy May before. "I used to be on the TV," prompts Allan Stewart's Fairy Godmother.
"Yes, when it was in black and white," chips in Buttons.
The joke is funny not just for being rude about Fairy May's age, but because it's close to being true. The last time Stewart was a small-screen regular was in the 1980s, when he starred in a run of ITV light-entertainment shows such as Copy Cats and Chain Letters. That speaks volumes not only about the success of this, the Edinburgh King's panto, but of pantomimes across Scotland.
Stewart is the co-star and driving force behind a show that packs them in for a full eight weeks. This is the 22nd time he's appeared in the King's panto, including four times in Cinderella alone. He couldn't sustain popularity like that if his audience was hoping to see his old impressions of Esther Rantzen. Never mind the children, there are parents who weren't born when he hosted Grampian TV's Patter Merchants.
No, the reason audiences come in their droves has nothing to do with television celebrity. They come because Stewart is good at panto. The same is true of his co-stars. It feels like an incidental detail that Andy Gray has been a regular in the Scottish soap opera River City for the past 18 months. Who cares about that when he's such a hilarious dropped-octave Buttons?
And although the memory of Grant Stott's long stint as a daytime presenter on Forth 1 brings some authentic local colour, the crowds turn out because he's grown into one of the country's most imposing baddies. His role as Baroness Hibernia Hardup builds on 17 years at the hiss-and-boo coalface.
Elsewhere in the UK you will see audiences tempted into the theatre with the promise of boy-band veterans, X Factor runners-up and reality-TV drop-outs. But rarely in Scotland. Here, where the music-hall tradition lingers on (Stewart hosts his own Big Big Variety Show), the demand for fly-by-night novelty acts scarcely registers. Like York's Berwick Kaler, headline panto acts in Scotland still build their reputations on their live work.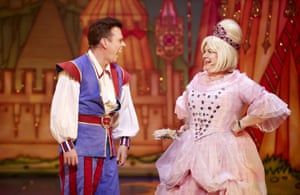 A case in point is Elaine C Smith at the King's in Glasgow. In other circumstances, you might have expected the odd gag about her being the wife of Rab C Nesbitt, but here, that's of no importance. Of paramount concern is that Fairy Bella Houston is back in her home city after an eight-year stint at His Majesty's, Aberdeen.
Thus, the story of this Sleeping Beauty plays out with a hierarchical pecking order, introducing us to pauper, princess, king and queen and only then to Smith, who declares, "It's good to be home." For good measure, she runs through a set list of songs that caters to Glasgow's taste for sentimentality, line dancing and laughter ("Fly me to Dunoon," indeed).
It's characteristic of a theatre that's acutely aware of its own panto history. As a funny and charming Muddles, Johnny Mac even seems to have inherited the arched eyebrows of actor Gavin Mitchell and in turn, the late, great Gerard Kelly, who headlined the show for two decades. "Compemetition" is an obligatory word in this panto's lexicon.
Panto celebrity can have its own distorting effects, however. In Edinburgh, the focus on the three stars relegates the story of Gillian Parkhouse's Cinderella to an afterthought – so much so that we scarcely see the Baroness actually doing anything bad to her stepdaughter. In Glasgow, the story is more carefully told (and half an hour longer), but Maggie Lynne's Beauty has relatively little agency.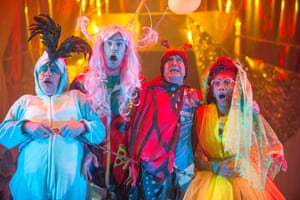 On a more intimate scale at Perth theatre, the audience welcomes Barrie Hunter as Widow Twankey and the building itself like old friends. It's Hunter's seventh year on the trot and the theatre's first outing after a three-year refit that has added bar space and a snazzy studio. Having declared the theatre open, the town provost does a quick cha-cha-cha with Widow Twankey and, after the interruption of a first-night fire alarm, the real firefighters carry the actors back on to the stage. Along with the youth-theatre chorus, it all adds to the homely atmosphere of a lacklustre show.
All cylinders are firing in Stirling, though, where writer, director and dame Johnny McKnight confirms his position as latterday king of panto in Chick Whittington. Closely attended by Robert Jack as son Slick, Emma Mullen as daughter Chick and Helen McAlpine as the evil Queen Rat, he creates an air of anarchy even in the midst of a tightly drilled show. Jokes ricochet in all directions, the youth-theatre dancing is spectacular and the flashback 60s story (almost as wayward as McKnight's own Lewis Carroll reworking Alice in Weegieland at Glasgow's Tron) is ripe with jeopardy. It requires no TV endorsement to make this the best panto in Scotland.
• Cinderella, King's, Edinburgh, until 21 January. Box office: 0131-529 6000.
• Sleeping Beauty, King's, Glasgow, until 7 January. Box office: 0844 871 7648.
• Aladdin, Perth theatre, until 6 January. Box office: 01738 621031.
• Chick Whittington, Macrobert, Stirling, until 31 December. Box office: 01786 466666).