Rob Drummond never fails to surprise. Last summer in Edinburgh in In Fidelity, he persuaded two members of the audience at every performance to date live on stage. His stage version of the cartoon strip The Broons is currently out on tour, and in Grain in the Blood he employs a sturdy thriller format, full of edge-of-your seat tension and all the requisite plot twists, to explore whether the ends ever justify the means and ask if doing wrong is ever the right thing to do.
The ethics are neatly shrouded in layers of old-fashioned entertainment in a drama that takes us to an isolated rural community still steeped in folklore. It's a place where once on the harvest moon the villagers made a blood sacrifice to the ancient Grain Mother to ensure health and happiness, and where blood has been spilled in more recent memory. The farmhouse home of retired vet, Sophia (Blythe Duff) who believes "we're all animals" is a place haunted by the past and by the sickness of her 12-year-old granddaughter, Autumn, who is dying of kidney cancer.

But Sophia and Violet, who lives at the farm and carries her own griefs buried deep inside, are about to have a visitor, Isaac, a prisoner released from jail for the weekend on compassionate grounds. He is accompanied by former alcoholic Burt, a chaperone provided by a private company – who, in order to do the job, has had to learn to separate his professional duties from his duties as a human being. Over the course of the weekend, everyone's humanity and moral duty is tested.
There's some clunkiness because of the form, but Drummond controls the drip of information expertly so you only gradually come to understand people's relationships and the crimes that link them, and the play's knowingness extends to the fact that it subscribes to Ibsen's maxim that if you put a gun on stage you'd better use it. It's unnervingly funny too, even down to Burt's exclamation in the play's dying minutes: "Shit. How the fuck did we get here?" Drummond has led us to exactly where he wants us to be like lambs to the slaughter.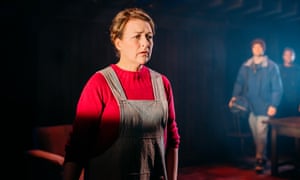 It might so easily seem preposterous, and Orla O'Loughlin's production isn't quite heightened enough to give this the unworldly, almost mythic edge that it needs to sidestep that accusation, although Fred Meller's design and Michael John McCarthy's sound both suggest something ancient and elemental.
Sarah Miele initially struggles to convince that she is 12, but gradually makes us invest in this foul-mouthed waif whose frail physical appearance belies a steely determination and wisdom. Blythe Duff keeps us guessing as to whether Sophia is hero or villain or a mixture of the two, and John Michie is good comic value as sad, complex Burt, a man who has been a bystander all his life and finally has to decide whether doing nothing is any longer an option.