Ghosts gets Series 2
The comedy is created, written by and features the original stars of Horrible Histories
Series 1 is the highest-rated UK TV comedy of 2019 to date
New BBC One comedy Ghosts has been recommissioned.
The sitcom, created, written by and starring the Horrible Histories, Yonderland and Bill sextet, will return for a second series, expected to air next year.
They say: "We are DEAD excited to be returning to BBC One for a second series of Ghosts. We could not have asked for a more enthusiastic response to the show, and can't wait to get haunting Button Hall once again. We'd like to thank Charlotte, Kiell, Lolly, Katy and our fantastic crew for helping us realise such a hugely ambitious project. And thanks also to everyone at Monumental and the BBC for their tireless support of what is clearly a ridiculous idea. We are already hard at work on stories for Series 2, and can't wait to share them with you."
Set in a house inhabited by an array of spirits, the first series had been paired back-to-back with the tenth series of long-running sitcom Not Going Out in the channel's schedules, and is reportedly the highest-rating comedy series on UK television in 2019 to date.
Episode 1, broadcast on 15th April, attracted a 7-day consolidated viewing figure of 4.2 million people. The consolidated numbers include those watching on catch-up, recordings, and through on demand services. Concluding last Monday (20th May), the entire first series has to date reached an average of 3.6 million viewers.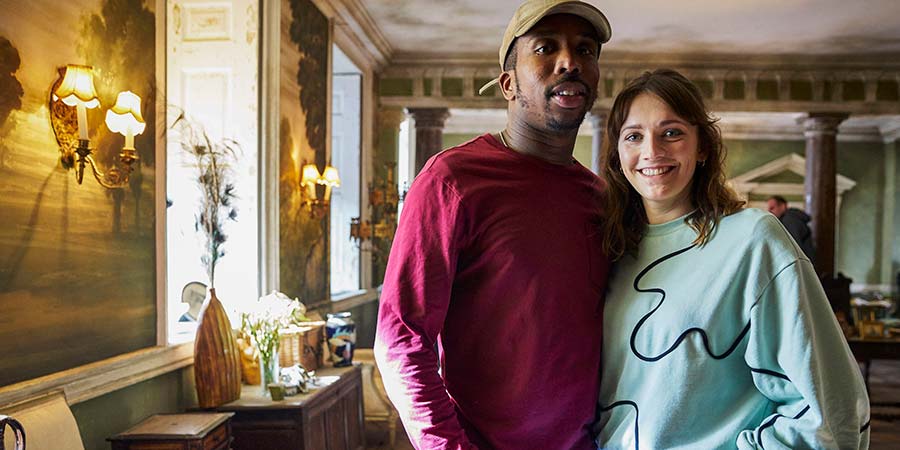 The comedy follows typically cash-strapped young married couple Alison and Mike, who find they have inherited a large manor house upon the death of an obscure, estranged relative Alison had never heard of. The property – Button Hall – turns out to be in a state of considerable disrepair, but they hope to restore the building and open it as a hotel.
However, whilst the house may be physically empty of inhabitants, it proves to be jam-packed with the spirits of all those who've died there across the millennia, including an MP, a prehistoric caveman, an Army captain, a wronged wife and a peasant, burned for witchcraft – not to mention those packed into a mass plague pit beneath the basement. Soon after taking up residence an accident seriously injures Alison: whilst she recovers, it saw her so close to death that she is now able to both see and hear Button Hall's other-worldly inhabitants.
Created by and starring Mathew Baynton, Simon Farnaby, Martha Howe-Douglas, Jim Howick, Laurence Rickard and Ben Willbond as the various spirits, all but Farnaby wrote on at least one episode of Series 1.
A successful screenwriter away from the group, his other recent projects include feature films Mindhorn and Paddington 2, with more in development.
Co-starring in the sitcom are Charlotte Ritchie as Alison, Kiell Smith-Bynoe as Mike, and Lolly Adefope and Katy Wix as two additional ghosts.
Shane Allen, Controller of Comedy Commissioning, says: "Ghosts gave us all a very pleasant shock in landing so fully formed as an instant mainstream hit. This very special gang of writer-performers have created a rich character world shot through with their trademark wit, warmth and mischief."
Alison Carpenter, Head of Television at Monumental Television said: "We are immensely proud of Ghosts, and it's been wonderful to see the audience embrace the show. We can't wait to gather our hugely talented team back together and return to Button Hall."
Ghosts Series 1 was released on DVD yesterday.
The comedy is produced by Monumental Pictures in association with Them There.
---
For updates, click the button below.
Ghosts is a multi-character sitcom created by the lead cast of writer-performers from the award winning Horrible Histories, Yonderland and the feature film Bill.
The crumbling country pile of Button Hall is home to numerous restless spirits who have died there over the centuries – each ghost very much a product of their time, resigned to squabble with each other for eternity over the most inane of daily gripes. But their lives – or rather, afterlives – are thrown into turmoil when a young urban couple – Alison and Mike – surprisingly inherit the peaceful derelict house and make plans to turn it into a bustling family hotel. As the ghosts attempt to oust the newcomers from their home, and Mike and Alison discover the true scale of the project they've taken on, fate conspires to trap both sides in an impossible house share where every day is, literally, a matter of life and death.
First released: Monday 27th May 2019