Filming has begun on the second series of Fleabag.
The multi award-winning comedy, written by and starring Phoebe Waller-Bridge will return to BBC Three for six more episodes in 2019.
The principal cast of Olivia Colman (Godmother), Sian Clifford (Claire), Bill Paterson (Dad), Brett Gelman (Martin), Jenny Rainsford (Boo) and Hugh Skinner (Harry) are all set to return.
Additionally, Andrew Scott – who played Moriarty in Sherlock – joins the cast as a new regular character.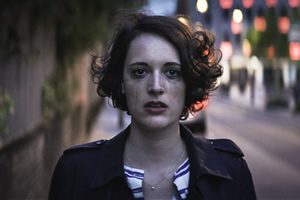 Phoebe Waller-Bridge says: "I can't believe they let me do this AGAIN. I'm so happy to be back with the incredible Fleabag team and I'm as surprised as anyone about where this series has taken us… thank God for Andrew Scott."
Production company Two Brothers Pictures comments: "We are beyond thrilled to be back in Fleabag's company. Phoebe has created a show that's so well loved, we can't wait for fans to see what she has in store this time around."
BBC commissioner Shane Allen says: "The Series 2 scripts are knockout – sparkling with Phoebe's unique voice that combines a whip smart complexity of character with pin sharp funny lines scattered everywhere. The themes of this series are very distinct from the first series which delivers on the challenge Phoebe set herself. It's a superb team and cast from top to bottom and with Fleabag you can never escape a reference to the bottom."
The new series will also be shown on Amazon Prime Video. Albert Cheng from Amazon Studios says: "Since Season 1 of Fleabag debuted on Prime Video, the audience has rallied around this biting, boundary-pushing comedy series featuring a sharp female protagonist that is quite unlike anything currently airing. We are excited that Season 2 production has begun and proud to be in business with the immensely talented Phoebe Waller-Bridge and we look forward to bringing this critically acclaimed socially relevant series back to our Prime customers."
It has been quite a wait for fans for Series 2 of Fleabag. The first series made its debut in July 2016. It went on to win multiple high profile awards, including a BAFTA, two Royal Television Society awards, two Broadcast Awards and a British Press Guild Award. Phoebe Waller-Bridge has since appeared in Solo: A Star Wars Story and created the Emmy Award nominated US spy thriller series Killing Eve, which is coming to BBC One soon.
Series 2 of Fleabag will debut on BBC Three and Amazon Prime Video in 2019.
---
For updates, click the button below.
Share this page