Martin McDonagh's new play is calculated to offend. Indeed, an American director friend wrote to me about it in terms of shocked horror. Yet, although it won't be to everybody's taste, I found its gothic fantasy macabre, funny and ultimately serious. It is also a pleasure to see Jim Broadbent back on stage as the Danish fabulist, Hans Christian Andersen.
As we know from biographies, Andersen was vain, prickly and self-advertising as well as a master storyteller. But where did the stories come from? Thumbelina, as we're reminded, was about a tiny woman befriended by bugs and The Shadow about a writer haunted by a spectre smarter than himself. McDonagh draws on this to suggest that Andersen's fictions were written by Marjory, a minute Congolese woman he kept imprisoned for 16 years in a 3ft cage. As Andersen explains to an intrusive journalist, "I change the bits I don't like and then erase all the rest from history. I'm more like a German theatre director."
Given that Dickens, to whom Andersen paid a famously exasperating five-week visit, is here shown as equally dependent on Marjory's sister, it is fair to ask what McDonagh is up to. Part of his mission, I suspect, is to dismantle the great-man theory of literary history: Dickens is shown as an irascible lech whose daughter asks: "Is Daddy banging the broads again, Mummy?" More fundamentally, McDonagh suggests that writers appropriate other people's narratives in a way that echoes the infinitely larger crime of colonialism: a key motif is Marjory's determination to escape Andersen's clutches and forestall the future slaughter of up to 10 million people in the Congo.
The link between literary plagiarism and genocidal oppression is a risky one but you see what McDonagh is driving at: that, throughout history, certain voices have gone unheard and the past forgotten so that statues were erected to the author of Belgian brutality, Leopold II. But McDonagh camouflages his argument with a wild inventiveness fully realised in the direction of Matthew Dunster and the design of Anna Fleischle, both of whom worked on his previous play, Hangmen. Andersen's attic is a nightmarish bolthole filled with dangling puppets and even Dickens's home is shown to have skeletons in the cupboard.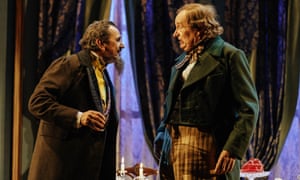 Dunster's production boasts two extraordinary performances. Broadbent as Andersen succeeds in being simultaneously buffoonish and sadistic. It is a joy to see Broadbent's mooncalf features light up when he is being publicly feted or reading his global fan mail. But, as well as capturing Andersen's childlike nature, Broadbent also exhibits an imperialist brutality in his treatment of his captive. Johnetta Eula'Mae Ackles, an American actor making her debut, is equally remarkable as Marjory: she combines the pathos of the exploited with the wiliness of a time-travelling powerhouse driven by the urge to protect her people.
The other roles are thinly written but Phil Daniels makes a suitably ill-tempered Dickens, Ryan Pope and Graeme Hawley pop in as a pair of bloodstained Belgians and Tom Waits supplies the crepuscular narration. It's a play you will either like or loathe. For me, it confirms that McDonagh is a genuine original with a talent to disturb.
• At Bridge theatre, London, until 6 January