The scene is northern Spain, some time in the early 1970s, and a gang of eight-year-olds are out on their bikes. It's an everyday picture, even when one of them falls over. Except the boy hits his head. The injury is serious. That night the boy dies.
One of his pals is Calixto Bieito and this early encounter with the fragility of life will come to obsess Bieito, one of Europe's most sought-after theatre and opera directors. "I started to see death very near," he says. "It brought a lot of fear that I would lose my parents when I was a child."
Anxiety disorder set in. Bieito threw up at school, suffered disrupted sleep and developed phobias. Years later, he found it harder and harder to fly. From his home in Barcelona, he would take the train: to Edinburgh for the international festival, to Dublin via the ferry, to Copenhagen, Salzburg, Paris … "It was crazy," he says.
After two years of this, a friend pointed out how absurd his overland travelling had become. His wife, the actor Roser Cami, was equally troubled. She worried that he was permanently scared something would happen to her and their young son. Finally, he sought medical help. His doctor prescribed medication to treat his anxiety. Within two weeks he was taking planes again.
"Anxiety and depression have things in common, but in simple terms, with anxiety, you are worried about everything and with depression, you don't care about anything," Bieito says. "Anxiety, anguish or angst is something that is inside all of us. I am not special in this – it is common."
Twenty years on, the 54-year-old explores mental illness in his latest production, a music-theatre collage called The String Quartet's Guide to Sex and Anxiety. "It's a kind of poem, a kind of concert," he says, just off the plane from his home in Basel, when we meet at Birmingham Rep. "I hope it gives people a lot of hope."
When I suggest his entire career could be boiled down to music, sex and anxiety, he is initially surprised. There are, he points out, productions where he has taken other routes, such as his spiritual version of Wagner's Parsifal in Stuttgart in 2010. "I'm very associated in Britain with sex and violence, and when you are doing Verdi or Shakespeare, of course, it's full of violence," he says. "But my landscape is much bigger. Like everybody, I have not just one face."
Yet this is a director who has blazed his way through the worlds of theatre and opera with productions that are as revelatory as they are frank. It was Bieito who set Mozart's Die Entführung aus dem Serail in a brothel, complete with fetishism, masturbation and urination. His adaptation of Michel Houellebecq's Platform came complete with dead-eyed pornographic video footage. And if it's anxiety you're after, he staged a production of Hamlet just weeks after he lost his own father. "It was very tough," he admits.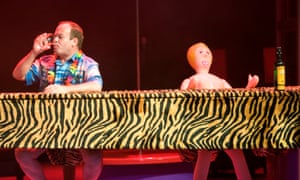 But as we talk, he warms to my suggestion. "It's a very personal show," he says, sitting in front of a mirrored rehearsal room wall plastered with images evoking depression and isolation to inspire the company. "The topics of sex, anxiety and music have recurred a lot in my life."
Had it been down to him, he'd have called the show The Anatomy of Melancholy, after the encyclopedic study by 17th-century scholar Robert Burton, whom he calls the British Montaigne. With a nod to the box office, however, he's gone for a title that sums up a show in which the Heath Quartet will play angsty Ligeti, while four actors draw on texts ranging from WH Auden's The Age of Anxiety to Byung-Chul Han's The Burnout Society. "The show is not just about anxiety disorder," he says. "It is also about existential thinking and music, which is a very important part of my whole life."
The actors see it the same way. "I feel as if Calixto is directing us musically, like an orchestra," says Mairead McKinley, who stars alongside Cathy Tyson, Miltos Yerolemou and Nick Harris. "I don't feel I'm being directed; I feel I'm being orchestrated."
Personal it may be, but Bieito refuses to see his working life as therapy. "To have a rehearsal with music every day and the possibility to express myself is important," he says. "Therapy is not the right word, but it gives me freedom and a lot of hope. I love my work. It's the place where I'm completely relaxed."
The String Quartet's Guide to Sex and Anxiety is at Birmingham Rep, 12–19 May. Box office: 0121-236 4455. Then at Brighton festival, 23–24 May. Box office: 01273 709709.