Could they be any cuter?
No waiting in line at Target for these two; Chloe Grace Moretz, 20, and Brooklyn Beckham, 18, spent Black Friday camping near Santa Barbara, California.
The Kick-Ass actress posted on her Instagram page a photo of her "little camper boy," dressed in a black T-shirt that reads "Hard Time Don't Last, Truckers Do" and a red wool cap. She also posted images of a s'more and a video of Brooklyn playing Cornhole.
On the way to their campsite, the two dined at the Summerland Beach Cafe in Summerland, California. They shared a pitcher of iced tea and he ate a sandwich and curly fries.
On Saturday morning, Chloë shared a photo of the two in bed in their cozy cabin.
Chloë and Victoria Beckham and David Beckham's eldest son have dated on and off since 2016 and most recently rekindled their romance earlier this year, when he moved to New York City to study photography.
See more photos of their adorable moments together.
Kisses

The actress gets a sweet kiss as the two watch a rugby game in Dublin on Oct. 6, 2017.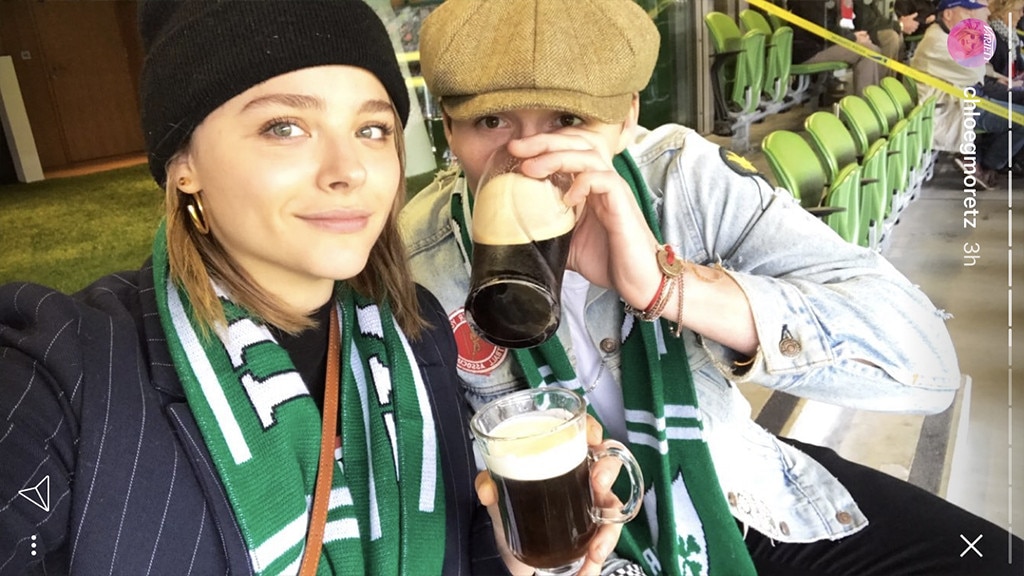 Instagram
Beer!

If you're in Dublin, Guinness is a must.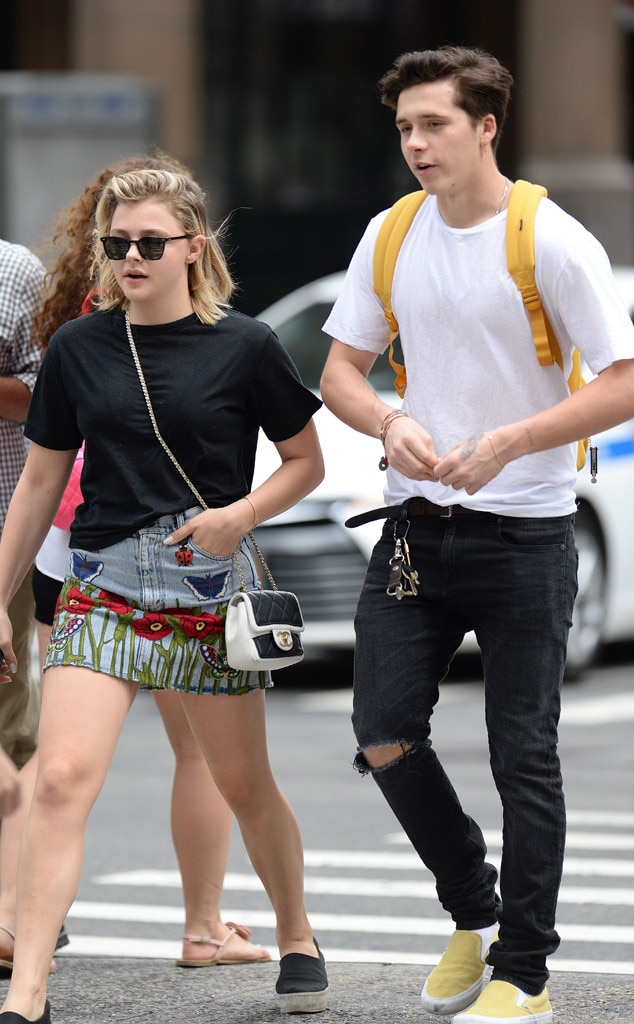 Richard Beetham / Splash News
Reunited

Brooklyn and Chloë appear together in New York City in August 2017, marking one of their first public appearances in almost a year.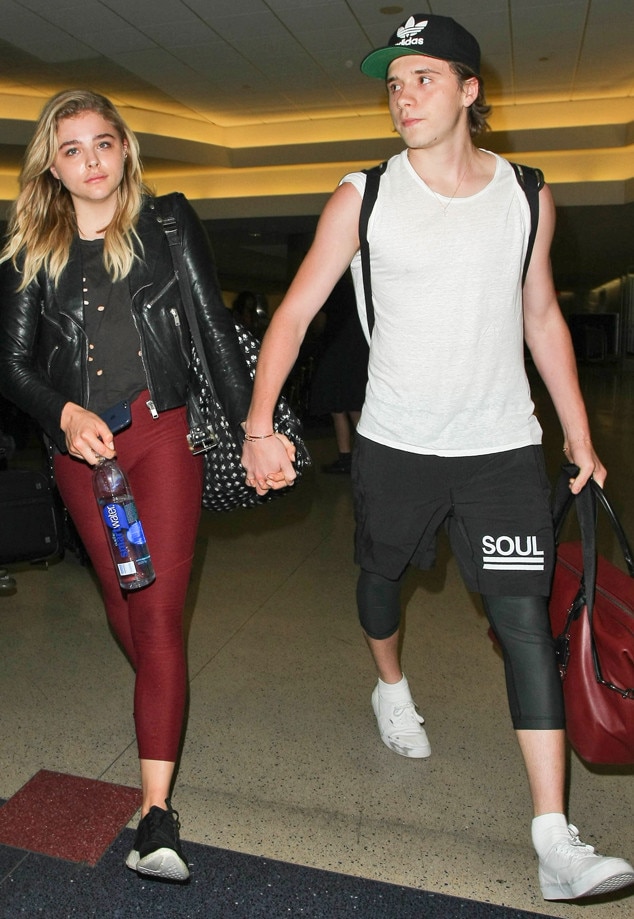 starzfly/Bauer-Griffin/GC Images
Airport Arrival

A couple that travels together, stays together. Actress Chloe Gracë Moretz and model Brooklyn Beckham are seen linking arms while dodging paparazzi at LAX.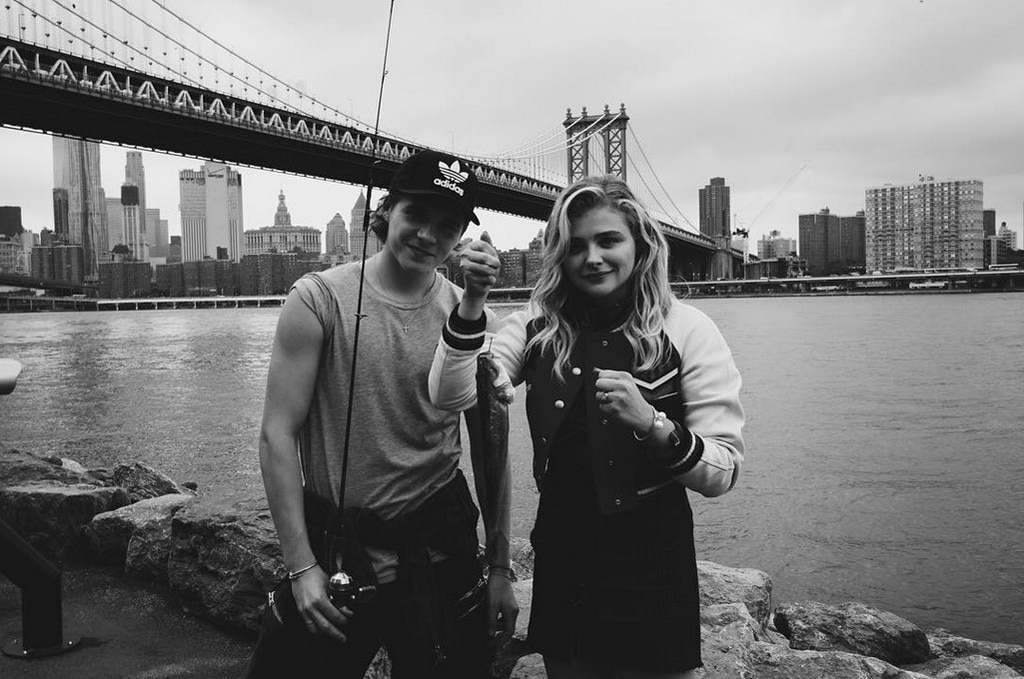 Instagram
Go Fish

Brooklyn dropped the L-word when sharing this photo on Instagram, writing, "Love this one." The 17-year-old visited his namesake, Brooklyn, N.Y., fishing with Chloe along the East River.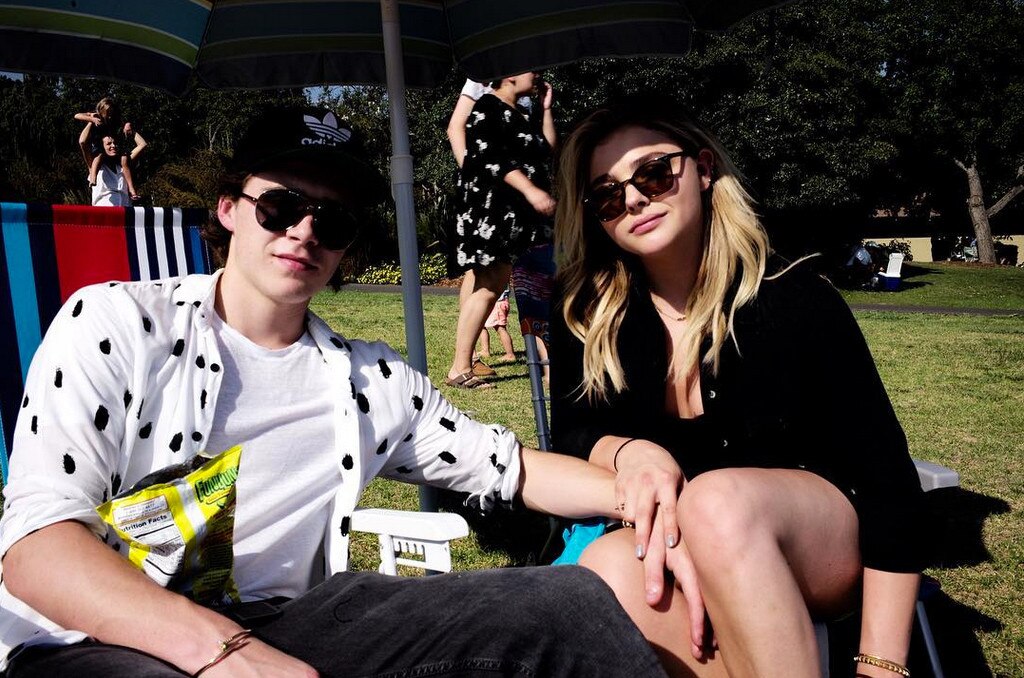 Instagram
Polka Dots in the Park

Their relationship is so bright, they've got to put shades on! The two lovebirds sit out in the park, holding hands and looking content.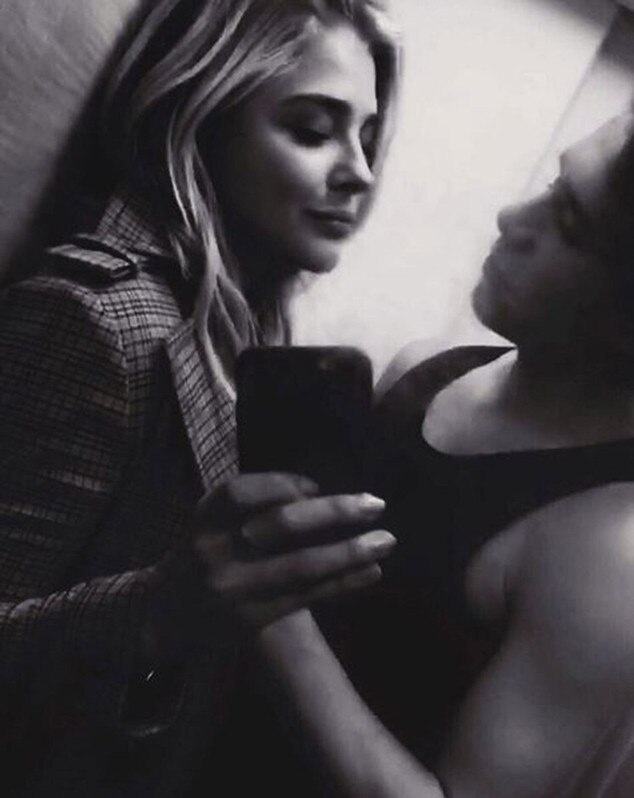 Instagram
Mirror Mirror On The Wall…

We've found the most adorable couple of them all! Brooklyn holds girlfriend Chloë while gazing into her ocean-blue eyes.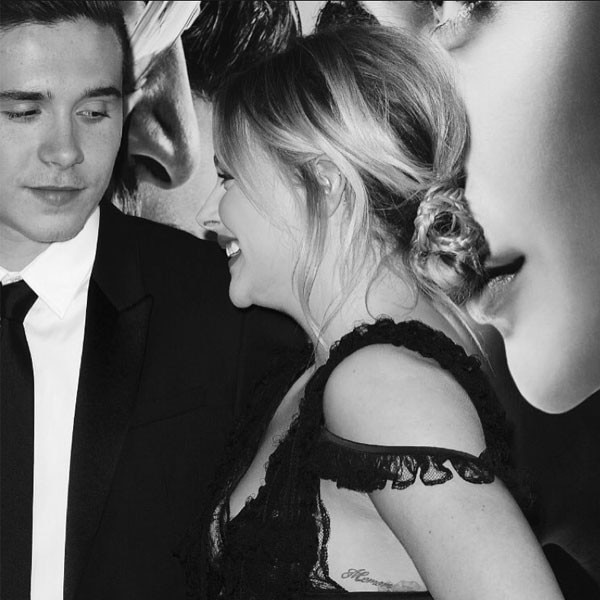 Instagram
All Smiles

This profile shot of 19-year-old Chloë showcases her new tattoo, which Brooklyn's eyes seem to be glued to in this photo.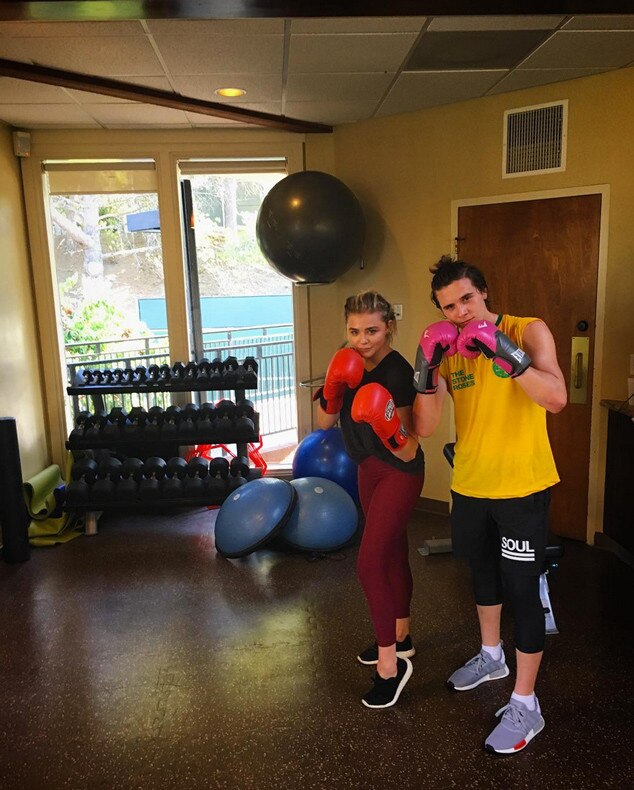 Instagram
Boxing Buds

Pow, pow! Boxing is just one of the many ways the couple stays in shape. The gloves are on for this duo—and neither is afraid to let the other see them sweat!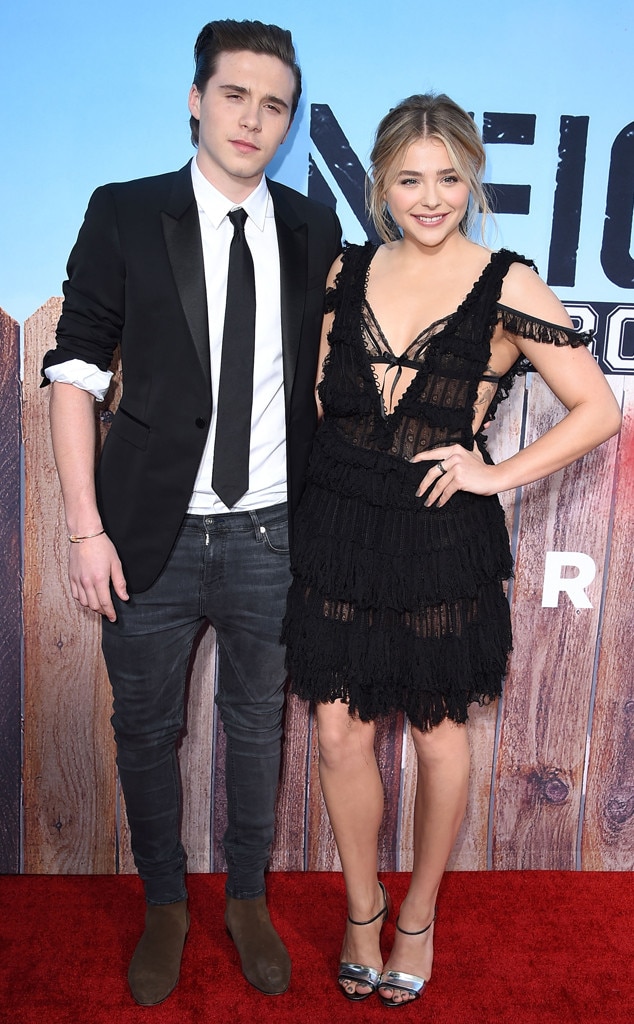 Steve Granitz/WireImage
Ravishing on the Red Carpet

Brooklyn was of course Chloë's date to the premiere of Neighbors 2: Sorority Rising, in which she played a foul-mouthed sorority sister.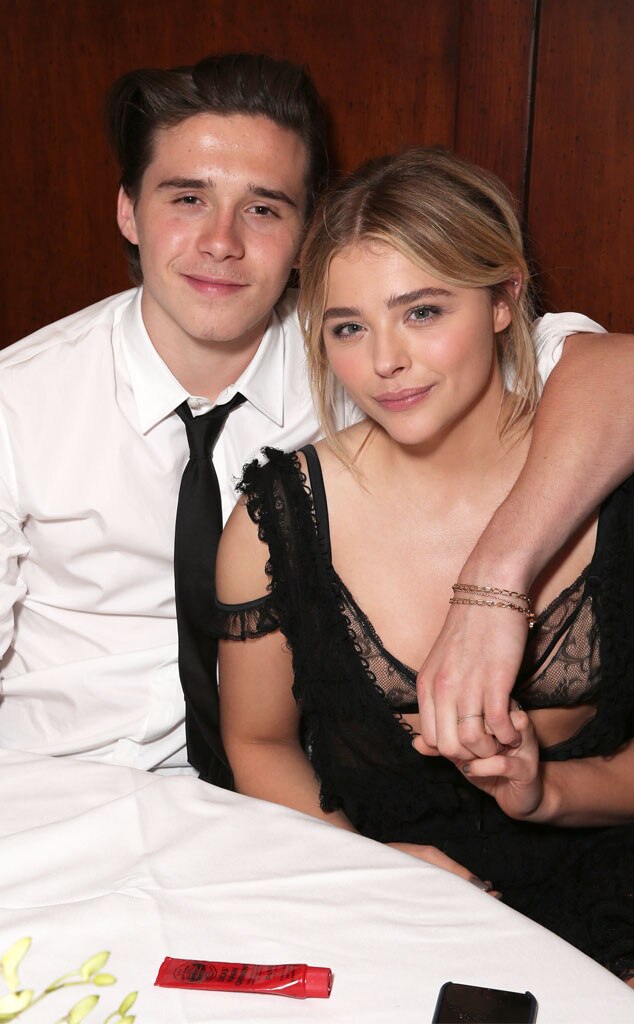 Todd Williamson/Getty Images
After-Party Perfection

With his arm around her shoulder, the couple unwind at the premiere's after party, nudging heads and holding hands.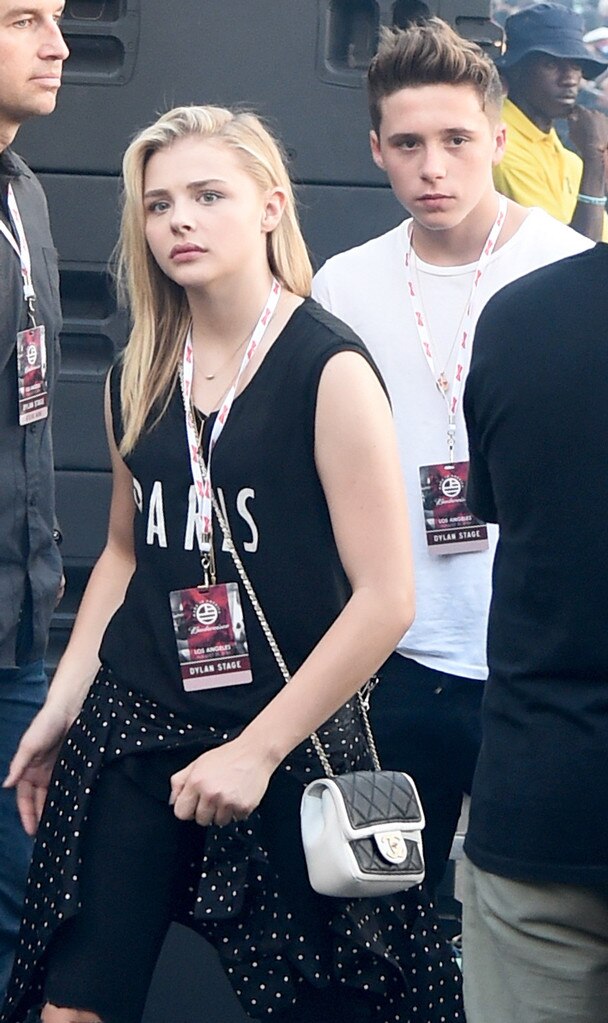 Michael Buckner/Getty Images
When They Were Young

This blast from the past was taken roughly two years ago at the Budweiser Made in America Music Festival. They may still be teenagers, but they already go way back!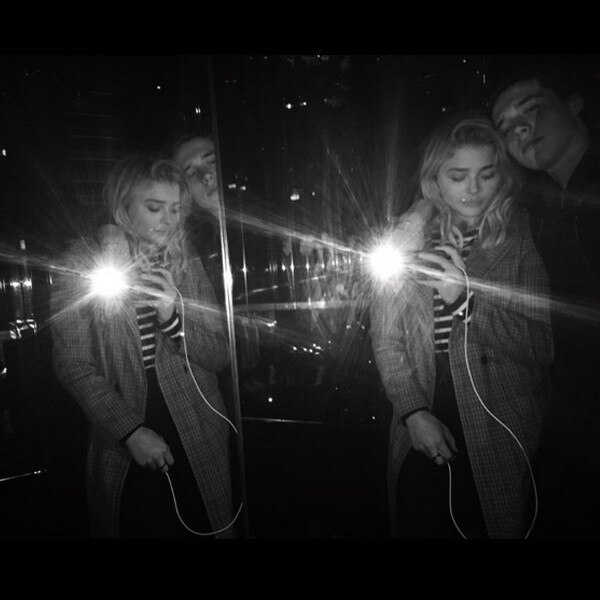 Instagram
You're Not Seeing Double

You're seeing a couple! Only these two could make autoflash look so flattering. 
They have over the past few months posted sweet pics and videos of themselves together on Instagram. In October, Chloë posted on her Instagram Stories feed a video of Brooklyn giving her a kiss as the two cuddle at a rugby match in Dublin. They attended the game with her two older brothers. The actress was in Ireland filming The Widow.