Women On The Verge series
TV channel W is to broadcast a comedy drama series about three woman who are leading 'chaotic' lives.
Set in Dublin, Women On The Verge focuses on three career-driven friends in their 30's, at various stages of their lives, who share the same nagging concern – that whilst their friends and colleagues seem to be increasingly in control of their lives, their own lives seem to be moving in the opposite direction.
The six-part series is based on the best-selling book Woman on the Verge of a Nervous Breakdown by Lorna Martin, which in turn was based on her Grazia column Conversations With My Therapist.
The project was picked up in 2011 by Sharon Horgan, who has since been working with the author to turn the subject matter into "a frank, hilarious and often shocking" comedy drama. UKTV and RTÉ in Ireland have now picked up the project.
Women On The Verge will star Kerry Condon (Three Billboards), Nina Sosanya (W1A) and Eileen Walsh (Catastrophe).
Condon will play Laura, a character who is in the process of potentially ruining her career in investigative journalism by sleeping with her boss. Her ambitions take a knock however when she appears to be supplanted in his affections by a bright and talented young blogger called Samara.
Laura is persuaded by Katie (played by Sosanya), to seek professional help for her many issues in the form of a long-term commitment to intensive psychotherapy with the enigmatic 'Dr F' (Horgan).
Divorced and single, Katie has recently contemplated a course of IVF to 'complete' her family without a man and have a much longed for sibling for her young daughter Ella.
Meanwhile, Alison (Eileen Walsh), completes the trio as a character who, after a series of disastrous and border-line scary Tinder-based one-night stands, finds herself back together with her ex Martin. Alison is hooked up to an electronic device that measures her fertility cycle and describes sex with Martin as 'not too bad really, now that there's some sort of point to it'.
Talking about her book being developed into a series, Lorna Martin says: "I feel incredibly lucky to be working with such outstandingly talented people to bring these stories to life. The show is a love letter to women who haven't ticked all the boxes and whose lives are a bit messier and more complicated than they ever thought they'd be."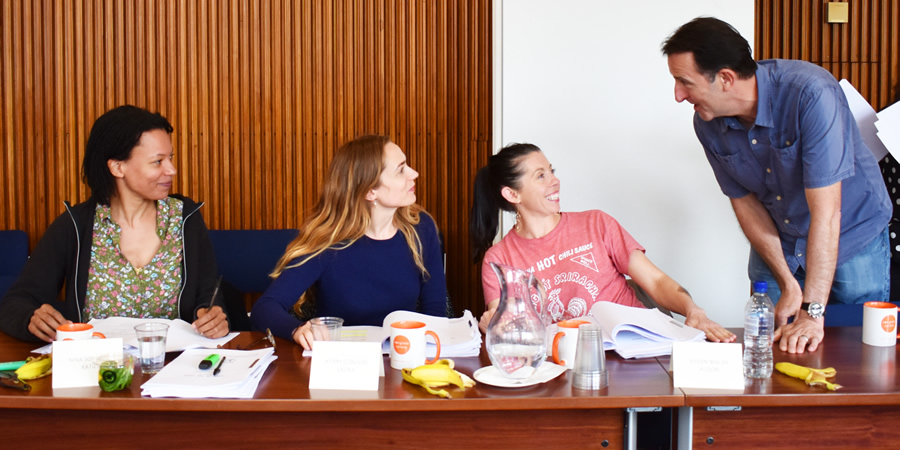 The project is currently at the read-through stage. It will be directed by Annie Griffin (Fresh Meat), with Gavin O'Grady (I Don't Like Mondays) as producer.
Pete Thornton, senior commissioning editor for UKTV, comments: "The chance to bring this project to life for W represents an exciting opportunity for us as a broadcaster, and for W as a channel. We're delighted to be working with the talented and much in demand teams at Merman and House Productions alongside a brilliant cast – led by the extraordinary Kerry Condon – to delve into the chaotic, sometimes tragic but always gripping lives of Laura, Katie and Alison."
Adam Collings, channel director for W, says: "Women On The Verge offers a highly original, no holds barred take on a subject matter that will be instinctively familiar to the W audience. Taking the gloss of Sex And The City, combined with the brutal honesty of Girls, this is a project unlike anything else on British TV."
Clelia Mountford and Sharon Horgan, co-founders of production company Merman, say: "We were huge fans of Lorna's book Woman on the Verge of a Nervous Breakdown that told her personal story so compellingly and honestly. We are very happy that we're finally getting to bring her story to the screen and destroy whatever privacy she has left."
Juliette Howell, Executive Producer for House Productions, comments: "House are thrilled to be working with such a talented team on this sparklingly funny, truthful and original comedy for UKTV. With razor sharp scripts from Lorna Martin, and a top flight cast, helmed by the brilliant Annie Griffin, this is the one to watch."
Women On The Verge will be shown on W later this year.
---
For updates, click the button below.
Share this page