Ed Sheeran first surprised fans when he became buddy-buddy with Katy Perry after she crashed his radio interview, and now the "Eraser" crooner has struck an unlikely friendship with Tom Hiddleston.
Even though Tom is Taylor Swift's ex-boyfriend, Ed and Tom have maintained a friendship. In fact, they were friends before Hiddleswift's split, as the "Eraser" crooner met up with the former couple during their world travels. While Taylor and Tom were traversing through Rome, it turns out Ed met up with them.
"I got a good little preview [of the album] last summer," Tom said during a joint interview with Ed on BBC Radio 2.
"We were in Rome, weren't we?" Ed added.
Hiddleswift traveled to Rome over the summer, where they took a private tour of the Coliseum and enjoyed many romantic meals before jetting off to their next European locale. 
Kevin Mazur/Getty Images for SiriusXM
Ed and Tom continued to bond throughout their interview over music, romance and their artistic endeavors, so it probably shouldn't come as a surprise that Tom showed up to Ed's secret concert in New York City Monday night. The Kong: Skull Island actor was one of 400 fans who watched the British crooner perform acoustically in the intimate Studio at Webster Hall as part of Sirius XM's "Secret Show" series.
The BFFs solidified their bromance with a picture taken backstage. Some attendees also noted that Tom seemed to be "living his best life" while at the concert.
"Tom Hiddleston is here at the @edsheeran show sippin from a red solo cup & bopping his head along, in case you care bout that sort of thing," tweeted one concertgoer.
Even though T.Swift and Ed are well-known BFFs, the "Supermarket Flowers" singer told Howard Stern that they never crossed that line into romance.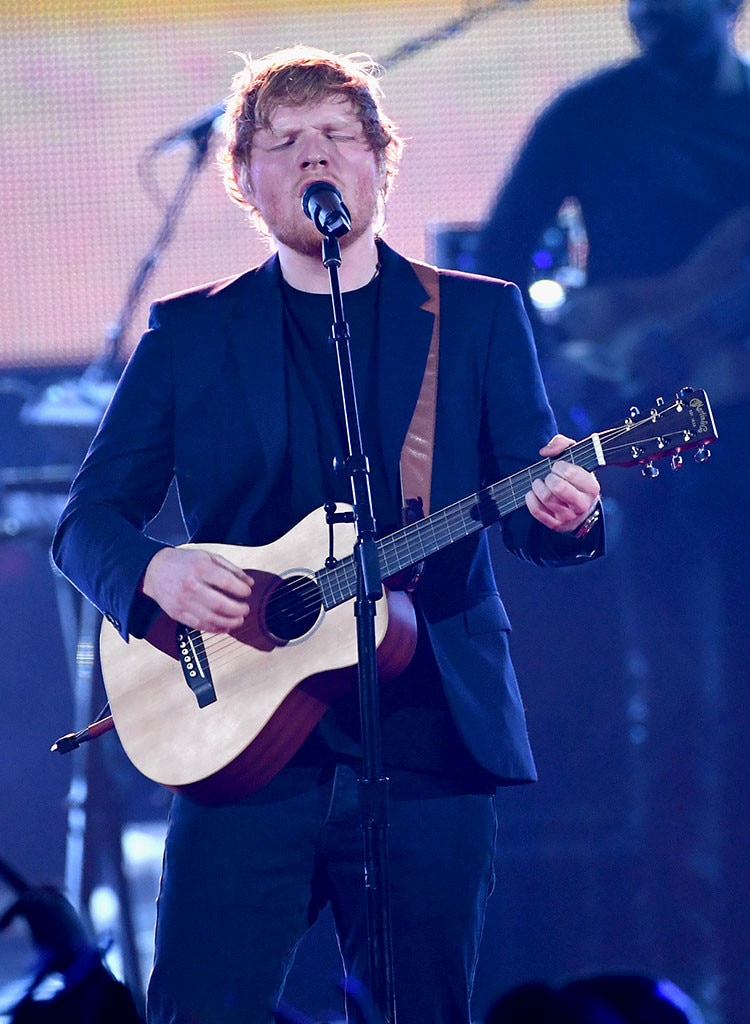 Kevin Winter/Getty Images for iHeartMedia
"When I first met Taylor I was in a relationship and she was in a relationship and we just formed a friendship through that," he said. "And both our relationships ended and we just carried on being friends. There's nothing I really want more than friendship there. I know her very very well now and she knows me very very well."
Now that Ed is fully back together with girlfriend Cherry Seaborn, he said that he and Taylor use each other as wingpeople. In fact, Cherry and Ed reconnected in part because of Taylor. 
"She was like the world's best wingman. And also me and Cherry rekindled because I was doing shows in New York and Cherry lived in New York and we started hanging out again. But like the actual moment it probably rekindled was because Taylor was having her Fourth of July party and Cherry was like, 'I'm at a Fourth of July party in Rhode Island,'" he recalled. "And I was like, 'No way. Me, too.' Then Taylor was like, 'Yeah she should come down. Then she basically wingmanned that situation as well."
He added, "She's a great wingman. I'd like to say that I helped wingman, too. Probably not as well."
So was he the wingman to her budding romance with Tom? Hmm…