Missing Believed Wiped 2018
The BFI has announced the line-up of screenings for its annual Missing Believed Wiped event, this year marking its 25th anniversary.
Recent recoveries include episodes of Harry Worth, The Rag Trade and The Basil Brush Show.
The Missing Believed Wiped programme includes newly found editions of both The Morecambe & Wise Show and Citizen James, located in Sierra Leone and Monaco.
Both were written by prolific duo Sid Green and Dick Hills, and recovered by Television International Enterprises Archives (TIEA) CEO Philip Morris.
Citizen James was a starring vehicle for Sid James, effectively spinning off his character from iconic sitcom Hancock's Half Hour after Hancock decided he wanted to star alone with no regular supporting cast.
Created and initially written by Ray Galton and Alan Simpson, the recovered episode is from the sitcom's third series, The Day Out, originally broadcast in October 1962. The sixth of thirteen episodes in the series, it also features Liz Fraser and Hugh Lloyd, and was found in a store room of Monaco Television.
Reina James, Sid James's daughter, says: "It's wonderful that Missing Believed Wiped is giving audiences a chance to see Sid as Citizen James again in this 'lost' episode. And Liz Frazer too – they're fantastic together. It's a real treasure."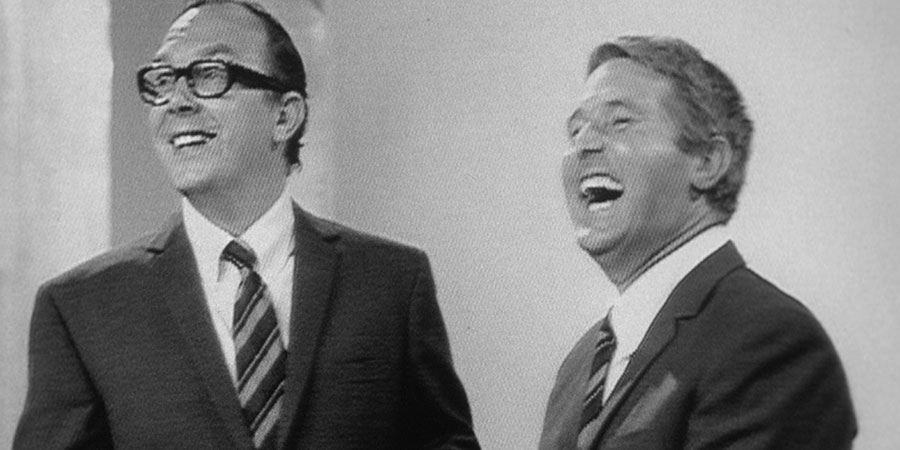 The Morecambe & Wise find is Episode 5 (of eight) from the first series of what would become their career-defining BBC sketch show. First broadcast on Monday 30th September 1968, it was discovered, alongside the seventh of the landmark series, in a derelict cinema in Sierra Leone.
Gary Morecambe, Eric Morecambe's son, adds: "It's absolutely wonderful to hear that something of Morecambe and Wise thought lost forever has re-emerged decades later and has now been restored to its former glory."
The BFI explains: "An archive television archaeologist who has travelled the world to track down missing episodes, Philip's never say die attitude has helped him over the years recover a wealth of 'lost' British Television, many found in small television stations in far flung places and return them to television archives in the UK. TIEA also assists television stations around the world to preserve their archives and digitise their back catalogue for future generations."
Also announced for the Missing Believed Wiped screenings, taking place on 15th December at the BFI Southbank complex, are a 10-minute animation of part of a missing Doctor Who episode; and the earliest surviving edition of the original Basil Brush Show, featuring Rodney Bewes and The Kinks.
Dick Fiddy, the BFI's Archive Television Programmer, says: "Over the last 25 years our events have showcased some of the most important finds to have been located and returned to official archives. Tracking down these 'lost' treasures has been a joint effort between the BFI, many individuals and organisations.
"One of our most impressive discoveries in recent years consisted of 100 hours of very important missing single UK plays, including the 1965 version of Orwell's 1984, now held by the BFI National Archive. Such finds energise the quest and inspire us to continue the search to plug more gaps in the British television archives."
Tickets for Missing Believed Wiped go on sale to BFI members on 6th November and to the general public from 13th November.
---
Also announced today was TIEA's recovery of a better quality copy of Steptoe And Son Series 4 Episode 6, My Old Man's A Tory than previously existed in the BBC archives; The Rag Trade Series 3 Episode 6, Baby Dolls; and three editions of 1966 sitcom Harry Worth, Series 2 Episodes 5 to 7: Four's A Crush, Feet First and Melancholics Anonymous.
All other previously surviving episodes of both The Morecambe & Wise Show and Citizen James are available to own on DVD.
---
For updates, click the buttons below.
Sid Balmoral James is a hard-working layabout, gambler and con artist, hanging out in Charlie's Nosh Bar and on the Soho streets, occasionally stopping off at Liz's drinking club to borrow money to pay off his gambling debts and cons gone wrong.
Includes all 10 surviving episodes of the 1960s sitcom, all but a Hancock's Half Hour spin-off, starring Sid James, as created and written by Alan Simpson and Ray Galton (Series 1), and continued by Sid Green and Dick Hills (Series 2 & 3).
First released: Monday 6th February 2012
Morecambe and Wise are the greatest comedy double act ever to grace our TV screens. The fabulous mixture of sketches, musical numbers, insights into their 'home' life and the plays 'wot Ernie wrote' brought them audiences in the millions.
On stage they were living legends with Eric's raised eyebrows, Des O'Connor jibes and cheeky catchphrases putting every audience in the palm of their hands. And, of course, the stars – from Shirley Bassey and Elton John to Laurence Olivier and Glenda Jackson – lined up to join in the fun.
This box set includes all 9 series and five Christmas specials, and features every surviving moment of Eric and Ernie's BBC career including the legendary Singin' in the Rain, the famous André Previn appearances and the acclaimed breakfast sketch – as well as every shoulder-and-cheek slap, Luton Town reference and "Not Now Arthur!" in between.
Note that only a select number of extracts from the first series remain in known existence in BBC archives, and so Series 1 is presented here incomplete.
First released: Sunday 3rd October 2010