Bec Hill VR show
Bec Hill has filmed her latest live show using cutting edge virtual reality technology
The VR version of I'll Be Bec is available to stream now via the LIVR platform
Hill says she has used VR technology so "viewers get to fully experience the show as I intended"
Bec Hill has used cutting edge technology to film a virtual reality version of her latest live show.
She has become the first comedian to bring a stand-up show to LIVR, a VR platform dedicated to live performances. It offers viewers an immersive 360° VR experience of what they're watching.
She has filmed her hit Edinburgh show I'll Be Bec for the platform, a show described as being "all about the future and our potential when it comes to communication and technology." The VR technology employed to capture the performance "allows stand-up fans to experience the show as though they are an audience member in the room."
Hill has previously produced a number of hit videos for YouTube, often showcasing intricate pop-up flipbooks she has made. Her Je Ne Regrette Rien video will soon pass half a million views.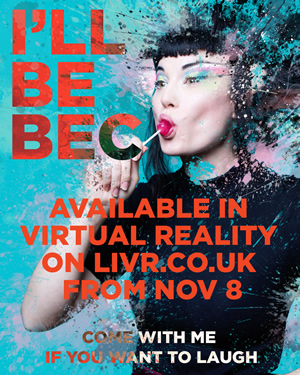 Talking about how VR technology has allowed Hill to made her latest show available to audiences worldwide, the production team explain: "As the Arts Council is yet to recognise stand-up comedy as an art form eligible for Arts Council funding the show would be too expensive to tour on an independent budget, on account of the ambitious production values and tech spec. This meant Edinburgh Fringe was initially the only time fans would be able to experience the show. The LIVR solution, at just under £6 a month to subscribe, provides unique access to the show that audience members can experience exactly as she intended in a way a DVD couldn't and was also affordable, meaning she could bring the show to as many fans as possible."
I'll Be Bec, her 8th solo show, is described as follows: "Bec Hill went to the future so that you don't have to! What are we wearing? Are robots in control? Are we on fire? All these questions and more answered in this brand-new hour of comedy!"
Bec Hill comments: "It is the most theatrical show I have ever performed, which meant I was keen for as many people as possible to see it live. Often with filmed shows, a certain magic is lost once it's on screen. And with comedy, you're essentially watching and listening to the audience laugh. However, the LIVR version means you can laugh with the audience. Viewers get to fully experience the show as I intended when I wrote it: with all the twists, turns and surprises included."
LIVR is a subscription service which offers exclusive on-demand shows in fully immersive 360 degrees. Viewers can use their own VR device or request a free headset which works with their smartphone. A free month trial is on offer, after which it costs £5.99 to maintain a subscription.
---
I'll Be Bec is available on LIVR now